NJ/NY Gotham FC today announced that U.S. Women's National Team defender, two-time FIFA World Cup champion, Olympic gold medalist, and NWSL champion Kelley O'Hara has returned to the club after signing a two-year contract through the 2024 NWSL season.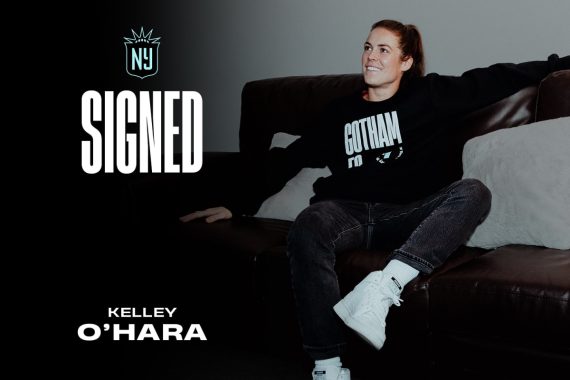 "I'm beyond excited to enter the next chapter of my playing career with Gotham FC," said O'Hara. "The team culture, the city, the people — there's so much to look forward to with a team like this. I can't wait to get started. I'm so excited to be back in NYC/NJ!"
The 2023 season, O'Hara's 13th in professional soccer, will be a celebrated return to her former club in the NJ-NY metropolitan area where she was a fan favorite. O'Hara scored 15 goals in 75 matches with the club from 2013-2017.
As a member of the U.S. Women's National Team since 2010, O'Hara has won two FIFA World Cups (2015, 2019), an Olympic gold medal (2012) and an Olympic bronze medal (2021). In 2019, she was named to the FIFPro World Best XI, and in her 156 appearances with the USWNT, O'Hara has scored three goals and provided 21 assists.
Spirit
O'Hara spent the previous two seasons with the Washington Spirit, where she led the club to the 2021 NWSL Championship after scoring in the 97th minute to help Washington defeat the Chicago Red Stars 2-1. In 34 matches with the Spirit, O'Hara had a goal and four assists. She also played for the Utah Royals in the NWSL.
At Stanford University, O'Hara was awarded the MAC Hermann Trophy as the top player in college soccer in the country after she scored 26 goals and added 13 assists in her senior season in addition to earning All-America honors twice.
"Kelley is a world-class player and champion with an unmatched competitive spirit who will help drive our culture forward," said Yael Averbuch West, the General Manager and Head of Soccer Operations of Gotham FC. "Welcoming a player of Kelley's caliber and stature via free agency makes this a very exciting day for Gotham FC and our fans."
Report by Gotham FC