JLAHF Podcast – The understated glory days of the West Midlands football, and all tha‪t‬
For an eight year period from the mid-1970s, the West Midlands was to become an English football hotbed – not that many people realised. While Liverpool dominated home and overseas, and Cloughie hogged the back pages, a new wave of footballers and managers were to bring success and swagger to the Birmingham and the Black Country, along with several record transfer fees.
And yet the apex of glory was to be short-lived as political and societal upheaval crept in. West Midlanders Chris Lepkowski and Dave Bowler discuss why the West Midlands has always slipped under the national radar, on and off the pitch.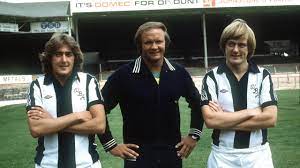 Listen at these links…
Apple: https://podcasts.apple.com/podcast/id1548524356…
Spotify: https://open.spotify.com/episode/2KH8JkfmApIrku3AQypCWm…
Presented by Chris Lepkowski & Dave Bowler –
Welcome to Just Look at His Face – talking about football, but not as we know it. This podcast is all about football, as we remember it. This is a retro football chit chat – talking about the highs, the lows, the greats, the worst of the past. Join us; you know it makes sense…