NJ/NY Gotham FC fell 1-0 to the Portland Thorns on the road despite a strong second-half push for an equalizer. Gotham FC now sits in fourth place in NWSL standings (30 points) ahead of the two remaining matches of the weekend, and the club is still within reach of clinching a spot in the NWSL Playoffs.
Portland Thorns 1 Gotham FC 0
Saturday's match kicked off with a back-and-forth first half that saw both sides establishing an attack from the flanks. Gotham FC found success getting into the final third. However, the visitors were unable to convert on the final pass.
Gotham FC midfielder Yazmeen Ryan – a former starter for the Thorns – found an opening in the 43rd minute to fire a shot that went straight into Portland goalkeeper Bella Bixby's arms.  Following that chance, the Thorns pressed on and Crystal Dunn released a low driven shot in first half stoppage time that was saved by Gotham FC goalkeeper Mandy Haught. 
In the final moments of the first half, Gotham FC forward and World Cup champion Esther Gonzalez got in for a 1v1 with goalkeeper Bixby. However, Gonzalez was in an offside position, and the goal was disallowed. 
Second Half
After a scoreless first half, Gotham FC came out with revamped energy and returned to its high-press, fast-paced style of play. However, The Portland Thorns scored the game's only goal in the 54th minute after sending in a second service from a corner kick. Thorns midfielder Sam Coffey hit a flighted ball across the six yard box that was finished by a Hina Sugita header.
Gotham FC earned a chance in the 59th minute, when Gonzalez was pinned on the sideline but advanced the ball with a flick over the defender to Gotham FC forward Midge Purce. The forward drove to the endline and fired the ball across the goal that deflected off of a defender before ricocheting off the near post. Nearly back-to-back efforts ensued, when combination between Ryan and Delanie Sheehan yielded high service to the top far top corner that just missed the post and forward Purce.
Gotham FC forward Lynn Williams had the last close effort before the final whistle, when she volleyed a ball into the top left corner that Bixby stretched to save with fingertips.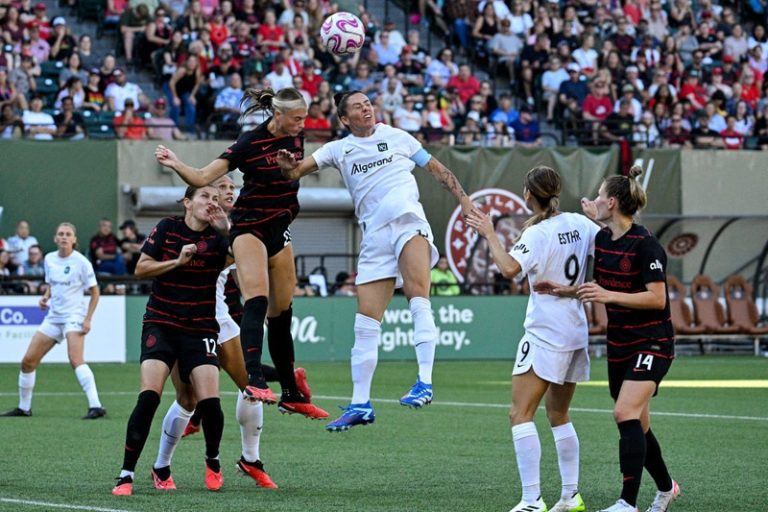 NJ/NY: GK Haught, D Nighswonger, D Krieger ©, D Edmonds (Stengel, 76'), D Bruninha (Shim, 87'), M Sheehan (Onumonu, 87'), M Maitane, M Ryan, F Williams, F Esther, F Purce (Farrelly, 66')
Substitutes Not Used: GK Betos, D Freeman, D Jean, M Martin, F Flores
 
TOTAL SHOTS: 8 (Sheehan, Purce, 2); SHOTS ON GOAL: 3 (Nighswonger, Ryan, Williams, 1); FOULS: 13 (Sheehan, 3); OFFSIDES: 3; CORNER KICKS: 9; SAVES: 2
Gotham FC will look to clinch a playoff spot on NWSL Decision Day, when the club plays the Kansas City Current at Red Bull Arena on Sunday, Oct. 15 (5:00 p.m. ET, Paramount+). The match will be global soccer icon and Gotham FC Captain Ali Krieger's last career regular season game.