NJ/NY Gotham FC welcomed 15,058 fans to Red Bull Arena on Sunday night for an electrifying atmosphere that set a new all-time club attendance record. In a hard-fought meeting with the San Diego Wave, Gotham FC fell 1-0.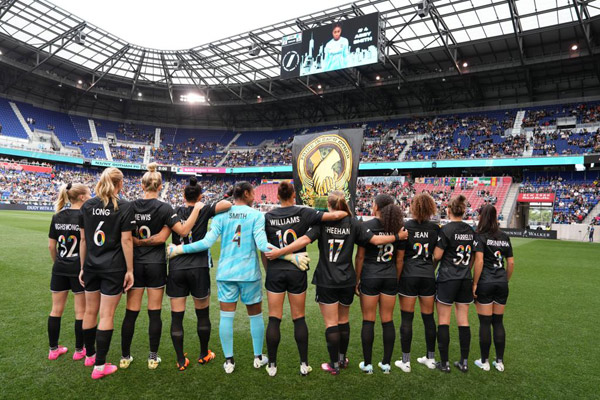 Gotham FC 0 San Diego Wave 1
First Half
Gotham FC controlled play in the first half after an early chance by San Diego Wave forward Alex Morgan went wide in the 3rd minute of play. Gotham FC maintained more than 61 percent of possession with four shots in the first half while holding the Wave to only a single shot and drawing seven offside calls with no corners conceded.
After Gotham FC midfielder Allie Long drew a foul in the 23rd minute, midfielder Jenna Nighswonger took the free kick from 35 yards out and delivered a ball to Sinead Farrelly at the top of San Diego's penalty area. Farrelly quickly played it out wide to Yazmeen Ryan, who sent a dangerous cross for a near chance that was controlled by Wave goalkeeper Kailen Sheridan.
Second Half
The Wave's Makenzy Doniak opened the scoring early in the second half with a 46th-minute goal. Gotham FC pushed to answer quickly with Long earning a set piece for Gotham FC from 20 yards out. The kick was taken by Kristie Mewis, who played a dangerous ball into the box that was eventually cleared by San Diego's backline.
The tightly contested match continued to be a back-and-forth affair. Gotham FC defender Bruninha blocked a point-blank shot by the Wave's Jaedyn Shaw in the 72nd minute to keep Gotham FC in the match. The shot immediately deflected back to Shaw, but her second attempt could not get past a diving Abby Smith for her second save of the match. Smith had a total of three saves on the night.
The club continued to attack through the final moments of the match, producing numerous chances in stoppage time. 
Record Attendance
"Thanks to the fantastic work the club has done, we were able to play in front of 15,000 people today," said Head Coach Juan Carlos Amorós. "Again, thanks to the club. They are doing a fantastic job behind the scenes, and especially, the players are doing a fantastic job on the pitch. It's engaging a lot of fans in a moment of pride."
"We're trying to create something special, something different, and people want to watch it live," said Amorós. "I've said it before that we don't get too high when we win or too low when we lose. It's a process and a team building who we are, and everyone can see that. But I think we are on the right path for sure."
Abby Smith, Ali Kreiger (C), Ellie Jean, Bruninha, Jenna Nighswonger, Allie Long, Yazmeen Ryan, Kristie Mewis, Sinead Farrelly, Delanie Sheehan, Lynn Williams
Gotham FC will look to rebound at home in a UKG Challenge Cup match against the Orlando Pride at 7:30 p.m. ET on Wednesday, June 7.