Gotham FC sent their players off to the Women's World Cup with a thrilling 2-1 win over Chicago Red Stars at Red Bull Arena on Sunday night with goals from Lynn Williams and Allie Long.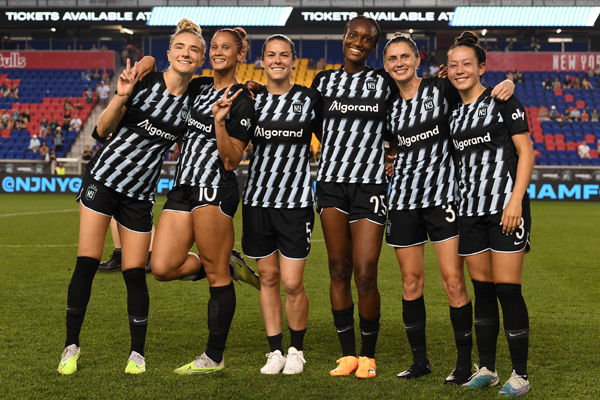 Gotham FC 2 Chicago Red Stars 1
Gotham FC played to a thrilling 2-1 victory over the Chicago Red Stars at Red Bull Arena on Sunday night. The club's two second-half goals scored by Lynn Williams and Allie Long culminated Gotham FC's Juneteenth celebration and its World Cup send-off match with added fanfare.
In an end-to-end first half that featured close saves by Abby Smith, Gotham FC created several near chances as well, including a curling shot by Williams to the top corner that hit the crossbar. 
Second Half
Teams went into halftime tied at 0-0. However, Gotham FC changed that straight out the gates. 
Gotham FC broke open the scoring one minute into the second half when midfielder Nealy Martin placed a throw-in directly at the feet of Williams on the left side of the 18-yard box. With her back to goal, Williams controlled the ball with her right foot and then struck a shot across her body with the left, sending the ball into the far side netting to give Gotham FC the 1-0 advantage in the 46th minute. 
With that throw-in, Martin dished out her first career assist in NWSL action. In addition, Williams' goal was her seventh of this regular season, maintaining her streak of at least seven regular season goals scored in every season she has played dating back to her sophomore season in 2016.
With lightning in the vicinity in the 53rd minute, a weather delay went into effect and paused the match. Teams came back out to resume play once the weather had cleared. 
In the 55th minute, the Chicago Red stars equalized after Ella Stevens sent a through-ball in behind the Gotham FC defense to Sarah Griffith, who assisted Cari Roccaro to even the scoreline 1-1. 
Gotham FC continued to press with Midge Purce entering the match for her 100th appearance in all NWSL competitions. Purce received the ball and cut inside dribbling to the center of the pitch, where she was taken down. At 20 yards out, Allie Long hit a screamer for the game-winner. 
The goal marked Long's first game-winner for Gotham FC, and her first game-winner since scoring one in Sept. 2016 for the Portland Timbers. Prior to Sunday, the last time Long scored was July 2021, ironically when Gotham FC faced the Chicago Red Stars. 
World Cup Send Off
Following the match, Gotham FC honored players from both teams who are anticipated to compete in the 2023 FIFA Women's World Cup this summer. World Cup champion and Gotham FC co-owner Carli Lloyd was on hand to help lead the celebration that honored the following individuals: Alyssa Naeher (Chicago Red Stars, USA), Cheyna Lee Matthew (Chicago Red Stars, USA), Bruninha (Gotham FC, Brazil), Sinead Farrelly (Gotham FC, Ireland), Kristie Mewis (Gotham FC, USA), Kelley O'Hara (Gotham FC, USA), Ifeoma Onumonu (Gotham FC, Nigeria), and Lynn WIlliams (Gotham FC, USA).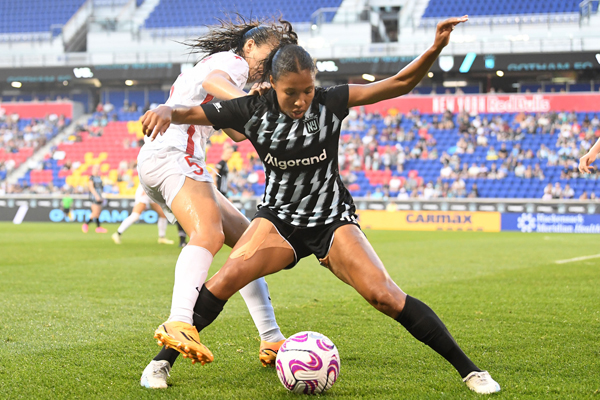 Abby Smith, Bruninha, Alli Long, Ellie Jean, Jenna Nighswonger (Mandy Freeman, 82') Nealy Martin, Kristie Mewis (McCall Zerboni, 90'), Sinead Farrelly, Lynn Williams, Delanie Sheehan (Yazmeen Ryan, 64'), Kelley O'Hara © (Midge Purce, 64')
Gotham FC returns to action on Wednesday, June 28 in a UKG Challenge Cup game away at the Orlando Pride  at Exploria Stadium (7 p.m. ET, Paramount+). 

Gotham FC returns home on Sunday, July 2 for an East Coast-versus-West Coast regular season matchup against Angel City Football Club at Red Bull Arena at 5:30 p.m.