The week's biggest story centers around Valencia's hiring of Manchester United legend Gary Neville to coach the remainder of the season. As a Valencia CF supporter, this one hits close to home. Neville's hiring can be seen in a few ways. First, it's a gamble.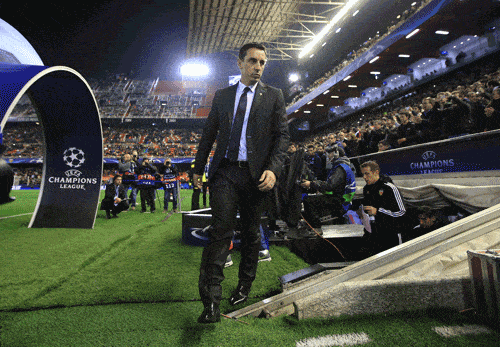 By Cesar Benoit
Yes, Neville is a winner. He's an 8-time Premier League champion, 3-time FA Cup medalist and 2-time Champions League champion. The man's done it all. Besides that, he's recently been a celebrated pundit on British television for Sky Sports, where he was well regarded for his footballing insight and analysis. But he's never coached before. So why was he handed the dubious honor of being Valencia's next coach?
Neville is close with Valencia majority owner Peter Lim. They're good friends and have been in business for many years.Was the job given to him based on his managerial experience? Obviously not. If anything, Gary's brother Phil, who's already on Valencia's coaching staff deserved the job based on that criteria. So what could it be?
Valencia has already ridden a nepotism roller coaster this season with the influence Lim's good friend, super agent Jorge Mendes has exerted on the club. Mendes acts as a de facto sporting director, sending his young clients towards the team. He yields a considerable amount of influence on the owner. Remember, his client Nuno Espirito Santo was coach before Neville. The now fired Nuno guided Valencia to this season's Champions League but the club has faltered this year, currently sitting eighth in the league.
Nuno Yete Ya
The fans had been calling for Nuno's head for weeks, chanting 'Nuno vete ya (Nuno, leave now)' whenever they got the opportunity. Nuno was seen as a Mendes puppet and was criticized for the way he ostracized players, team managers and even the former club president, who were all ousted during Nuno's reign. But now Nuno's gone and in steps Neville, a relative newbie to the coaching game.
That's a worrying sign, don't you think? Maybe. Or maybe it's a stroke of genius.
Valencia received worldwide press this past week due to Neville's appointment. That's something that doesn't happen too often and the PR and media attention is wonderful. Then there's Neville himself, who came across as a very confident and articulate man during his first press conference. He's moving his family to Valencia and will make a legitimate effort to learn Spanish, something that will go over well with the locals, who love foreign acclimation.
Fans Passion
His astute football mind plus his confident personality will resonate at a club and city that's starving for more sporting accolades. Valencia supporters are notorious for their passion. They're ravenous and will follow you to the moon if you're one of their favorites. But one misstep and you'll rue the day you got on their bad side.
Valencia is not Madrid or Barca but in some ways the expectations are more in this emotional, energetic city. Valencia fans really believe they should be competing for top prizes every season. Whether that's warranted or not is up for debate. But they want that winning spirit reflected on the pitch. It hasn't been on display this season and their anger was vented at the manager and the owner.
Now comes Neville, with his shrewd footballing mind, his passion and his trophy case. He's at Valencia at least until the end of the season, when he resumes his duties as England's assistant coach going into Euro 2016.
What are his aspirations beyond this season? Maybe it's the Manchester United job. Maybe it's England's. Who knows? It's a great opportunity for Gary, who gets his feet wet in Spain and is handed a golden opportunity to turn around one of Spain's biggest clubs. They're only 5 points from a Champions League spot. That's his goal and should he achieve it, he'll be a legend at the Turian club.
Mestalla Faithful
Neville didn't coach this weekend, when Valencia drew Barcelona 1-1 in a passionate match at the Mestalla. It wouldn't have been fair to throw him into the lion's den against the world's best team so soon. But Gary got a taste of what's to come.
Barca opened the scoring early in the second half through an offside Luis Suarez goal. But the Mestalla faithful willed their team to a draw, a gorgeous controlled ball by Spain striker Paco Alcacer quickly put on the path of a running Santi Mina, who drilled it past Claudio Bravo for the goal. The Mestalla exploded and Neville got to see the rabid energy and spirit of the Valencia faithful.
Barca played better than Valencia for large swaths of the match. But for the first time this season, Los Che looked like they cared.
Gary's first match in charge saw Valencia fall to Lyon 2-0. They're out of this season's Champions League but realistically, the team may be better suited to the Europa League. At least he'll have time to implement his system. Whatever that may be. I'm cautiously optimistic. All I can say is – Amunt Gary!