With one game left for NYCFC and NY Red Bulls in the 2022 MLS season, they're battling for third place in the Eastern Conference and keeping an eye on potential playoff opponents. Heading into the final round of matches, both clubs know FC Cincinnati could be their first-round opponent.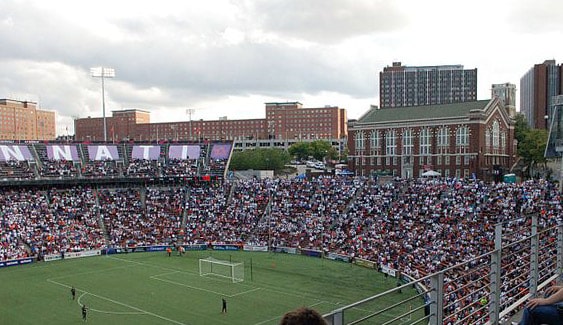 FC Cincinnati Eye Possible Play-Off Showdown In New York
By Matthew Stein
FC Cincinnati is looking to make the MLS Playoffs for the first time in its fourth season. The club currently sits in fifth place but can finish the season with the fifth, sixth, or seventh seed; or miss the playoffs entirely. Their games against the NY teams this season were just as tight as the race for playoff positions.
They drew 1-1 home and away with the Red Bulls this season. Both of Cincinnati's games against NYCFC ended level too.
Cincinnati's first game against NYCFC saw one of the wildest first halves this season. Cincinnati jumped on top with a 3-0 lead against the visitors. But NY drew level before the half with a goal in the 45th minute and two more in stoppage time. The game ended 4-4. When the teams met at Citi Field in September, the match ended 1-1. It was the only point NYCFC got in a five-game winless stretch.
Luciano Acosta leads the attack for Cincinnati. The Argentinian scored nine goals and tops the league with 18 assists so far this season. The club's captain was named MLS Player of the Month in June. It was the first time an FC Cincinnati player received the honor.
Vasquez On Fire
Brandon Vasquez is having a breakthrough season for Cincinnati. The 23-year-old American is tied for fifth in the league with 17 goals this year. He's scored more goals this season than his combined total through his first five years in MLS.
If Cincinnati does make the playoffs, there's a good chance they'll be the team that allowed the most goals. They've conceded a whopping 54 goals so far this season. Only the two teams at the bottom of the table in the Eastern Conference, Toronto FC and D.C. United, have allowed more. But they have improved recently, only allowing more than one goal once since August.
Cincinnati will look to seal their first playoff appearance when they travel to last-place D.C. United this Sunday. You can be sure the scouting departments for both NY clubs will be closely watching.
---
Matt is a travel advisor specializing in sports travel. He will customize your entire trip so you can watch your team anywhere in the world. Visit www.uniqueluxurytravels.com Or e mail Matt directly.