Being a luxury travel advisor specializing in sports means going to a lot of games. I know, it's a tough job! If you are a sports fan, you also know beer is often a part of the game experience. Living and working surrounded by numerous soccer bars in New York City provides plenty of opportunities to experiment with beers from across the world, but there are plenty of microbrews we never hear about.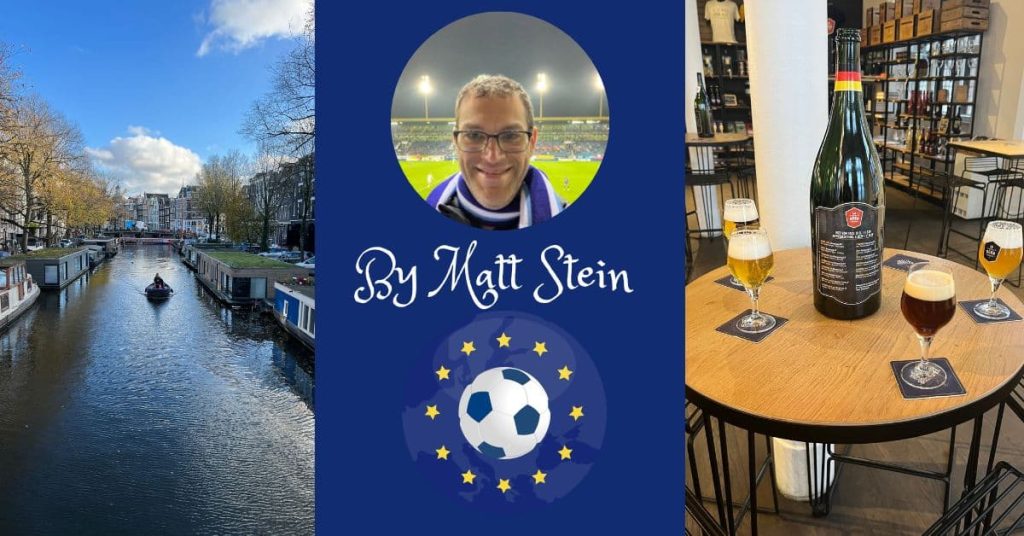 Eat, Drink & Watch Football On A Rhine River Beer Journey!
Expert Sports Travel
I started becoming an expert in finding tickets and traveling across the country to professional games about 30 years ago. I've been doing the same as a world traveler for nearly a decade. I quickly learned that to fit in with the local crowd; I needed to drink like the locals.
---
Authentic Experiences
After my first rugby match in Ireland and trying 16 different brands of Irish beer in a week, I was back in Europe about ten days later for a river cruise. It started in Switzerland and included parts of France, Germany, and the Netherlands. I included a post-cruise excursion to Belgium. Of course, all of these are also extraordinary destinations for soccer.
Before the cruise started, I spent a couple of days in Geneva and Luzern.  Switzerland loves wine, so the beer selection was far from what I experienced during and after the cruise. At my first Swiss Super League match, Luzern vs. Basel, I was introduced to Eichhof beer. Like many beers in that part of the world, it's a wheat beer (also known as a witbier or hefeweizen) made in Luzern.  
I avoid doing full beer reviews because we all have different tastes. I did enjoy the Eichhof. The price made this beer stand out to me. It cost five Euros! I can't get a beer that price anywhere in New York City.
---
Rhine River Beer Journey
---
In France, Germany, the Netherlands, and Belgium, I tried about 40 beer brands in a little more than a week!
---
Strasbourg Beer
Soccer fans know the city for struggling Ligue 1 side RC Strasbourg. Expert beer drinkers know that Strasbourg, France is a burgeoning beer destination. This French city shares almost 1,000 years of history with Germany, which makes beer a big deal for people there.
The first beer I tried in Strasbourg was a blonde Fischer. This was far and away my favorite beer in the city. Fischer started brewing beer more than 200 years ago in Strasbourg but moved to Schiltigheim in 1854 because of the water quality. The other two beers were La Merciere La Blonde and Polaris Biere Blanche.  While I didn't visit Stuttgart, the Bundesliga side is two hours northeast of Strasbourg.
---

German Soccer & Beer
Most of the cruise was spent in Germany, which meant plenty of beer! My cruise did not go through Munich, so there will be no Munich beers on this list. It was a Rhine River cruise that traveled through the Breisach/Black Forest region, Heidelberg, Rüdesheim, Lahnstein, and Cologne. I focused on beers made in those regions.
One of the unique parts of a Rhine River cruise is how close it takes you to almost half the teams in the Bundesliga.
Heidelberg: TSG Hoffenheim is 30 minutes southeast
Breisach: SC Freiburg is about 30 minutes east
Rudesheim: Mainz is 30 minutes and Frankfurt is an hour east
Cologne: Rival Bayer Leverkusen is 20 minutes north

An hour northwest is Borussia Monchengladbach.
An hour northeast takes you to VfL Bochum and Borussia Dortmund.
On the first half of the cruise, I tried Bitburger, Rothaus, Krombacher, and Domhof. Domhof was far and away my favorite. I had the white beer and the pilsner. While I generally enjoy white beer a lot more, this was an excellent pilsner.
---
Kölsch Beer
I only sampled three brands the first few days because Cologne was the next to last day and I wanted to have a fresh palate for the famous Kölsch beer. I had just a few hours in the city and needed to try as many beers as possible while sightseeing. If you know Kölsch beer, you know it's served in a 6.8oz glass, so it's easier to try several breweries quickly.
I had Gaffel, FRÜH, Päffgen, Peters, Sion, Brewdog King Kölsch, Reissdorf, and Gilden. Kölsch beer must be made within 30 miles of Cologne and follow specific criteria. Because of this, I found all of them to be similar. They are pale, hoppy, and bright.
They were all very good. Gaffel, FRÜH, and Gilden stood out as the best to me. If I had to recommend only one, it would be FRÜH because its food menu included Spätzle, one of my favorite German foods.
The end of my journey on the Rhine River brought me to Amsterdam with a post-cruise trip to Bruges. While I enjoyed the beer and the wine during the cruise, Amsterdam and Bruges were the two destinations I was most excited about for beer.
---
Reasons to Visit Amsterdam
There are many great reasons to visit Amsterdam beyond Ajax and its famous training academy. Some of the top sights in Amsterdam include the canals, the museums, and Anne Frank's house, which is a very somber experience. You will also find unique experiences such as the Red Light District, the famous windmills (about 45 minutes outside the city), and swinging from the roof of a hotel.
In Amsterdam, I had a pint or bottle of Hertog Jan, Wieckse, Brouwerij 't IJ (the original and the wheat), Texels, Gebrouwen door Vrouwen, Two Chefs Brewing, Amstel Bock, Gulpener Korenwolf, Château Neubourg. All these beers are made in the Netherlands, although Two Chefs Brewing sounds like a brewery I'd find in New York City.
I hesitated to order the Amstel Bock because I can buy Amstel anywhere but the bartender assured me the Bock is only sold in the Netherlands. I thought it would be rude to pull out my phone to see if that was true, so I trusted him. Since returning home, I've done some research and it looks like Bock is mainly sold in the Netherlands, although it might also be sold in a few other European countries.
Amsterdam is also a great home base if you want to tour the Dutch Eredivisie.  You can easily see about ¾ of the league while visiting. An hour north, east, west, and south takes you to see Feyenoord, Excelsior, Sparta Rotterdam, AZ Alkmaar, FC Utrecht, FC Volendam, PSV Eindhoven, RKC Waalwijk, and SBV Vitesse. Go Ahead Eagles, Heerenveen, NFC Nijmegen, and SC Cambuur are all within 90 minutes of Amsterdam.
---
Why You Should Visit Bruges
When I think of Belgium, I think of chocolate, waffles, french fries, Club Brugge, and of course, beer. All are renowned worldwide, even if Belgium struggled in the World Cup.
---
Unique Experiences in Belgium
I gained about five pounds while eating and drinking my way through Bruges. I also discovered there are two types of Belgian waffles, the Liege waffle and the Brussels waffle. You're much more likely to get something similar to the Brussels waffle in the United States.
The Brussels waffle is rectangular with deep pockets and is made with egg whites or a thin yeast-leavened battler. I'm not sure what shape you would call the Liege waffle but it's not a rectangle. It's made with a thicker and stickier dough that contains caramelized sugar creating a crisp, golden coating. Personally, I prefer the Liege waffle. It almost melts in your mouth and is a little sweeter because of the sugar.
---
18 Belgian Beers in Two Days
I thought beer would be the best way to wash down the wonderful waffles, chocolate and french fries in the country they were created.
In Bruges I tried Brugse Zot, Brugs Tarwebier, Hapkin, Affligem, Grimbergen Blonde, La Trappe, Rodenbach, Brugge Tripel, Steen Brugge, Bourgogne des Flanders, Cristal, Chouffe, Blanch Namur, Golden Carolous, Cambrinus Blonde, Brugse Babbelaar, St. Bernardus Wit, and Duvel.
I must admit that the La Trappe, Steen Brugge, Rodenbach, Brugge Tripel, Chouffe, Blanch Namur, Gouden Carolus, and Cambrinus Blonde were part of two separate beer flights. I find it harder to judge a beer when it's in a flight because it's 3-4 ounces and I can't appreciate it the same way.
---
Bruges Beer Adventures
If you want a unique experience in Bruges, explore 2be Beer. I've traveled the world and can't remember anything similar to it on any journey. There are thousands of different beers on display. The bar says there are officially 2,416 beers; unfortunately, you can only buy a couple dozen of them. Private and group tours are available at De Halve Maan Brewery and self-guided tours at Brewery Bourgogne des Flandres.
---
My Most Memorable Beers
Since I'm never comfortable ranking beers, I will name some memorable ones.
In Amsterdam, Brouwerij 't IJ was my favorite. I also enjoyed Hertog Jan and Two Chefs Brewing. I liked the Brugse Zot, Brugge Tripel, and the St. Bernardus Wit in Bruges. The Brugge Tripel was part of a beer flight but it jumped out as superior to any other beer in them.
---
Plan Your Next Journey
I know a lot of fans take annual group trips to see their favorite teams every year. I travel to see my team every year too. As cheesy as it sounds, soccer really does bring people together. When you take your next trip, there is much more to do than just going to the game and seeing a few landmarks.
I customize sports travel into fan experiences. If your team is in the Bundesliga take a Rhine River cruise and I can ensure you get to any game you want. Maybe you're a Serie A fan. I'm certified by The Travel Institute as a destination specialist for Italy. I can turn your trip to see Barcelona, Real Madrid, or any Premier League team into a customized trip catered exclusively to you, your family, and/or friends.
My expert service provides extraordinary journeys explicitly tailored to you. It's a luxury service with great value. Perks include free room upgrades, hotel credit, the option of private tours, and a stress-free vacation. You will do what you want when you want, and in the style that's right for you. Let me make your next game great by adding special services you don't have access to. When you're ready to explore,  email me, or call me at 917-225-1360 
---