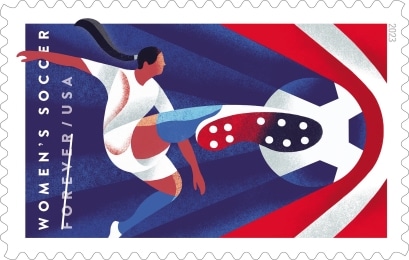 A new stamp is being issued to commemorate Women's soccer in the United States. The Women's Soccer stamp will be presented at a ceromony in Orlando on Feb 16th to coincide with the SheBelieves Cup. The ceremony at Exploria Stadium is free and open to the public.
Women's Soccer Stamp Issued By US Post Office
This new Forever stamp celebrates women's soccer in the United States. From youth leagues to the elite world champion U.S. National Team, millions of girls and women throughout the country participate in the fast-paced, competitive sport.
The stamp artwork, designed by Antonio Alcalá depicts a female soccer player in action, striking a ball with a side volley. Conjuring the aesthetic of mid-century print design, illustrator Noah MacMillan (1988-2022) used simplified shapes and bold colors to convey the high energy and fast motion of the sport. The somewhat grainy rendering lends a timeless quality to the design, evoking not just a single all-star athlete or era, but the entire legacy of women's soccer.
The 2023 SheBelieves cup takes place from Feb 16-22 and will feature Brazil, Japan and Canada along with hosts USA. See below or check our TV page for kick off times and broadcast channels for SheBelieves cup.
SIX GAMES, THREE STADIUMS
The 2023 SheBelieves Cup kicks off on Thursday, Feb. 16 at Exploria Stadium as Japan takes on Brazil (4 p.m. ET) and the USA faces Canada (7 p.m. ET). The tournament resumes on Sunday, Feb. 19, as the competition moves to Nashville's GEODIS Park with the USA playing the first match of the day against Japan (2:30 p.m. CT / 3:30 p.m. ET) and Brazil facing Canada (5:30 p.m. CT / 6:30 p.m. ET) in the nightcap. The tournament concludes on Wednesday, Feb. 22 at Toyota Stadium in Frisco, Texas, with Canada taking on Japan (3 p.m. CT / 4 p.m. ET) and the USA facing Brazil in the tournament finale (6 p.m. CT / 7 p.m. ET). Broadcast information for all the matches will be available at a later date.
| | | | | |
| --- | --- | --- | --- | --- |
| Date | Matches | Stadium | City | Kickoff (Local) |
| Feb. 16 | Japan vs. Brazil | Exploria Stadium | Orlando, Fla. | 4 p.m. ET |
| Feb. 16 | USA vs. Canada | Exploria Stadium | Orlando, Fla. | 7 p.m. ET |
| Feb. 19 | USA vs. Japan | GEODIS Park | Nashville, Tenn. | 2:30 p.m. CT |
| Feb. 19 | Brazil vs. Canada | GEODIS Park | Nashville, Tenn. | 5:30 p.m. CT |
| Feb. 22 | Canada vs. Japan | Toyota Stadium | Frisco, Texas | 3 p.m. CT |
| Feb. 22 | USA vs. Brazil | Toyota Stadium | Frisco, Texas | 6 p.m. CT |