And so this most unusual of seasons comes to its break with an EPL hiatus for the World Cup. Things are nowhere near where we might have expected, at either end of the table. How big a part has the World Cup played, with players perhaps reining it in to ensure they don't get injured? Hard to say, but certainly this is not the Premier League we might have imagined.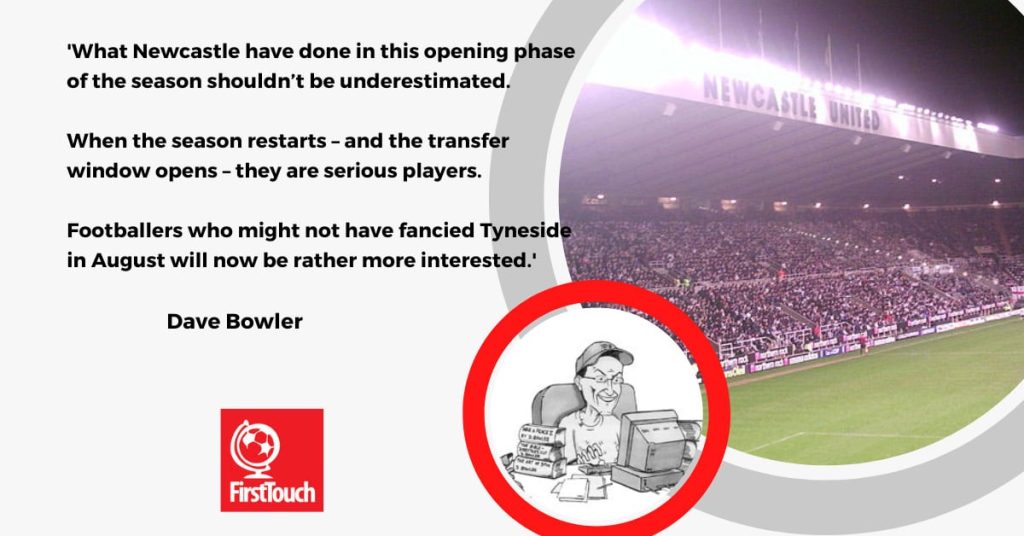 By Dave Bowler
In terms of the title race, we might have a Leicester style season on our hands. Not that Arsenal would have been a 500/1 shot, but avid Gooners aside, nobody else would have had them as potential champions.
But with a five point lead in hand and, more importantly, a string of solid displays behind them, they have to be taken very seriously indeed. Mikel Arteta's long-term project looks to be bearing fruit, the addition of Gabriel Jesus a masterstroke. At present, they look there for the long haul.
Manchester City. What to make of them? Now with the goalscoring machine they'd previously lacked, they went into the season looking stronger than ever. But they've looked curiously vulnerable, as underlined when they signed off with defeat to Brentford. Still the favourites when we resume, unless Arsenal falter badly, they won't have much room for error.
NEWCASTLE FLYERS
Newcastle United are perhaps the most interesting side in the country. Having begun as a year when they were surely looking at no more than a European placing, suddenly they are on course for the Champions League – and maybe more. What they've done in this opening phase of the season shouldn't be underestimated. When the season restarts – and the transfer window opens – they are serious players. Footballers who might not have fancied Tyneside in August will now be rather more interested.
If the Newcastle ownership wants a bit of encouragement to push the boat up, they should look at Spurs in that Leicester year. With all the other big clubs off the pace, the chance was there for Tottenham to win the league. They blew it and who knows when it might come again? Newcastle, for all their new wealth, should think carefully about the importance of seizing the day.
Tottenham have work to do if they want to cement that top four slot because Liverpool are starting to piece it together again. With all the uncertainty over FSG at Anfield, they might not get that midfielder they desperately need in January, but they are looking more like themselves again.
Manchester United could be in that top four mix too, though they they likely lack the squad depth and they should perhaps resist the temptation to spend in January. They've done it too often post-Ferguson and they would be better advised to follow the Arteta example and build sensibly rather than charge straight for the chequebook.
POTTER TIME
What Chelsea are going to do, who knows, because who knows how their new owners will react? Thomas Tuchel was always on borrowed time – new owners generally want their own man. But there looks a lot wrong with the Chelsea squad, mentally as much as anything else.
They were quite happy to see Tuchel carry the can, will they be similarly predisposed to letting Graham Potter take the blame? For all the talk of Potterball, this is the first time he has handled players with bigger names than his. Chelsea might be a bigger test than he imagined.
Beyond those seven, and perhaps Brighton, every other club in the division will spend these next five weeks pondering the possibility of relegation and putting together strategies to combat it. The two clubs giving it the most serious thought might well be Wolves, who have been a mess this term until finally appointing Julien Lopetegui, will be grateful for the break so that he can school his players and, maybe more important, get a goalscorer in.
Everton, on the other hand, have fewer reasons for even cautious optimism. On the slide again of late, the thumping they took at Bournemouth was beyond disastrous, a team that offered nothing and went feebly to defeat. Frank Lampard has a huge amount of work to do to salvage this season, and his managerial career.
---
Dave Bowler is the author of '

The Magic of the Cup

' series of books exploring the great FA Cup teams of years gone by – WBA 68, Arsenal 71, and Liverpool 74.
See them here and order yours in time for the holidays!
Follow the magic of the cup on Twitter:  @MagicOfFACup