Two hours before the 2014 World Cup began I had already been kicked out of two restaurants. I was about to embark on a month-long journey to see how New York City experiences the World Cup, but I was 0-for-2 at eateries along West 46th St., aka Little Brazil, because I failed to make reservations.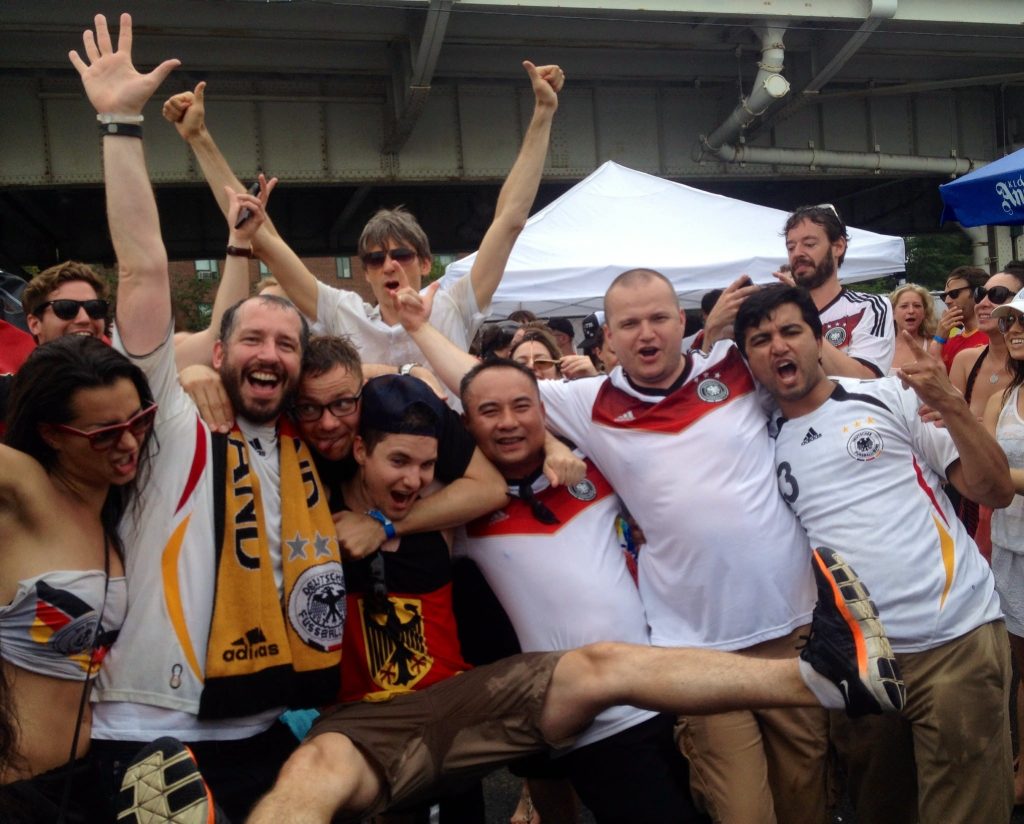 By David Brand
Before I left the second restaurant, I peered over the shoulder of the manager blocking my entry and noticed a slender woman filming a segment for Rede Globo, Brazil's biggest TV network. Like me, the reporter was documenting how New York City embraces soccer.
I was eager to start my project and luckily there was room at a third Brazilian place called Ipanema. I found a spot at the bar and kicked off my World Cup Tour of NYC surrounded by Brazilians and a diverse crew of La Selecao admirers. A month later, I stood amid a huge outdoor viewing party along the Manhattan side of the East River as Germany faced Argentina in the World Cup Final. A woman with a microphone and pet cameraman approached me at halftime. She was a reporter from Rede Globo. Tell me about your experience watching the World Cup in New York City, she asked. What were the highlights?
I could not have scripted a neater wrap-up to my World Cup writing project! During the past month, I watched the tournament at 25 unique bars, restaurants, parties and cultural centers in and around New York City. I visited a different spot every match day and I documented the highlights at my blog DearGyan.com.
Fourth Of July
I spent the the Fourth of July smushed against happy Germans and Teutophiles in a fun dungeon beneath Loreley Restaurant and Biergarten in the Lower East Side. The spectators in the dungeon passed out small glasses of beer from a circular tray called a kranz and taunted the French fans on TV. Awww they sighed sarcastically whenever the cameras picked up a pouting Frenchwoman or moping child.
A German economist named Kim led many of the jeers. Kim is known as The Bike Ambassador because he cycled from Portugal to China to raise money for a Vietnamese children's charity. His wife Dan is a real estate lawyer from China. The power couple said they changed into German gear and headed to the bar after Dan closed a multimillion-dollar deal with Chinese investors earlier that morning.
I thought the crowd would be tense or dour during their quarterfinal match against a powerful French side. Instead, the German dungeon hosted the most cheerful crew that I encountered all tournament. In contrast, the men inside New Ivoire Restaurant, a small orange box in East Harlem, seemed incredulous throughout Les Elephants' match with Greece. After every Ivorian mistake, every give-away, every cross that didn't find a green kit in the box, the Cote d'Ivoire supporters whined like they were personally offended. At halftime, two well dressed men got into an impassioned argument punctuated by several demonstrative gestures.
That's Football!
The life literally left the room when the referee awarded Greece a penalty kick in the 92′. Most of the men around me silently marched out of the restaurant before Greece even put the ball down. They already knew what would happen.
"That's football," a cabdriver named Cain told me after the crushing loss. "That's what happens in this game. Now we root for USA."
Yeah, but that was a pretty awful way to lose, I prodded.
"That's the way the game goes" he responded. I was struck by his calm realism. I want Cain to be my next Uber driver and life coach.
Next I headed to Dover, New Jersey, the last stop on NJ Transit's Morris-Essex Line, with my girlfriend, brother and friend to cheer for Costa Rica against the Netherlands. Costa Ricans comprise a significant proportion of Dover's population, but the first two Costa Rican restaurants we visited were closed. I was resigned to watch the match at a Honduran place until I spotted a Costa Rican flag waving from an SUV across from Pancho Villa Rodeo Sports Bar.
New Jersey Party
We approached the unassuming restaurant and discovered five guys in Costa Rica jerseys smoking cigarettes by their cars. We passed the friendly bouncer and ascended steps into a dark club illuminated by blue neon track lighting and a disco ball adorned with white sashes that stretched to the walls. Costa Rican fans sat in booths beneath the disco ball and around the perimeter of the party hall.
Two projector screens flanked a stage in the back of the room. A larger screen hung over the stage and the Univision broadcast blared around the club. It was halftime so people moved back and forth to order buckets of beer from the bar and chat with other fans. A group of women in red jerseys, tight jeans and chunky heels visited three men lounging in a booth. A guy in a Bryan Ruiz jersey draped a Costa Rican flag over the back of his seat. People eyed us as we stood sipping Coronas in the middle of the room. Finally, a man named Marcos approached us. 'Are you from Amsterdam?' he asked.
"No. Hoy somos Ticos!" I insisted. Marcos seemed skeptical so I continued to speak in Spanish and declare our allegiance to Costa Rica. I think he was disappointed because he later confided that he was from Honduras and had bet money against Costa Rica. "Shhhh," he cautioned. Marcos must have been looking for a kindred spirit since he couldn't come clean to anybody else in the room full of Ticos supporters.
Squishy Meat
Just before the second half started, Adam, a squat young guy in a Costa Rica shirt, hopped out of a booth to introduce himself. "You guys better run after the game!" he warned. I repeated that we were rooting for Costa Rica. This time, I basically yelled it so more people would hear. We have to support our fellow CONCACAF teams, I explained. I wish there were some sort of Ticos handshake I could have performed to prove my support.
We pulled out a table and a waitress came by with menus, but the dim lighting prevented us from deciphering the blue text on a blue background. It was like trying to read the newspaper in a movie theater. My friend spotted a plate of brown goodies and told the waitress to bring us the same. What looked like a tray of brownies turned out to be a plate of squishy meat.
The disco ball sort-of lit our plate of fatty ribs, slippery plantains and viscous blood sausage, but I couldn't really tell what I was eating until I choked on a hunk of fat. Why is this meat so squishy? I wondered. Oh, it's a plantain. Thank God.
From our perch above the booths, I spotted a few Ruiz jerseys along with some strange names like Pame and Andrey.  One guy waved a Costa Rican flag. The crowd cursed the referee and shouted for a penalty kick after an alleged foul on Joel Campbell in the 60′. With all five senses activated, I experienced the excitement mixed with a little nervousness I get when I'm in a unique, unfamiliar setting. I usually only feel it when I'm in a foreign country. Never when I'm in New Jersey.
Shoot Out
The crowd (except Marcos) cheered when Costa Rica weathered the Dutch assault and earned a penalty kick shootout. I shook hands with the nervous men sitting in the booths around us. God, I hoped the Ticos would win. What could be better than stumbling upon a large gathering of Costa Rican fans the day their team took down the mighty Netherlands and advanced to the World Cup semifinals?
Alas, the Netherlands defeated Costa Rica 4-3 on PKs due to a few subpar shots and substitute keeper Tim Krul's prescient dives. Eventually, the loss seemed to sink in and the crowd applauded Costa Rica's incredible performance at the 2014 World Cup.
With the camera rolling, I rattled off those examples to the Globo reporter. I hoped to convey the strength of New York City's soccer culture. We live in an area full of knowledgeable soccer enthusiasts of every stripe. During the World Cup, I found community among young and old, men and women, natives and immigrants. Every neighborhood provides its own authentic experience among passionate soccer fans.
Thankfully, there is a lot of soccer to look forward to before the 2018 World Cup. The Africa Cup of Nations starts in January 2015 so you better head to West 116th Street in Harlem. MetLife Stadium will host 2016 Copa America games so you can camp outside the teams' hotels. The USA will have to fight through the mighty CONCACAF to qualify for the 2018 World Cup. Claim your spot at Smithfield Hall early.