Interview with Craig Dawson who is settling in nicely at West Bromwich Albion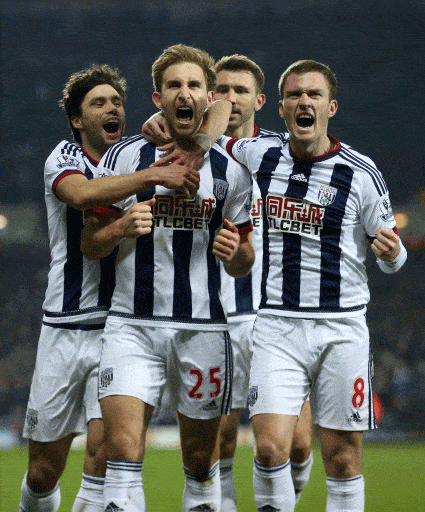 By Dave Bowler
Reaching a century of games suggests that not only have you made a contribution to your club – it's more than two seasons worth of games after all – but that you have established yourself in the colours, that you are a key piece in the jigsaw. For Craig Dawson of WBA, set to hit that mark against Manchester United on Sunday, that has been a long time coming.
"It's a really nice milestone to reach at a football club, and one that I didn't even reach at Rochdale. It's taken a bit of a while to get there, longer than I probably hoped when I first came here, but over the last couple of seasons, I feel like I've really had a good run at things in the team and I feel like I'm properly established here and I'm making a good contribution to things".
Rochdale Loan
When Craig signed for Albion in the summer of 2010, he was then immediately loaned back to Rochdale to continue an education that was only a season old at the time, returning to The Hawthorns full time the following summer to work under Roy Hodgson.
"Gabi got suspended after the Norwich game and I came in to play alongside Jonas at Swansea and we had a terrible day as a team. It's always a tough game down there, it's not a place where we've done especially well and we got well beaten on the day, 3-0.
"It was one to forget for all of us and then we played in the League Cup at Everton and Roy tried Gareth McAuley alongside Jonas and the team played better and from there.
"Once Gaz and Jonas really started to play together, they're such good players with so much experience that it was very hard to break through and get in the team. They never got injured either, they were so consistent, so I was just coming in for the odd game here and there and that's hard to do.
Bolton
"I went off to Bolton to play for a few months at the end of that season and that was good for me, playing in the Championship, but even then, those two just kept on playing and playing and it was so hard to get past them.
"I really needed a run of games to show what I could do and that chance came at the start of last season when I played quite a few games with Joleon Lescott at the back and that was important for my confidence and my self belief.
"As I said, I had to be patient from there, work hard in training and learn from Gaz and Jonas, from the coaches, from Joleon later on as well, and be ready to play when I finally did get my opportunity".
The fact that game number 100 is on the horizon is testimony to Craig's patience and his determination to break into the Albion side though as he concedes, there were moments when perhaps he thought he might need to go elsewhere to get games.
Game Time
"Definitely, there were times in the first couple of seasons here when I came back from the season on loan at Rochdale where I did start to wonder if it was going to work out here and it was very difficult, you can't get away from that.
"It was hard to adapt because at Rochdale, I'd played pretty much every game for a couple of seasons, you get used to going out there and playing every Saturday, most Tuesdays as well, and you do get into a routine. You feel a part of things.
"The chance to come here was a fantastic opportunity, a big club playing in the Premier League so that was really exciting. But it was a big step up and obviously, there were a lot of top players already here so it was very hard to break into the team.
"To this day, Gaz and Jonas are still going strong, Joleon was here for a season, we've got Jonny Evans and James Chester as well now, so it has always been tough with the competition at centre-half. I've just had to be patient and eventually, my chance came and I started to get regular games and from there, you feel more relaxed and more settled and you start to improve".
Getting Established
"I started last season at centre-half and I really enjoyed that alongside Joleon Lescott, back in my normal position if you like and I felt I had a pretty good run there up until nearly Christmas.
"I probably played 15 games or something in a row at that point and that was when I first started to feel as if I was becoming properly established in the side and even though I dropped out of the team for a few weeks around Christmas, I felt that I was really part of things and contributing all the time.
"And I got my first goal as well, which had been a long time coming, against Burnley. It was funny, I scored plenty of goals everywhere else I played, England Under 21s as well, but I used to get a lot of stick from friends and the lads here for not doing it with Albion, so it was good to get that off my back".
Tony Pulis
While Craig was out of the team for a week or two, there was another change at the top and in came Tony Pulis. Change is something Craig has become well used to.
"We've changed a lot at the top, five head coaches in my time here and that hasn't helped anyone, although I've learnt different things from all of them. What has balanced that out a bit is the fact that the core of the team has stayed the same through that period, we've had six or seven players who have played week after week, always in the matchday squad and that has been really important to us over that period".
Tony Pulis didn't take long in restoring Craig to the first team, albeit in unfamiliar surroundings…
"I came back into the team after Christmas when the gaffer came in and settled in at right-back, which I initially thought was only a temporary thing at the time but it seems to have become a lot more permanent since then!
"It has been hard to get to grips with it sometimes, but I feel like I'm learning more and more about it with every game and fortunately, this season, I've played in all the Premier League games so I'm really pleased to have been so consistent that the gaffer keeps on picking me.
"I think I've developed a lot in the job and I know that when I do move back inside to centre-half, I will take a lot of things I've learnt from there into that position."
Premier League Experience
"It's a totally different job from playing centre-half, it's been a steep learning curve for me and it still is but I'm really enjoying it. The fact that I've been able to play 50 odd games in the Premier League somewhere that isn't my main position has been good for my confidence as well.
"Although it's a different kind of job defensively, that side of the game comes to me more naturally because I've had all my career as a defender so you have a lot of the same disciplines. But obviously, a big part of the full-back's job is to get forward, join up with the attacks and get crosses in and that was something that was new to me. I've done okay on that so far, I think I'm improving and that's nice, it means there's something in my game that I can continue to develop and that's great.
"It's a bit hard because we've had Chris Brunt on the other side and obviously his crossing is fantastic from anywhere, so being compared with him isn't easy, but I work hard on it and I think I'm getting better with each game.
"Long term, I do see myself going back to centre-half. I see that as my real position, even though I've enjoyed playing at right-back. But like anybody else, the big thing is to get in the team and as long as I'm playing, I'll play wherever I'm asked to do a job".
Extended Contract
Things have been going sufficiently well for Craig that a contract extension has been offered and duly accepted, keeping him with the Albion beyond his 28th birthday, useful security for both parties.
"I've been down here a few years now, the family is settled in this area, so it was a very easy decision to extend my contract. It means I can just concentrate on playing and doing everything I can to stay in the team and carry on contributing to things.
"Being a professional footballer does mean a lot to me, it's something I've always wanted to do and it's something I'm very dedicated to. I came into the game in a very different way to a lot of people, I went to work for a living rather than coming through an academy system or whatever.
"I remember going to work and then heading off afterwards to train or play games at night and just thinking that if you could be a professional and be training and playing for a living, having that as the main thing in your life, that would be a dream come true.
Hard Work
"Having reached that point, then I really don't want to let that slip and I just want to do anything I have to do to make it work. Every day, you've got to work hard and put everything into it to try and be the best you can. I certainly don't take it for granted".
"I don't really have any targets in terms of games. It will be nice to get to 100, but I'm not looking towards playing 200 or 300 games or anything like that because that's all a long way off."
We're very definitely in the season's home straight now and WBA are edging ever closer to the 40 point safety mark. How does Craig sum up what's gone before and how does he reckon Albion will end the season?
"It's been an odd season in a lot of ways, it's been a nearly season. There are a few games where we probably should have got more points from them and if we'd picked up those four or five more points then we would be in the top half and people might have a different view of us. We go into every game with a belief that we can get a positive result.
"We've put a good gap between us and the bottom three and hopefully we can start looking upwards in the table and start trying to catch a few other teams above us".