A few years ago, then Celtic manager Brendan Rodgers described Hoops midfielder Callum McGregor as his "own Philipp Lahm."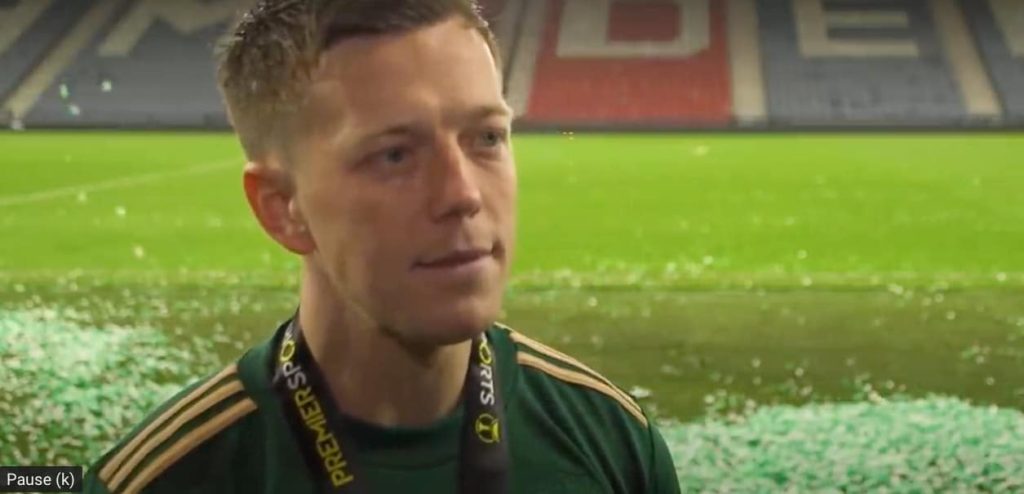 The Full Scottish with Brian P. Dunleavy
At the time, the analogy seemed absurd. Lahm was a fullback, McGregor a midfielder. Lahm was recognized globally for his footballing acumen and captained a German side that had reached the pinnacle of the sport, while McGregor was a 24-year-old relative newcomer to Celtic's first team, albeit clearly a talented and precocious one. Fast forward four years, however, and the comparison almost feels like a slight… to McGregor.
Okay, perhaps that's a bit much. Still, even as some in the Celtic support were questioning the East End-born midfielder's ascendancy to the captaincy as recently as September, there are few now who would want to see him wearing a shirt that isn't green and white.
His ability to read the game, and the emotional needs of his teammates during pressure situations, were on full display Sunday as he led Celtic to the League Cup, Ange Postecoglou's first trophy as Celtic manager.
Composure
McGregor could be seen moving his teammates about the pitch, translating the manager's tactical adjustments on the fly. He urged them on after the Hoops' opponents on the day, Hibs, scored the first goal, and his composure as the clock wound down after Kyogo's brace put the Parkhead side in front to stay clearly put his teammates, many of whom were playing in their first final in Scotland, at ease.
Finally, McGregor's celebrations at the final whistle, in which he made sure to engage the support, showed him to be a great leader.
"You have to be successful at this club and that's the pressure of playing for Celtic," he told Celtic TV, in describing his post-match reaction. "That's the moments that I live for. That's what I want. It's gold dust to me."
That stuff is music to the ears of club supporters, many of whom felt disconnected from its hierarchy in the aftermath of a trophy-less campaign in 2020-21. McGregor is one of them, an academy graduate who first signed for Celtic as an eight-year-old. That matters.
Footballing Sense
Yes, he may lack the pre-match dead-eye stare of his predecessor, Scott Brown, and has a while to go before his CV matches up as well. He doesn't have the imposing size of Stephen McManus or the fiery temper of Neil Lennon, to mention two other Celtic captains of recent vintage.
However, McGregor has a footballing sense and a penchant for consistent, steady play those men arguably lacked. He has the pulse of the current squad and, seemingly, of the support as well. He also has his first trophy as club captain, so he's off to a great start.