Newly crowned US Amateur champs the Lansdowne Bhoys have teamed up with an indie cast and crew to help create a new winning film called 'Emerald City'. The titular city is New York City and its emerald gleam comes from the Irish construction workers who have built it.  
Bhoys On Film: How Lansdowne Bhoys Became Heroes Of The Silver Screen
By L.C. Canivan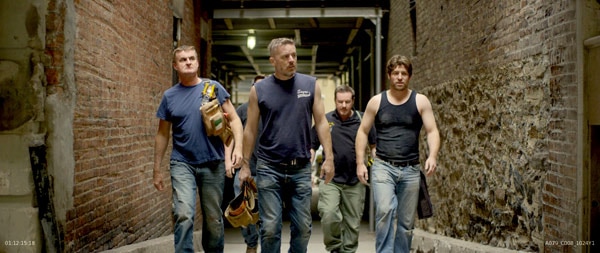 Emerald City, which was written and stars Tyrone born New York City construction worker and author (That's That and The Orangutan), Colin Broderick, depicts the working and personal lives of a crew of Irish construction workers in New York City.
The construction crew is composed of a disparate cast of characters: Pat Mack (John Keating) the slippery Foreman, Podge (John Duddy) an earnest ex-boxer, religious Richard (John McConnell), brusque Jerome (Brendan Broderick), and laconic laborer Luke (Ryan McCormack).
The fulcrum of the film is Colly (played by Colin Broderick), an aspiring playwright whom the rest of the crew teasingly refer to as 'Hollywood'. When Colly gets his big break to have his play produced, he looks to his trusty crew to drop their hammers and pick up his script.
Irish In New York
The film reflects many of Broderick's personal, professional, and creative choices. He chose to create Emerald City with the help of his real life friends and family, most of whom had more construction experience than acting experience. "I wanted Emerald City to be an authentic representation of the Irish working class in New York.  Most of the cast had no acting experience whatsoever.  Many of them are still working construction. I worked as a carpenter through post production."
Colly, we learn in the film, is from Northern Ireland, where the memory of growing up in the Troubles still haunts him. He confesses he feels guilty for moving away from Northern Ireland, a feeling that many immigrants can identify with.  Memories of the North aren't the only things troubling Colly, however, as he struggles to stay sober and to be a more attentive father.
Most of the characters in Emerald City have their own personal troubles whether they come from Northern Ireland or not.  Their troubles may be drinking, drugs, gambling, abandonment, or loss. With welcome relief, none of the film's characters are portrayed as perfect. The film shows the characters' unvarnished flaws, artfully allowing the audience to not only forgive them their flaws, but to forgive our own, as well.
Dark Topics
Emerald City may address dark topics, but Emerald City is anything, but grey and dreary. Bits and bobs of wit are sprinkled throughout the movie. On the Lig's John Keating as Foreman Pat Mack oozes flourishes of comedy. Pat contrives and prevaricates constructing more than just buildings in order to dig himself out of any financial hole – whether it be a massive gambling debt or a modest bar tab.
Balancing out Pat is gruff journeyman Jerome (Brendan Broderick), who serves up one of the film's most humorous lines about our most important meal of the day. Unsmiling and understated Brendan Broderick gives a delightfully authentic performance.
As Jerome keeps the boys firmly nailed down-to- the earthen floorboards, affable Podge, played by Derry born former professional boxer, John Duddy, lets us punch above our weight.  Duddy trades punches for kicks as his character, Podge, plays football with real life local heroes, the Lansdowne Bhoys FC. When quixotic Podge isn't heading footballs, he's head-butting thugs with the battlecry, "I'm from Northern Ireland!" Wrong-doers be warned.
When asked why he chose to have Duddy's character, Podge, be a football player, Broderick explained, "I felt that with Podge being a boxer it was a nice twist to make him also a football player. It was also a nice way of making the movie more community oriented by drawing the Lansdowne Bhoys and their supporters."  '
The Lansdowne Bhoys were not only involved on screen, but behind the scenes as well.  Club Development Officer, Con McCormack and Team Vice President Aiden Corr both served as Executive Producers on the film.
McLean Avenue
Broderick's film does a charming job of drawing in the New York City Irish community not only by casting locals, but by featuring Irish communities and neighborhoods as characters in themselves.  We see Irish neighborhoods like Sunnyside and Woodlawn. We see McLean Avenue.
These are the places that make up Emerald City. Things are changing, however. Colly laments that New York City is changing. What we hope never changes is New York City being a place of abundant opportunities and endless chances.  Emerald City is a movie about these chances.
Someone taking a chance on you to give you your lucky break. A chance romantic encounter with a stranger on the Subway platform. A first chance to make a good impression on a crush. A second chance to be a better father. A last chance to overcome grief. New York City is both exhilarating and exhausting; every day can seem like a battle. Emerald City is one of it's victories.
Awards
While Emerald City embodies the scrappy spirit of a DIY underdog, the film has been lauded by audiences and film festivals alike. Emerald City was an official selection at The London Irish Film Festival and The Belfast International Film Festival.  It won the Audience Award at the 2017 Manhattan Film Festival.
The film also boasts the support of Brendan Coyle (Mr. Bates on Downton Abbey), who is one of the Executive Producers of the film and Eden Brolin, who gives a brief, but wonderfully itchy performance as an unimpressed drug addicted sister.
This September, Emerald City will be showing at The Chicago Irish Film Festival Hooley, The Disappear Here Festival in Donegal, The San Fransisco Film Festival, as well as in Washington DC.
Ultimately, whether people see the film in Belfast or London, Derry or San Francisco or in the Emerald City itself, Broderick's hope is this, "I wanted working class Irish to walk away feeling better about their lives – feeling like they mattered enough that someone bothered to make a feature movie about people just like them."