When they come to write the full history of the Premier League in years to come, it seems likely that the summer of 2017 will be pinpointed as the precise moment when any last vestiges of sanity that clung tenaciously to it were finally scrubbed away and cast into the void as EPL transfer prices soar once again.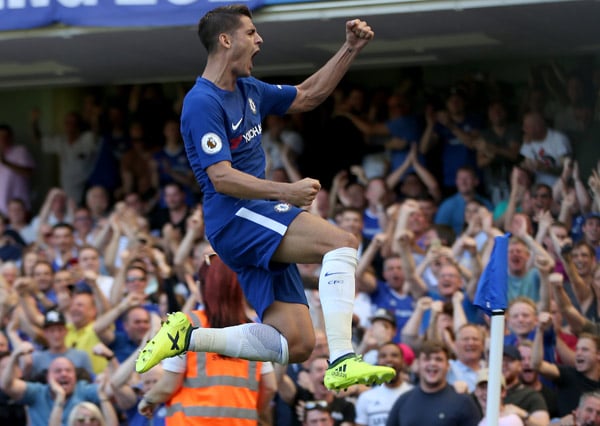 By Dave Bowler
I know we probably say this every year, but has there ever been a transfer window like it, when prices escalated so fast and so ludicrously? Club upon club, deciding its potential spend back in April, a time that seems like another world away now, found those calculations decimated within a couple of months as fees suddenly became calculated on the principle of "take the number you first thought of, double it, then add what you like".
Clubs that sat upon substantial, what cliche demands we call "transfer war chests", suddenly found that the chests held only pop guns in the new reality. Away from the big six or seven, the rest of the Premier League would, back in April, have felt very content if they'd got £40m to spend, only to find three months later that you could barely buy Danny Drinkwater or Troy Deeney for that.
That's no slight on the players, who have nothing to do with valuations, but even so, I'd rather spend £40m on Neville Chamberlain than Oxlade-Chamberlain, and he's been dead 70 years.
Hyper-Inflation
Without wishing to single any player out, the case of Kevin Wimmer is especially instructive. Signed by Spurs from Cologne in May 2015, he spent two years failing to break into an admittedly talented Tottenham team before becoming surplus to requirements this summer after 15 Premier League games.
Logic would argue that if he was going to stay in England, you'd probably get him for less than Spurs paid. Not as such. Stoke handed over £18million to get his signature, meaning that for every PL appearance, his value went up by nearly £1million. It's hard to define that as anything but madness.
That hyper-inflation that resembles Germany before the war – close your eyes and you can just picture Pep Guardiola pushing a wheelbarrow full of money down the M1, only to get to Arsenal too late – has had remarkable implications, such that some early transfers that looked eye watering at the time now resemble shrewd investments.
We can expect to see learned articles proclaiming Romelu Lukaku as the "bargain of the century" before Christmas, £75m for 20 or more PL goals a season suddenly looking like relatively small change.
Spending Binge
But where does it all leave us? Away from the clubs for a moment, surely it leaves us fearing further still for the England side. After having its best ever summer at youth levels, suggesting a good crop of players coming through, the Premier League has gone on a devil may care spending binge that resembles that of an orange tycoon who has the Secret Service on tap.
None of that bodes well for the development of the young players England desperately need to bring vision and technique to the national team. Watching England labour to victory over Malta last Friday, then watching Spain and even a relatively poor Italian side play an entirely different version of the game the night after, merely underlines the huge gulf in class.
Chelsea
Back at the Premier League ranch and it begins to look as if we might have a proper title race again. Reigning champions Chelsea have had a mixed window at best – an extraordinary comment given a net spend of around £120m – aided and abetted by the Diego Costa fiasco.
The selling of Nemanja Matic, and to Manchester United especially, looks like a bizarre act of self-harm at best, but, in Alvaro Morata, I fancy they have landed this season's star of the show, now given the platform he needs to thrive. Still a fine side, full of the soldiers that Conte loves, their biggest issue is squad depth rather than quality, particularly now they are back in European football. Even so, they will be there or thereabouts.
Man City
In spite of that, Manchester looks the more likely destination for the title this term after both clubs spent heavily and, for the most part, well. At City, Guardiola has equipped himself with the attacking full-backs he loves and has a team brimming with goals at his disposal, which makes you wonder why they were quite so desperate to add Alexis Sanchez to the ranks.
Where City might fall down is at the back where a commanding centre-half to back up the ailing Vincent Kompany was surely essential. The late pursuit of Jonny Evans underlines that need but was left far too late when it should have been a day one priority.
Liverpool
Liverpool might have made a similar tactical error because while they look awash with goals and will, on their day, doubtless hand out four and five goal thrashings, their vulnerability at the back prevents them from looking like title winners just yet.
The badly handled pursuit of Virgil Van Dijk left them nowhere to go once Southampton, Liverpool's feeder club in the past, dug their heels in, and the next issue will be the reintegration of Coutinho into things given he very obviously doesn't want to be there any more. Top four for Liverpool, but no more.
Arsenal
In north London, things don't look so promising. Arsenal are perpetually on the edge of meltdown because there is a chunk of their support that will not have Arsene Wenger at any price any longer. Any poor display, like the horrible surrender at Anfield, and the knives are out again.
Right or wrong, Wenger should have been moved upstairs to the board after winning the cup last term simply to lance that boil, because once the fans turn, there's no saving you. Whether they would find anyone who could do better, that's another question, because the club continues to look pathologically averse to spending any money. Lacazette will, of course, score plenty of goals, but they are too frail at the back to do anything but contest the Europa League places
Spurs
Spurs are probably in the same boat, not least because of the Wembley move. Though talk of the curse is nonsense, losing that special White Hart Lane atmosphere will lose them points, there's no question of that. Although they left it late, their transfer business looks solid enough, not least because the core remains with them, only Kyle Walker moving on.
Bringing in Fernando Llorente, and from under Chelsea's nose, is a shrewd bit of work, lightening the load on Harry Kane and giving them a different option, while Serge Aurier is a fine replacement for Walker. But without that home advantage, they'll be up against Arsenal and Everton for fifth, sixth, seventh.
Everton
Ronald Koeman has significantly reshaped the Toffees with some exciting signings, including Wayne Rooney who'll be a real talisman for them if he sorts out his Tiger Woodseque personal misadventures of the last week. Losing Lukaku's goals is a hefty blow that will prevent them really pushing for the top four, but it's another season of gradual advancement ahead.
Those Lukaku goals will be being scored at Old Trafford and it's one of the reasons United are the likely Champions this term. After two summers of hefty spending, this looks like a Jose Mourinho team, strong, quick, mean, ruthless. It's not hard to see Lukaku getting 25 goals and that will change those draws, of which there were so many last term, into wins.
Matic will release Paul Pogba to be the player he was at Juventus, there seem to be few distractions of the Rooney and Schweinsteiger kind from last term, and when Zlatan returns in the new year, they have yet further options. United look athletic, powerful and hard as nails and will take some stopping.
Newcastle United
At the other end of the table, you have to fear for the newly promoted sides. When the places were decided back in May, Newcastle looked most likely to thrive, purely because of Rafa Benitez. Tactically as sharp as they come, it appears that the transfer promises made by Mike Ashley haven't come to fruition – who knew? If anybody can pilot the Magpies to safety it's Benitez, but who's to say he'll stick around long enough?
You have to fear for Brighton. They've spent heftily enough, almost exclusively on players who, like the existing squad that came up, are unproven at Premier League level. At the bottom end of the table, Newcastle allowing Tim Krul to move there for the season is as perplexing as Matic being allowed to go to United, but not even the big Dutch keeper is likely to be enough to save them from a quick return to the Championship.
Huddersfield
Huddersfield are interesting, particularly on the back of their strong start. They look to have recruited solidly but do they have the depth to go through the season and the resilience to come back from four or five successive defeats, the kind of run that can always afflict anyone outside the top seven if the run of fixtures goes against you?
They've been handed the perfect opening run by that fixture computer and they have to make hay before they come across Spurs, Liverpool and United inside four games, starting at the end of the month. At the moment, they remind me of Hull and Blackpool on their first venture into the PL, full of enthusiasm at the start but in danger of running out of steam in the second half of the season.
Burnley
Who else might trouble the relegation zone? Burnley could be one of the sides to get caught out by the inflation in the market, but the acquisition of Jack Cork could be a masterstoke while Jonathan Walters still has a bit to give to a side that Sean Dyche will have well organised again.
Swansea will need Wilfried Bony to instantly recapture his form of old if they are to handle the departure of Llorente and Sigurdsson, though the loan signing of Renato Sanches is a fascinating one. Watford continue to apparently thrive on their chaos theory approach and might well do so again under Marco Silva though they look short of strength in depth at the back.
Bournemouth
And is the Bournemouth bubble going to burst at last? Perhaps not enough to see them down, but it might be a season where they take a backwards step this time around. How they handle that for the first time in years will be instructive. Outsiders for the drop come from the southern end of the capital. Crystal Palace are already thought to be having second thoughts about Frank de Boer.
That's leadership from the top of the worst kind for de Boer has never made any secret of how he wants to play and surely it was always obvious that it would take a while for the existing Palace squad to take on board a new, possession based game, time the hierarchy don't appear willing to grant. The signing of Mamadou Sakho might just be their saving grace.
West Ham
The other outsiders are West Ham who are very much in that "too good to go down" mould, one they've found themselves relegated by before. Look at their squad, factor in that they've had a year to get used to the Olympic Stadium now, and logic points towards solid mid-table stuff, but the early season form suggests that not all is well.
That can swiftly be turned round of course because you have to remember that they haven't had a home game yet, but when you are a club whose chairman, David Sullivan, can't resist rushing into print to undermine his manager's transfer dealings in order to protect himself, you have a recipe for potential disaster…