World Cup 2022 Diary: Day 2. England 6 Iran 2, Netherlands 2 Senegal 0, Wales 1 USA 1. The 3 Lions hit Iran for six, while USA show promise. By Dave Bowler.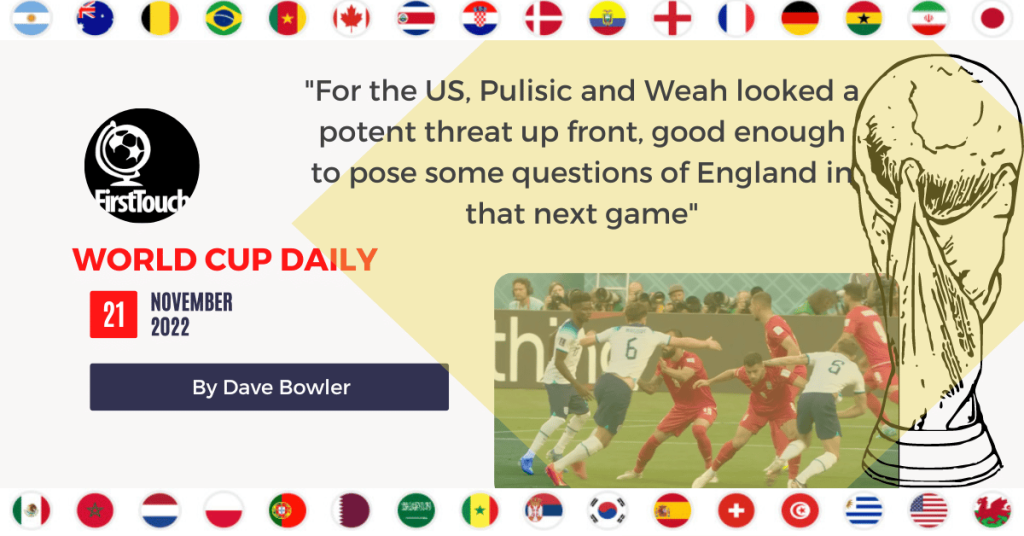 Another weird day at the World Cup. It was a day when the Iranian team refused to sing their own national anthem as a protest against the human rights record of their rulers back home. That is a protest that could come with very real implications for them and their families when they return home and deserves the highest praise.
It was also a day when other nations capitulated on their plan to wear OneLove armbands out of the fear that players might get booked for doing so. I think there's a rather sharp contrast there, don't you? Could not the entire England, Wales, Netherlands teams, for example, have worn the armband? And then the substitutes?
You think the referee is going to book them all in the first game, do it again in the second game and leave them each with half a dozen players left for the final game, with the rest suspended? Would FIFA really be willing to make itself look that absurd? But no, gutless compromise wins out, as is ever the case when money is involved. And be in no doubt, those respective football associations are every bit as keen on money as FIFA are.
REASONS TO BE CHEERFUL 
To the football… A sound day for England, though the swatting aside of a poor Iranian side, further weakened by losing their goalkeeper in the opening minutes, tells us as much about their chances as Ecuador's win over Qatar did. You can only beat what's put in front of you of course, and England did that with a flourish.
There is no doubt that England's strength is going forward and after a meek Nations Cup campaign, the signs here were that Gareth Southgate is now embracing that. Jude Bellingham was outstanding, even given the opposition, and could have the same kind of impact on this tournament as Gascoigne did in 1990.
There were many reasons to be cheerful for England, but Southgate will not have an untroubled night's sleep after his suspect defence contrived to concede two goals to a dreadful side. What might better opposition do to them? That is the conundrum he needs to resolve – we can only hope he chooses the "they score three, we score four option" rather than retreating into a pragmatic shell.
---
DUTCH DELIVER
The Dutch left it late but joined Ecuador at the top of their group, beating Senegal 2-0. That game underlined just why it's the strikers that command the big transfer fees, for had Senegal been able to put Sadio Mane on the pitch, the result might have been very different.
As it is, their fixture with Ecuador looks the group's key one for the Netherlands will now surely go on to win the group after pocketing all three points. There was much about them that was familiar from 2014 when, under Luis van Gaal again, they did enough to win games and no more. It would be a surprise to see them reach the giddy heights of third place again as they did eight years ago, but the runners up in the England / USA / Wales group won't fancy meeting them in the round of 16.
BELIEF IN BALE
Not that we're any closer to finding out who is going to qualify from that group after the USA and Wales played out the archetypal game of two halves and ended up with a point each from their 1-1 draw. The US were dominant in the first period and could well have been more than a goal to the good at the break. But when Wales changed their approach in the second half, becoming more direct with the arrival of Kieffer Moore, it became a proper contest.
Having been mostly anonymous throughout, it was still inevitable that it was Gareth Bale who was their saviour. Winning and then scoring the penalty, there must be a few wise heads within the MLS who were left wondering if it had really been such a good idea to keep him match fit for the World Cup…
It all leaves the group nicely poised for both the US and Wales will expect to beat Iran handsomely and will fancy their chances of taking something from England. For the US, Pulisic and Weah looked a potent threat up front, good enough to pose some questions of England in that next game, though whether they will be strong enough defensively is another story. Wales will certainly feel they could trouble England in a local derby at the group's climax. As long as there's Bale, there's belief.
---
---
Dave Bowler is the author of The Prime Ministers Of Football – Sir Alf Ramsey: England 1973
See it here and order yours in time for the holidays!
Follow Dave Bowler on Twitter:  @MagicOfFACup