World Cup 2022 Diary: Day 3. Argentina 1 Saudi Arabia 2, Tunisia 0 Denmark 0, Mexico 0 Poland 0, France 4 Australia 1. Five  games in and we already have the biggest upset in World Cup history on our hands. That's not a record Lionel Messi was looking to be part of.\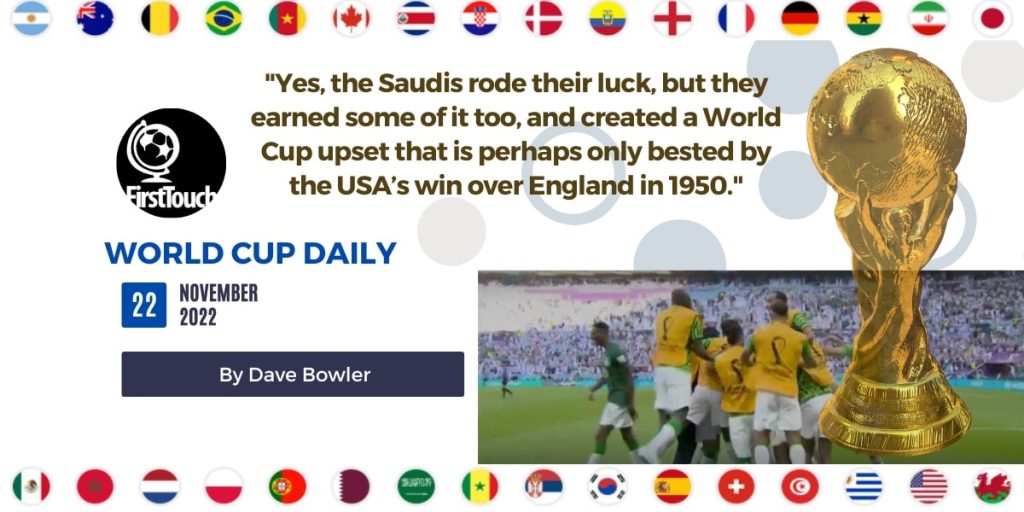 By Dave Bowler
It was the day of the reverse sandwich at the World Cup today. The filling in the middle was a bit bland and stodgy. The top and bottom the bits that got the juices flowing.
TUNISIA 0 DENMARK 0
Let's dispense with the 0-0s first. Denmark and Tunisia played out one of them, and the Danes will spend all night wondering just how it was that Cornelius managed to miss with a header from about 18 inches from the line. When such a sitter was missed, my dad always used to say, "He could have fanned that in with his hat". If this is the level of Cornelius' aim, somebody get him to invest in a Stetson, and quick.
Denmark probably shaded the game but were nowhere near the side that impressed so often in the Euros last summer. It would be hard to begrudge Tunisia their point for they were sprightly and competitive throughout. Focused and aggressive, celebrating every tackle like a goal, they clearly mean to make the most of this World Cup.
MEXICO AND POLAND DISAPPOINT
The Poland – Mexico game was the day's biggest disappointment.  A 0-0 draw where neither side ever really threatened aside from Lewandowski's penalty which was well saved by Ochoa. It was a game with little to commend it, but going to bed last night, both sides might well have accepted it as a decent result. But that was before Saudi Arabia took on Argentina in the game's first game.
SAUDIS SHOCK ARGENTINA
This looked like a nice way for Messi's men to ease themselves into the tournament. All the more so after he had tucked away an early penalty to take the lead. Three further goals were chalked off for offside in a largely dominant first 45 minutes.
Saudi Arabia then turned the game on its head in eight minutes. Al-Shehri equalized right after the break, before a spectacular goal from Al-Dawsari gave them the lead minutes later. Nobody would have expected that from the team ranked 51st in the world. Even then, it was anticipated that Argentina would come back and brush them aside. But the Saudis played with a real intensity. They pressed Argentina all over the park and simply would not allow them back into the game.
Yes, the Saudis rode their luck, but they earned some of it too, and created a World Cup upset that is perhaps only bested by the USA's win over England in 1950.
For Argentina, there will be a sobering review of what went wrong. But the fact that Mexico and Poland could only draw will have cheered them up no end. Wins over those sides, certainly well within Argentina's compass, and they will still likely top the group. But Saudi will now be dreaming of an unexpected crack at the knockout stages.
GIROUD MAKES FRENCH HISTORY
France will be looking towards that too after a routine win after what was initially a feisty Australian display. Ultimately, the French had too much class and certainly and too much threat in attack. Olivier Giroud joined Henry as the greatest goalscorer in French history, though you'd expect Mbappe to eventually usurp them all.
It's a bigger win for France than might otherwise seem the case given the problems that reigning champions have had in getting out of the group stages in recent tournaments. The loss of Pogba, Kante, Benzema, Nkunku and Kimpembe to injury have not helped. France hardly came into the competition in the rudest of health, but sometimes, those problems can galvanize a side.
It's still difficult to see France coming through and becoming the first nation in 60 years to retain their title. But their prospects for going deep into the competition look much better than they did 48 hours ago. Which is more than you can say for Argentina.
Follow Dave Bowler's World Cup diary every day at firsttouchonline.com
---
---
"Sir Alf Ramsey: England 1973" focuses on the final full year of Sir Alf's reign as England boss, as the nation that won the World Cup in 1966 failed to even qualify for the 1974 tournament.
It deals with the way Ramsey was suddenly a man out of time, both on and off the pitch, and with how the failing fortunes of the England team mirrored those of a post-Empire nation heading for a fall of its own.'
A must read for all fans. Order your copy in time for the holidays. 
Follow Dave Bowler on Twitter: @MagicOfFACup
---