World Cup 2022 Diary: Day 1. Qatar 0 Ecuador 2. Qatar loss makes World Cup history, but makes Enner Valencia of Ecuador an early golden boot contender. By Dave Bowler.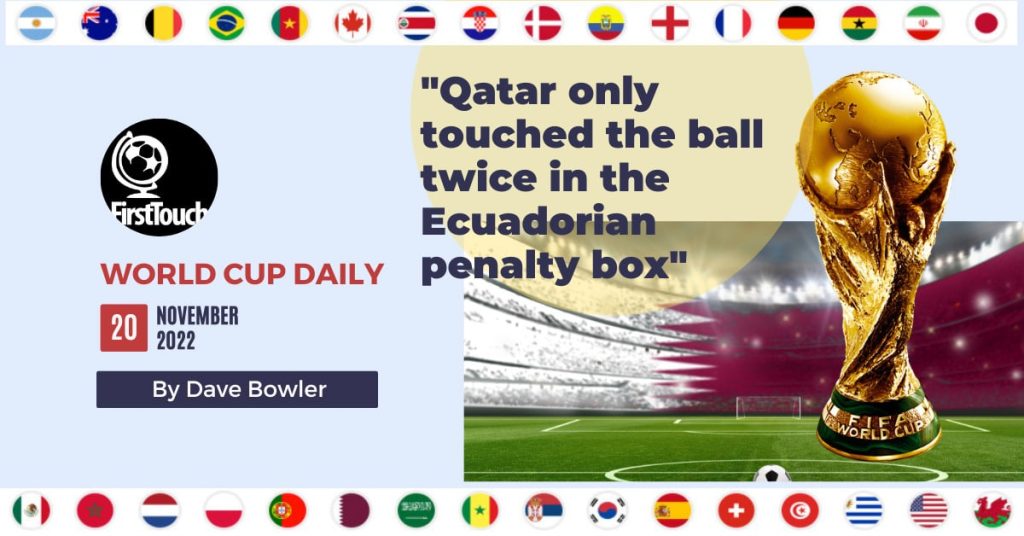 Before we get to the football, I guess we have to address the whole idea of a Qatari World Cup. The concept of taking the world's game to nations other than the usual subjects was a good one, but Qatar has not proved to be a good choice.
From a sporting perspective, moving the tournament to the northern winter was a lousy idea. So many big leagues were still playing a week ago and it has meant no real build up. There's been no opportunity to create the excitement ahead of the competition that usually comes in those two or three weeks when everything is focused on that first game.
HUMAN RIGHTS QUESTIONS ARE FRONT AND CENTER AT WORLD CUP
That, of course, is a minor thing compared with the issues over human rights. The Qatari attitude to LGBTQ fans. Not to mention conditions that the migrant workers have had to endure in building the stadia over recent years. All of that should have disqualified them from hosting the tournament. Just as South Africa were sporting pariahs for so long in the apartheid era.
But castigating football for supping with Qatar is pretty rich when we might discuss the way that many western countries treat Muslim migrants and asylum seekers, for example. And then we might note that most nations on earth – including those at the World Cup – are happy to trade with Qatar.
For all football's importance around the globe, if those politicians and pundits who are happy to attack the game for going there really cared about the issues, they might engineer more change by not buying from them.
In 2021, the UK, for example, imported $2.92billion worth of goods from Qatar and exported $1.58billion. The USA's figures were $1.69billion / $3.31billion.mGermany $1.42billion / $1.62billion. Put your money where your mouth is – or shut up.
TONE DEAF INFANTINO
That said, FIFA have, inevitably, made a bad situation worse. Gianni Infantino's pre-tournament speech which attacked western hypocrisy had a point. But that was drowned out by the tone deaf opening of, "I feel Qatari, I feel Arab, I feel African, I feel gay, I feel disabled, I feel a migrant worker." Given that a couple of those options would likely see him imprisoned or lying injured on a stadium site, it was at best ill-advised. Thinking he was channelling MLK's "I have a dream", he sounded more like Monty Python's "I'm Brian – and so's my wife!"
QATAR EMPTY THE STADIUM
To the football. Qatar did create some history by becoming the first hosts to lose their opening game. And, on the evidence of that 90 minutes, it's hard to see them getting any points on the board whatsoever. They look a pretty poor side who were opened up by some pretty standard football from Ecuador. The South Americans were on easy street from early on in the game. Enner Valencia had an early goal disallowed by VAR for offside. He then helped himself to two more in the first half, before going off with a slight knee injury.
The second half was the dampest of squibs as Ecuador simply managed the game to its conclusion. With no need to exert themselves, they reserved everything for greater battles to come against Senegal and Holland. Neither of those outfits will have been concerned by what they saw on offer in this opener. Both favorites will already be quietly confident that they'll progress.
There were a couple of half chances for Qatar, who only touched the ball twice in the Ecuadorian penalty box, but they were not met with any conviction. The worrying sign for the organizers was a half empty stadium by midway through the second half. The locals seemingly passed judgement on their side by heading home early. Not an auspicious start.
Read Dave Bowler's World Cup diary here every day.
---
Dave Bowler is the author of 'The Magic of the Cup' series of books exploring the great FA Cup teams of years gone by – WBA 68, Arsenal 71, and Liverpool 74.
See them here and order yours in time for the holidays!
Follow the magic of the cup on Twitter:  @MagicOfFACup