Over the years, the mantle of "greatest player in the world" has rested on many shoulders before falling upon Lionel Messi at present. Over the season, we'll be looking at the players who have filled that role in the post-war game, right through to the present day. It all begins with a plumber from Preston…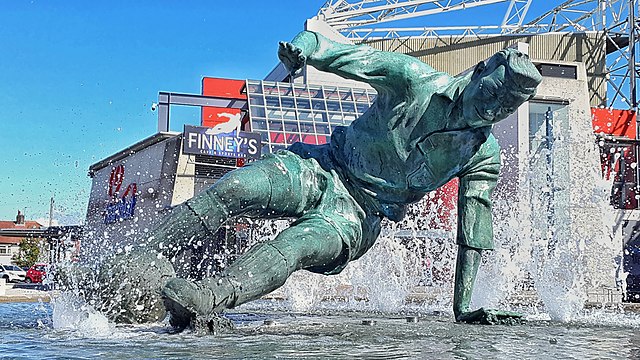 Some clubs are blessed, for within their ranks, their history, they have an individual who comes to embody them, on and off the field. Generally it's a player or a manager who has spent a lifetime in service to his football team, often, though not always, a genuinely great player, but in all cases a man who has both adorned the game he played and added lustre to the reputation of his football club, a man whose integrity stretches far beyond the green rectangle and touches even those who take but the most passing of interests in football.
Jimmy Armfield at Blackpool, Bill Shankly at Liverpool, Matt Busby at Manchester United, these are all men who represent the very best values of their football clubs, whose deeds lie at its very heart. But not even these men can match the way in which Sir Tom Finney simply is Preston North End.
Preston North End
Finney has legitimate claims to being the greatest English footballer of all time. Bill Shankly, a playing colleague at Preston, was adamant that Finney was the best player he ever saw, which is good enough recommendation for me. In 473 games for Preston he scored 210 goals, to which he added 76 England caps and 30 more goals, playing in all five positions across the forward line for his country.
And if you think those statistics are impressive, remember this. Finney didn't make his senior debut until he was 24, the first six years of his career stolen from him by the war years, years where he served under Montgomery in the Eighth Army in North Africa. Just think what those numbers would look like if Hitler hadn't been running the German FA all that time.
Plumbing Business
But raw statistics mean next to nothing in the Finney story. This was the man who would train in the morning and then head off to work in the family plumbing business in the afternoon. He was a man who lit up the country on a Saturday afternoon wherever he went, who put thousands on the gate at clubs up and down England yet still toiled for the comparative pittance that was the maximum wage.
This was the man who, on being offered a move to a club in Italy and the life changing wages that offered was told by his chairman, "Tha'll play for us or tha'll play for nobody Finney", in the far off days when freedom of contract did not exist and football clubs decided if you were going to move on, not players.
This is also the man whose retirement from the game brought down the curtain on a different era. The maximum wage was on its way, freedom of movement was coming but it all came too late for Sir Tom. He played his entire career at a small, provincial club, won not a single trophy in all that time, and played without protest. Imagine that. It's as if after going to Deepdale on loan as a kid, David Beckham had remained there, and was still lining up to play in League One today. Preposterous, but that's the game we then had.
Soccer Slavery
Yet there is not a trace of rancour when Sir Tom talks of those years of servitude, the "soccer slavery" as it was termed by the Players' Union as they broke down those barriers. And while the opportunity to win trophies, to play abroad or to represent Arsenal or Manchester United would have been welcome but somehow, in the longer run, a lifetime with one club, with a small club, it just adds to the legend. Had he moved around, he would have been a Denis Law, a Jimmy Greaves, hugely respected and admired for his ability but still just a footballer.
As it is Finney transcends it all, transcends the game, transcends the town in which he played it, where he was born, played and lived his life. It's Finney who provides an odd continuity that makes Preston the spiritual home of football in this country, linking the modern day to the reign of the great "Invincibles" who kicked off league football in this country by winning the first league title in an unbeaten season and adding the FA Cup to it for good measure.
His statue that stands in front of Deepdale and in front of the National Football Museum is a perpetual monument to a man who is the embodiment of everything good this game represents. May he live forever.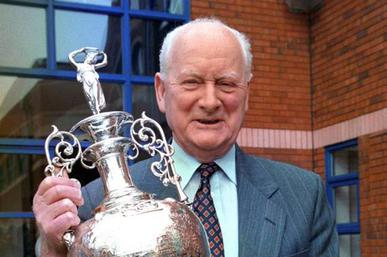 ---
Dave Bowler is the author of "The Magic of the Cup 1973/74", telling the story of Liverpool's FA Cup win in 1974. Available here: https://www.curtis-sport.com/books –
Follow the magic of the cup on Twitter: @MagicOfFACup