The crown for the world's greatest player didn't have too far to travel in the second half of the 1950s, passing from Ferenc Puskas to Alfredo Di Stefano, two members of the all conquering Real Madrid unit that defined and dominated the early days of the European Cup. And yet the legend of Real Madrid, of Di Stefano himself, might have been altogether different given the confused footballing politics of the 1950s.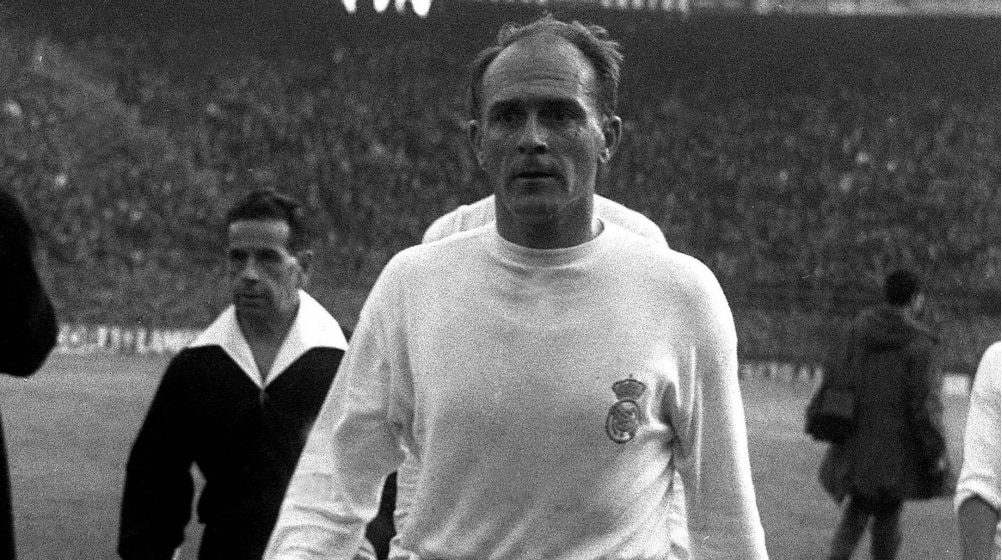 By Dave Bowler
Di Stefano, born of Italian parents in Buenos Aires, was clearly a prodigy from the very outset. Joining River Plate as a 17 year old in 1943, and spending time out on loan at Club Atletico Huracan, he spent the next six years rewriting every record that you could think of. As with so many of the men we will spotlight in this series, Di Stefano was essentially an artist, a painter whose medium was the football.
Seeing what was hitherto unseen, creating angles previously deemed impossible, whether he played as an out and out striker or in a more withdrawn position, he was an irresistible force, totalling 119 goals in 150 Argentine league games, scoring six more in six internationals.
Millonarios
But in 1949, Argentina's footballers went on strike. Deprived of his oils and his water colours, Di Stefano took up his easel and decamped to Millonarios in Colombia, reaching the country at a time when it was attracting talent from around the globe, including the likes of England's majestic defender Neil Franklin. Eligible for the Colombian national team given that the nation was not recognised by FIFA, Di Stefano played four times for the country, but it was on the club stage that he excelled, banging in 120 goals in 131 games between 1949 and 1953.
By then, European football was climbing out of its post-war malaise, austerity giving way to a game that looked to entertain a restless public. The two Spanish giants, Real Madrid and Barcelona, could see the way the wind was blowing, that jet travel was about to make European club football a reality, and they wanted to attract the cream of the world's players. Di Stefano had very clearly risen to the top.
Barcelona vs Real Madrid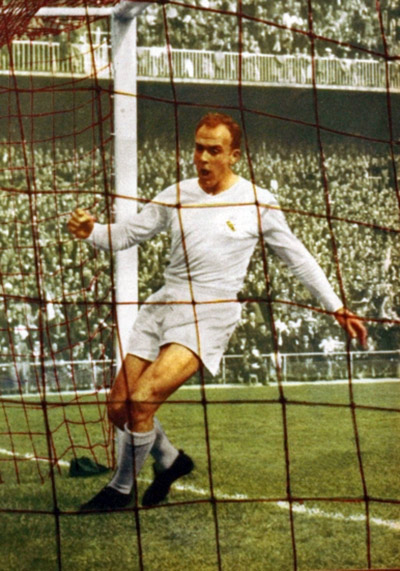 It was Barcelona who struck first, making a paltry offer to Millonarios – who only owned him until 1955 when ownership reverted to River Plate. Millonarios turned it down and Barcelona persuaded Di Stefano to walk out on the club and sign for the Catalans. Bad move. The Spanish Federation refused to recognise the transfer initially and demanded Di Stefano appear before them to resolve matters.
On arriving, Real Madrid convinced him to sign for them instead, a cobbled together agreement eventually surfacing that Di Stefano would stay in Spain for four seasons, playing alternate seasons for the two clubs. The Barcelona fanbase was in open revolt at such an idea and so it was that he became the exclusive property of Real Madrid in late 1953.
And thus did the European Cup effectively become the exclusive property of Real Madrid too. There have long been differences between the South American and European conceptions of the game, but in the early 1950s, those differences were far more sharply defined than they are these days.
Box To Box
Back then there had been comparatively little movement of players between the continents, the World Cup was still in its infancy and of course, there was no satellite television to beam us pictures from every corner of the globe. The consequence of that is that there are few surprises left to uncover these days as world football has converged upon homogenous ideas, one nation's ideas not that dissimilar to those held thousands of miles away.
Sixty years ago, planet football was a very different place. Di Stefano might as well have stepped off the dark side of the moon as come from Argentina, for he was a footballer that had little time for the cage imposed on others simply by virtue of the number on their back. Blessed with fearsome stamina and the fitness of a well oiled machine, Di Stefano, a goalscorer supreme, rampaged from one end of the pitch to the other, the first embodiment of what later became known as the box to box player.
But while that term has come into disrepute as simply referring to a player that can run up and down for 90 minutes, Di Stefano used his movement and his physical capacity to devastating end, collecting the ball in the heart of defence in order to springload a rapier sharp attack, popping up on the end of it to collect yet another goal.
Five European Cups
Along with the Hungarians, and particularly Puskas with whom he would ultimately create perhaps the most lethal partnership in football's history, Di Stefano's style of play led the European game into an era of enlightenment that ultimately begat the game we know today.
Twice European Footballer of the Year in 1957 and 1959, five times a European Cup winner, for more than 40 years the team scorer in that competition with 49 goals in 58 matches before the advent of the Champions League rendered that mark attainable for mere mortals, Di Stefano who was, by now, a Spanish citizen, completed his Real career in 1964, adding a further couple of years on to his career at Espanyol where the goalscoring touch still did not desert him.
Routinely name checked whenever the greatest players of all time are discussed, he is one of a golden generation whose feats were not well served by the infant beast television. Were he to have been captured on the film in the way that his Argentine successor Lionel Messi has, his reputation would have further lustre yet. And to think, had his story worked a little differently, he might have done it wearing the Barcelona shirt too.