There was something particularly affecting about the news that the great Eusebio had passed.
Eusebio 1942 – 2014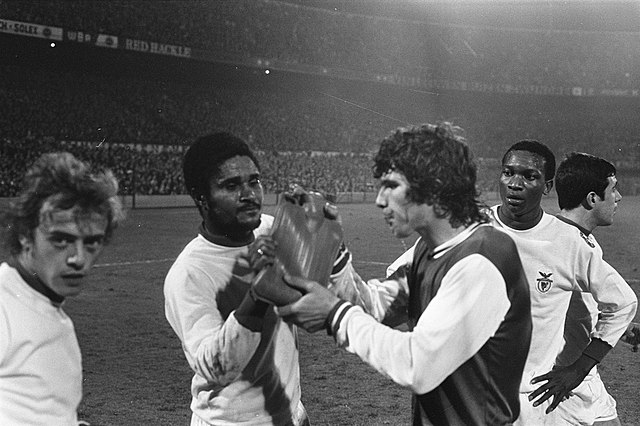 Hitherto, unless they were especially unfortunate or, in the case of George Best, wilful, the genuinely great players who have passed on to the celestial dressing room have tended to be figures from the dim and distant, those who were barely caught on black and white film never mind the coloured stuff.
The death of Eusebio, at least for those of us of a certain age, brings mortality that little bit closer to home. Although I was marginally too young to catch the great man's career in his prime, growing up in the early '70s, accumulating old European Cup final programmes or inheriting Goal magazines from the '60s, he was everywhere, lauded as perhaps the finest European footballer of his age, no mean feat at a time when Bobby Charlton for one bestrode the continent.
Totemic
But like so many who are fated to be iconic, Eusebio's magic did not lie in his brilliance alone. Instead he was totemic, he was the first great player from Portugal – or its colony, Mozambique, to be precise – that nation's first world star, spearheading what we would now be forced to term a golden generation.
Some would categorise him as the Ronaldo of his time, but that is to do him a disservice. Ronaldo is but a descendant, playing for a team who have produced a litany of talent over the last 50 years. But when Eusebio emerged, he was the standard bearer, he was the man taking Portuguese football out to the world.
Benfica
He did it first via Benfica, the club that turned its Stadium of Light into both feared venue and beacon of footballing light, the club that finally ended Real Madrid's hegemonic hold over the European Champions' Cup, concluding their run of five straight titles by wrestling it away from them in 1961 and 1962.
Eusebio did not feature in that first triumph, but he more than made up for it a year later scoring twice in an extraordinary final, Benfica emerging 5-3 winners over Real in Amsterdam, Eusebio scoring the two decisive goals inside three minutes midway through the second half.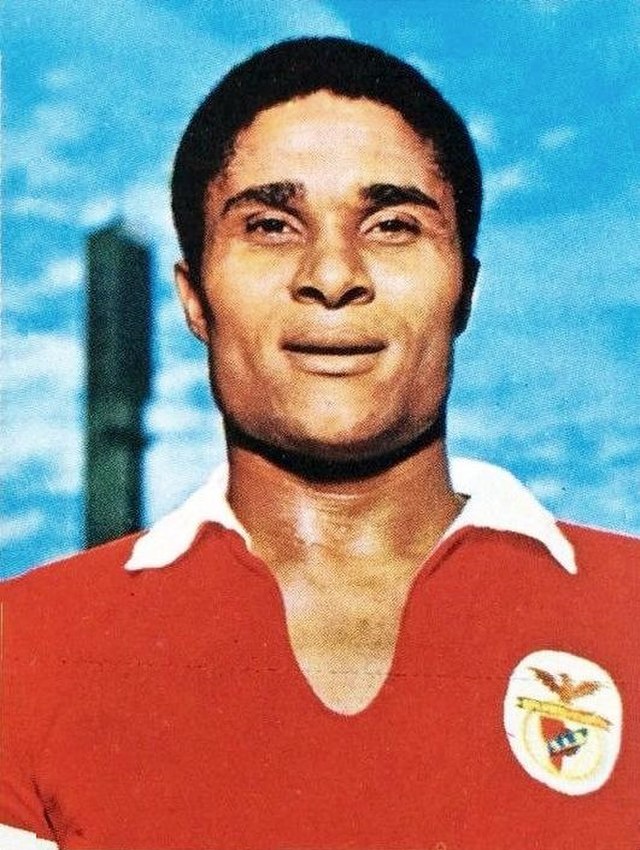 That was to be his calling card, for over a career of more than 700 games, Eusebio averaged a goal in each – give or take the width of a gnat's embarrassment, and this in an era where defensive thinking began to advance apace, especially across Europe. Yes, Benfica were perhaps the equivalent of Celtic in their domestic league, but though he bludgeoned his goals on the domestic scene, he could export them too, scoring in the Champions' Cup and for Portugal.
1966 World Cup
It was the 1966 World Cup that established his reputation for perpetuity, scoring nine times as Portugal reached the semi-final stage. That game had been due to take place at Goodison Park, but a little behind the scenes politicking ensured that because their opponents were the hosts, England, the game would go on at Wembley Stadium instead, a huge advantage to Alf Ramsey's team.
In its way, that game was the 1966 version of the recent play-off between Portugal and Sweden, a game that boiled down to Ronaldo versus Ibrahimovic. Back then, it was Eusebio against Bobby Charlton and, on the night, Bobby was boisterously magnificent where Eusebio was shackled, almost literally, by the rumbustious urchin that was Norbert Stiles, chipping, clipping, digging away at the visiting giant.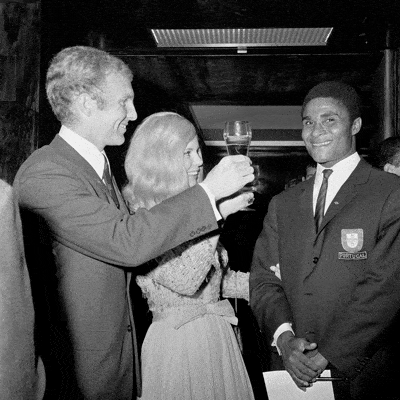 ---
It was enough to separate the teams, 2-1, Charlton and Eusebio sharing the goals. Eusebio left his indelible mark on the competition by top scoring with nine goals but as a genuine team man, it was the real prize that he coveted.
ambassador
An ambassador for both game and country after his playing days were over, he was an unlikely hero in many ways. Although he had all the physical attributes of a sporting god, there was a humility to his demeanour that is all too rare in such stars, people who, almost by definition, have to surf the tsunami of waves created by their egos if they are to go out and defy logic in the way that they do. Eusebio, at his heart, was a sportsman, with all the positive connotations that should bring with it.
He was a golden God, and he will remain so eternally. Take that, mortality.
---
Dave Bowler is the author of "The Magic of the Cup 1973/74", telling the story of Liverpool's FA Cup win in 1974. Available here: https://www.curtis-sport.com/books – 
Follow the magic of the cup on Twitter:  @MagicOfFACup