Everton are looking to build on last season's fifth-place finish and break the Big Four's strangle-hold on the Premier League, according to the team's American star Tim Howard.
By James Rogers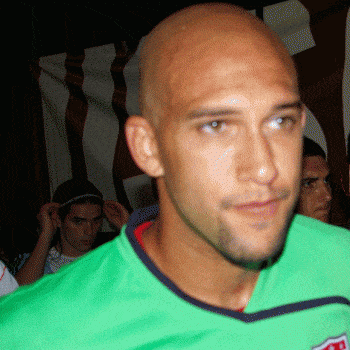 "We're going to shoot for that," he told First Touch in an interview prior to the U.S. national team's 0-0 draw with Argentina last weekend. "I think you saw this year, the only thing that really held us back at the end was a few injuries and that depth ."
The Blues' form dipped dramatically during the final third of the season following injuries to a host of key players such as Australian World Cup star Tim Cahill and Spanish playmaker Mikel Arteta.
A 1-0 defeat to Liverpool in late March effectively ended Everton's quest for fourth place and their local rivals eventually clinched the coveted final Champions' League spot.
"Up until that loss to Liverpool, we were neck and neck," added Howard. "We were really putting heat on them, so I think we can do it again next year, it's just about being consistent."
Everton Boost
The New Jersey native also expects Everton to enter next season with a squad strengthened in all the right areas.
"I think that the manager always buys very shrewdly; he knows what the team needs, and he knows what type of money he is dealing with," said the former Man United keeper. "I think that we are a few key additions away."
With key players Arteta and defensive star Joleon Lescott tied to long-term contracts, and Nigerian star Yakubu grabbing 21 goals in less than a full season on Merseyside, Howard thinks that there is a strong nucleus to the current Everton side.
"I think that the core is there," he said. "Obviously, we have re-signed some of our big, big, players [and] Yakubu has had an amazing season for us."
UEFA Cup
The 2007-2008 campaign was certainly an eventful one at Goodison Park, with Everton reaching the League Cup semi-final and pulling off a string of impressive results in the UEFA Cup. Although the European adventure ended in a tense penalty-shoot out against Fiorentina, Everton's fifth-place finish ensures more UEFA Cup action next season.
"It was a huge season for us – we finished fifth, and that's a big accomplishment for us, for any team really," said Howard. "Having said that, there are a couple of things that we look back on and would have liked to put right."
"We obviously wanted to get to a Cup final [and] in the UEFA cup, we were right there and we had the opportunity to advance. [We had the chance] to go even further in what was a very good UEFA cup campaign – we didn't draw or lose one game in the group stages."
With the Premier League season now over, Howard is gearing up for the U.S. team's World Cup qualifiers against Barbados later this month, and will also be back on this side of the Atlantic in July with his club side.
Everton USA Tour
Everton will take on the Chicago Fire and the Colorado Rapids as part of their pre-season preparations, the latest in a string of U.S. tours for David Moyes and his men. Last year Everton spent part of the summer training at high altitude in Park City, Utah, and in recent years have also visited Houston and Columbus.
"That's obviously the nuts and bolts of our pre-season," said Howard. "Whether we're training in the Houston Texans' training facility or the Chicago Fire's training facility, the U.S. facilities are really, really, good."
The keeper, who won his thirty-first international cap against Argentina, explained that spending pre-season stateside also lets the team gel without too many intrusions.
"The other side of it is that we can get out and have dinners, go shopping, and [have] guys not be hounded and not be noticed and all that kind of stuff," said Howard. "There's not a lot of places you can do that."
Man Of The Match
Howard, who played for the New York/New Jersey MetroStars at the start of his career, was also asked about Giants Stadium during a press conference last weekend.
The Argentina game will likely be the U.S. national team's last visit to the famous stadium, which will be demolished in 2010. Howard plied his trade as a rookie keeper within Giants Stadium, and admitted that he has many found memories of playing in the Meadowlands.
"I had a great time back at Giants Stadium playing for the MetroStars; it was a huMange part of my career and who I am now," he said, recalling, in particular, the atmosphere at U.S. national team games. "I saw how electric it could be – it's a really great place to play, it's a really great venue when it's full to capacity."
Howard put in a 'Man of the Match' winning performance during his Giants' Stadium swansong last weekend, pulling off a string of impressive saves to deny an Argentina team boasting the likes of Lionel Messi, Javier Mascherano, and Sergio Aguero.