The world meets along 116th Street. It's a wonderful demonstration of New York City's ethnically and economically blended culture. During the first two weeks of the World Cup I visited three 116th St. establishments with crowds supporting four different nations. The street provides several opportunities to watch the World Cup among passionate international fans.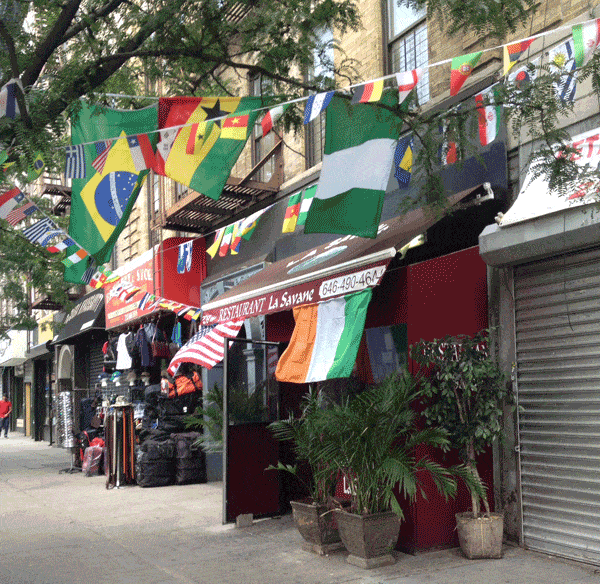 By David Brand
Let's take a trip across 116th St. so you can see what I mean.
You start walking west from the giant Target/Costco complex on the East River across from Queens. You are on one of the major arteries of Spanish Harlem, though it's somewhat desolate until you walk a few blocks to 2nd Ave. Then you reach the EuroMex soccer store. Several other Mexican shops, restaurants and taco trucks are scattered among the Puerto Rican and Dominican spots that fill Spanish Harlem. The iconic Casa Latina Music Shop is near the 6 Train subway station at Lexington Ave.
Walk up the hill to Park Ave. and you pass the office of Melissa Mark-Viverito. She's the Speaker of the New York City Council. Her office is located near the MetroNorth train tracks. La Marqueta, a historic shopping center that once united East Harlem, sits below those tracks.
Go West
As you head west, 116th St. transitions from Salsa Harlem to Jazz Harlem and you pass old men and women sitting outside a nursing home near Madison Ave. There are some swanky apartments around 5th Ave., evidence of the gentrification sweeping the city.
After you cross 5th Ave., you begin walking along West 116th St. Soon you pass a large outdoor African market next to an Asian fish monger. Finally, you have reached Lenox Ave. where you immediately encounter the big blue and yellow Malcolm X Mosque, built on the site of the old Mosque No. 7 where Malcolm X became a world-famous advocate for African Americans.
For the next two blocks, you are in Le Petit Senegal, a strip filled with West African general stores and eateries. You also pass Amy Ruth's restaurant where every meal is named for a prominent African American. Further down, the Food Bank For New York City has a large pantry and kitchen on this section of 116th St. near 8th Ave. The orange awning attracts people in need from all around the area.
Cross 8th Ave., and you find Harlem Tavern, a large sports bar decorated with the flags of every nation in the World Cup. Proceed west and you get to Morningside Park, a narrow greenspace beneath a cliff.
Columbia University
Atop the cliff, Columbia University looms like a fortress overlooking Harlem valley. You have to be in shape to scale the stairway and reach the summit of Columbia. Once you get there, continue through the lovely campus of President Obama's alma mater and exit onto Broadway. The Seinfeld restaurant is just a little further south, but if you keep walking west two more blocks, you reach Riverside Park, a fertile sliver along the Hudson River.
Congratulations! You have completed the tour of 116th St. See how it brings several cultures, ethnicities, tax brackets and education levels together? That's why I love walking along that street and why I spent so much time there during the World Cup Group Stage. I watched the USA beat Ghana at Harlem Tavern on the corner of West 116th St. and 8th Ave.
A few days later, I stopped by Hot Jalape on East 116th St. between 2nd Ave. and 3rd Ave. to see Mexico top Croatia. Finally, I visited La Savane, a West African restaurant between 7th Ave. and 8th Ave. to watch Nigeria battle Argentina.
Harlem Tavern
I met my friends Jon and Emily at Harlem Tavern about 45 minutes before the USA's first match of the World Cup. It was pretty much standing room only when we got inside, but I commandeered a countertop table near the bar. There was a small card atop the table indicating it was reserved, but a waitress said we could hang out at the table until the party arrived.
A few minutes later, the party arrived. They were eight young Ghanaians in cool Ghana kits and t-shirts. Soon more Ghana fans filtered in around us. A few women showed up with Ghana jerseys stretched over their lean bodies.  I noticed the older couple in front of us wore polyester shirts emblazoned with the logo 'TeamAfrica.'
On the one hand, I imagined there would be plenty of friendly competitive banter between our two cheering sections and the energy would be incredible. On the other hand, I wanted to commiserate with the majority of the people around me if things went sour for the USA. I did not want to suffer the opponents' glee every time the USA screwed up.
USA v Ghana
In the end, experiencing the USA's victory over Ghana while immersed in a crowd equal parts Ghana fans and USA fans has been a big highlight of my NYC World Cup tour. Harlem Tavern represented the ethnic diversity of New York City wonderfully. It was like the cover of a politically correct public school textbook come to life.
There were several televisions, including a projector screen, behind the bar, right in front of where we stood.  The staff was friendly and most of the servers wore USA jerseys. Thanks to the two groups of supporters, the bar stayed loud during most of the game.
I was definitely one of the fans keeping it loud. My eyes watered and I severed my vocal cords screaming after Clint Dempsey's goal 30 seconds into the match. I shrieked so deliriously, the guy in front of me pointed and laughed. But I wasn't alone. The bar was rocking and clever plays by both sides received roaring approval.
At halftime, with the US leading 1-0, I polled the Ghanaians around us to see how they were feeling. I was curious because their team was clearly outplaying the USA.
Waiting For Boateng
"I'm so angry!' yelled Martine, a woman in a skin-tight jersey. "I'm waiting for Boateng to come in."
As in Kevin-Prince Boateng, a star midfielder who played for AC Milan before he joined Schalke. I then realized that Ghana still hadn't inserted Michael Essien, the country's greatest player of all time. Sure, Essien is getting older, but he and Boateng are two nice subs to introduce as the USA clung to a 1-0 lead and played a conservative, defensive game.
I nervously gnawed my nails and texted my brother Mike a stream of gloom. The Ghana fans' energy seemed to increase as the second half dragged on. Boateng entered the game. Cheers. Essien came on. Applause. Asamoah Gyan, my website's namesake, nodded a series of headers closer and closer to the American net. Gasps.
Finally, Gyan flicked a backheel to Andre Ayew who blasted Ghana's inevitable equalizer past Tim Howard. The roof exploded.
USA Win
The Ghanaians celebrated and the Americans deflated. Moments later, when the Ghana cheers subsided a bit, the American supporters rallied. Amazingly, John Brooks headed home the winning goal. I squeezed Emily, squeezed Jon and screamed. Then I high-fived the American strangers around us, then the bartenders, then Jon's roommates and then I texted my brother, my girlfriend, my parents, my friends.
Harlem Tavern was the perfect place to watch that match. The back-and-forth between the Ghana and USA supporters made the experience more dynamic and memorable. Of course, the wonderful result, a 2-1 USA victory, helped.
Hoy Croacia vs. Mexico
A week later, I returned to 116th St. for Mexico's final group match against Croatia. I scouted out various Mexican restaurants until I arrived at Hot Jalapeno, adorned with international flags and a chalkboard declaring –  'Hoy Croacia vs. Mexico!.'
I slid inside Jalapeno a few minutes before Chicharito entered the game with the score 0-0. Turns out I arrived at the perfect time because Chicharito provided the spark that ignited El Tri's 3-1 win.
Hot Jalapeno had two modest televisions hanging at each end of the restaurant. Like speakers at a tense press conference, groups of Mexican men sat side-by-side in order to watch the TV closest to their table.
Hot Jalapeno
The working-class crew wore t-shirts and baseball caps with folded brims. One guy wore a Barcelona jersey and matching cap. He was stoic as he spoke quietly with his table-mates. Many of the men leaned forward in their chairs, focused on the match and exhibiting their discomfort and anxiety.
Finally, Rafa Marquez, the captain, scored the match's first goal and released the tension in the restaurant. The once-anxious men stood up and high-fived people at neighboring tables. I turned around, shouted Enhorabuena! and shook hands with the two men sharing a bucket of Coronas behind me.
The room relaxed noticeably after that first goal. When Mexico notched their second, guys were chatty and smiling. I heard actual giggles when the TVs showed a replay of coach Miguel Herrera rolling on the ground with one of his players. A beanpole Mexican with Eduardo Manostijeras hair and a tiny red Mexico jersey arrived a little while after the first goal. He checked the score, grinned and headed to a table in the back where I later saw him sipping some red menudo soup.
Mexican Wave
Hot Jalapeno had the trappings of a typical Mexican restaurant. The floor was sunk a few feet below the sidewalk and decorative wooden support beams stuck to the ceiling. The stone walls were adorned with photos of mariachi men and, of course, a statue of La Virgen de Guadalupe surrounded by horned flames. Cloth placemats printed with a bright Sarape patterns protected each table.
On my walk to the train, I spotted several fans in Mexico outfits along 116th St. A kid in a green jersey pedaled a BMX bike down the sidewalk while his friend stood on the pegs and waved a large Mexican flag.
Nigeria v Argentina
Later in the week, I headed to the West African portion of 116th St. to watch Nigeria battle Argentina. I paused in front of a barber shop to watch part of the match while a guy inside got his forehead line tightened under a large Barcelona banner.
I continued past the Senegalese Association of America and saw a few men watching the match from cushioned recliners.I selected the restaurant La Savane because its large flags flapped in the breeze and a pyramid of soccer balls sat in the window.
There were about ten people at La Savane when I arrived so I ordered tea and sat at a table in the back next to a guy named Shaka. Shaka, an Ivorian, was speaking French to no one in particular, but he switched his match analysis to English after I started chatting with him.  After a meaningless foul called against Nigeria, Shaka suddenly announced, 'There's something fucking wrong with this referee!' and left the restaurant. He returned a few minutes later.
La Savane
Like Shaka, most of the men filtered in and out of La Savane throughout the match, though their exits were far less dramatic. I scanned the room and counted three guys wearing cabbie hats with Blue Tooth devices (BlueTeeth?) stuck in their ears. Many West African immigrants work as cab drivers so I wonder if they purposely adopted the look of a 1940s taxi driver or if they just wear the hats because they look neat and classy.
I bet it's the latter because West Africans often appear formal and stylish. It was 90-degrees outside, but most of the men sported long-sleeve button down shirts, slacks and wingtips. The guys I met at an Ivorian restaurant the day before also looked sharp. In fact, the West Africans I pass each day on 116th St. dress way better than I do.
Since I embarked on my World Cup Tour of NYC, I have experienced numerous cultures in New York City and New Jersey, but no street captures the city's diversity quite like 116th St. It is an underrated hotbed of international soccer and a great place to watch the USMNT, El Tri or the African Cup of Nations in the future.