Claudio Reyna, four time World Cup veteran for the United States from 1994 to 2006, explains, the mother of MLS was USA '94.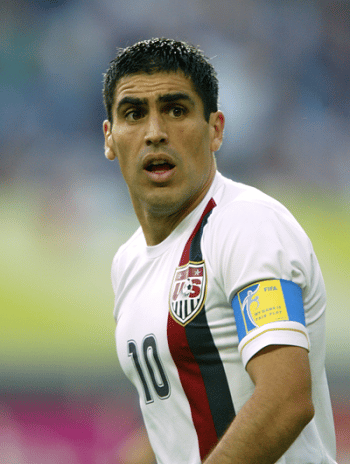 By Dave Bowler

If you're old enough, cast back your mind to the early 1990s. The footballing community was still basking in the warm glow of Italia '90, the game as grand opera, a tournament of slowly swelling majesty that had somehow transcended the cynicism of much of the football to create its own particular niche in the game's folklore.
Yet there was unease in the air too, all because the next competition had been gifted to the United States of America, FIFA having selected it in an attempt to finally entrench the game in the biggest marketplace in the world, a sensible move in both the sporting and economic sense.
But traditionalists and cynics alike recoiled from the plan, from the creation of a Coca-Cola World Cup. As it transpired, they need not have worried.  USA '94 was the real thing right enough.
Indeed, it has gone down in the annals of the game as a competition that delivered on all its promises, notably the most fundamental one of all – two decades on and the United States has its own thriving, growing football league, Major League Soccer building steadily and sensibly. But as Claudio Reyna, a four time World Cup veteran for the United States from 1994 to 2006, explains, the mother of MLS was USA '94.
1994 World Cup
"Being able to hold the 1994 World Cup was hugely important for the game here, it became a really big milestone for our country. Before that, although soccer had a big following right across the country, it was not by any means a popular sport when you think of baseball, basketball, American football.
"Bringing the World Cup to the United States was great for those of us who had grown up loving the game, because it showed us that the world was interested in us I guess. To host the tournament was amazing and then personally, to be a part of it, that was an incredible experience.
Unfortunately, I was injured and didn't get the opportunity to play in the games, but being on the roster and being a part of the whole team, that was a once in a lifetime opportunity.
"Going around the country, it was so exciting to see the stadiums being filled, just packed out. When our run in the competition ended against Brazil, I went out to all the games I could after that, I saw the semis, the final, and to be a part of the World Cup even in that way really is a thrill. You realise that the game is reaching out to the whole country and that was fantastic.
Birth Of MLS
"It was that competition that began to cement soccer into the American culture. It helped that the US did well as a team, we got out of the group and created some real buzz around the country and that was very helpful for the sport. Also It launched some of the next steps that were vital to the game in this country, one being Major League Soccer.
"FIFA pushed extremely hard to get a league up and running and in doing that, 20 years ago, we were lucky to have some true pioneers here, people with real vision and belief who invested a lot of time and money in building MLS. That all came together but it was the World Cup that was the original moving force."
Like any other Mundial you might care to name, 1994 had its share of iconography and controversy, from Diana Ross missing her opening penalty in some misguided tribute to Chris Waddle to the Irish screaming for water like a troupe of Ancient Mariners in the Florida heart before Jack Charlton and John Aldridge went berserk over the officials' refusal to allow them to make a substitution.
But the most remarkable facet of it all was the way the crowds turned out, packing stadia that the cynics had expected to stand empty. You can sense the pride Reyna felt in that particular achievement as he talks.
Popularity Explosion
"I think it surprised people just how many soccer fans there were in the US at that time. We are a country with a lot of immigrants who have come from countries where it's the number one sport, so it was always a big sport here even if it wasn't so visible as the others. But it was always there, the World Cup just brought it forwards more and things have got stronger from there.
"I think a lot of kids who were introduced to the game then, they stuck with it, now they're having kids of their own and passing that love of soccer on and so the understanding of the game gets deeper rooted. From that base of  '94, it's progressing nicely."
While simply having the tournament there made a seismic difference to the way the US approached soccer, there was genuine concern that the hosts would be an embarrassment on the field. Since beating England in 1950, they had made just one further World Cup appearance, that in 1990 when they finished rock bottom of their group after losing to Czechoslovakia, Italy and Austria. '
There were very real fears in the world game that they might even become the first hosts to fail to register a point. As Claudio explains though, those fears were not shared by a very determined group of players.
Focused Team
"That team was very focused because we knew how important it was for us to do well. The players knew we were carrying a special responsibility that year. As a competitor, when you're representing your country there is always pressure and you always need to show pride in that and do your best to do well, but for soccer in the United States, it was especially important that year.
"We needed to get out of the group and to do that, you need to win at least one game. Like everyone, when the draw was made, you look at your opponents and you think, "That's where we have a real chance to win, we'll take a draw there", the same way the fans do. And of course, many times, it doesn't go that way!
"In that World Cup, we started against Switzerland who were coached by Roy Hodgson. Many people felt that was a game we had to try to win but we tied that one 1-1 in Pontiac, with nearly 75,000 people there. So you go from there to play Colombia who were one of the favourites for the competition, but so much was already riding on it because they'd lost to Romania, we both really needed to win.
People weren't expecting us to do well in that game, but we won, 2-1, their goal came in the last minute I think, and that was an incredible moment for us, you could feel people in the country starting to really get interested in us.
"We had Romania in the last game and they were a really good side that year, they lost in the quarter-finals on penalties. So we lost narrowly to them, but we qualified out of the group, which was the goal we set ourselves.
Facing Brazil
"We got to the knockout situation and then we were unlucky, we faced Brazil, which is not the ideal game! We lost 1-0, it was a pretty good showing against the team that became the champions, so I think we had as good a tournament as we possibly could have."
One of the great fascinations of team sports is the way in which the needs of the individual have to be subjugated to the demands of the collective – and we've all seen plenty of examples where that doesn't happen.
Personal ambition when harnessed correctly can be a driving force in a team, but equally, personal disappointment can prove to be a destructive force when unleashed inside a dressing room. It speaks volumes of Reyna's character that despite huge personal frustration in '94, he was nothing but a force for the positive within the US camp. Even so, the injury that sidelined him is surely still a source of regret some 20 years on.
"It was tough being on the sidelines, because everyone always wants to play. Leading up to the World Cup, I was playing quite a bit on the first team, I got a run of games, a lot of starts, and I was feeling good, I was getting used to the international game.
So to pick up an injury was disappointing, but I look back and think that just being on the roster that year was such an invaluable experience for the rest of my career. Going through it, seeing the magnitude of it, being in those packed stadiums, I learnt such a lot from it and I took so much from that into the World Cups that followed."