Ever the pessimist I have already drawn the conclusion that of the five major leagues in Europe, four of them including the EPL are already concluded.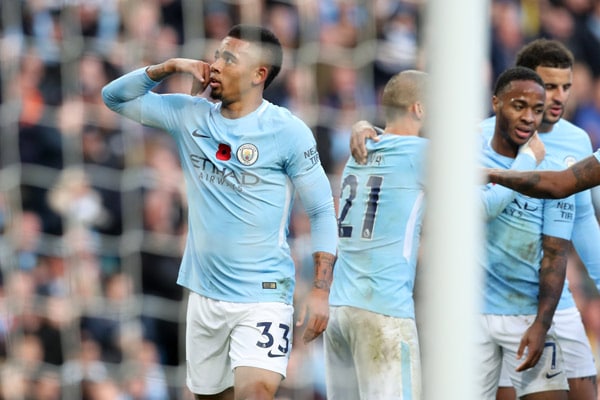 By Matty Lawrence
This isn't a joke, no scam to call off all bets (in fact I'd like nothing more than all bookies to be gutted from the stomach up), but a pure and simple fact. Don't believe me; well just try me. Let's start with the easy one:
The EPL 
Manchester City had this one sewn up the minute they appointed Pep Guardiola. Sure, it has taken him a few more months than I thought, but he has accumulated such a strong squad that they are nigh on untouchable: domestically at least. No-one can even doubt this fact. C'mon, City are eight points clear with only two dropped points in the best start to an EPL season ever. They have a +31 GD and that will only multiply by at least three fold.
And if that isn't enough for you, the chasing pack is compromised of a severely faltering Manchester United with an increasingly tense undercurrent at the club. If the stories are to be believed, Jose Mourinho is causing issues behind the scenes and that never transfers well onto the pitch. Well, that and the fact that they got rolled over by Huddersfield.
Spurs are probably the only other title contenders and we all know that the minute the pressure really piles on at the back end of the season they crumble and go all Spursy. Also, their EPL season will be wildly sidetracked by the Champions League and their squad is not strong enough to fight on bo  th fronts..heaven forbid Harry Kane gets injured and it is all over, red rover, regardless.
Over to France
and things get a little closer in Ligue 1, but it's hardly the Countdown Conundrum (one for the US readership). PSG may only be four points clear of Monaco, but there is absolutely no way AS Monaco can cling onto the coattails of their moneybags, rivals. I'm not sure that even Neymar's giant ego can weigh down the freighter tanker that is the good ship PSG.
Having only dropped four points from 12 games and scored a whopping 39 goals, I'm quietly confident that PSG can traverse the rivers of the Champions League and domestic glory with their boughs intact.
Two out of two.
---
The Bundesliga
is hardly worth the couple of brain cells I'm using typing these words. Bayern Munich are careering towards their sixth title on the trot and I don't see Borussia Dortmund, or RB Leipzig, putting up a sufficient road block. When Bayern suffered a shock 2-0 defeat to Hoffenheim on September 9 many believed that Bayern's reign was drawing to a close.
Fast forward a couple of months and the removal of Carlo Ancelotti and implementation of Jupp Heynckes at the helm and all problems Bayern have been resolved. The Hoffenheim loss was Bayern's only defeat this season and after the demolition of Borussia Dortmund last weekend, nobody is doubting their credentials. RB Leipzig and Borussia Dortmund have both lost three games and those numbers will only escalate throughout the season.
And please don't get me started on La Liga
The Ronaldo suspension at the beginning of the season pretty much saw that title race decided. Madrid (either team) won't be getting a sniff this season. Roll on Barcelona's seventh La Liga title in a decade…..and that is after losing one of their best players over the summer. Neymar may have left for pastures new, but Ernesto Valverde has brought the squad together and seen them only drop two points from 11 games. Add to the fact that Barca have only conceded four goals and we may as well hang another medal around Messi's already greatly weighted neck.
Granted, Valencia are only four points behind Barca, but there is no way they will be able to keep pace all season long and Real Madrid are a massive eight points behind and hardly playing well. A draw to Spurs at home and a huge 3-1 loss at Wembley in the Champions League only accentuate those issues.
And then there was one:
Serie A
There is no way that I thought the Italian league would be the one to be glued to this season. Let's be honest, Juventus have won the title for the last six seasons and I saw no reason why they wouldn't be run away leaders and winners again this season.
This isn't to say that Juve won't win the league in the 2017/18 season, but boy it's going to be one hell of a spectacle.With 12 games played two of the top three teams in Serie A are unbeaten…….and one of them isn't Juve: Napoli and Inter are. Only two points separate those top three teams.
SERIE A STANDINGS 
1 Napoli 32
2 Juventus 31
3 Internazionale 30
4 Lazio 28
5 Roma  27
6 Sampdoria 23
Add to that Lazio and Roma in 4th and 5th place respectively, with a game in hand each, and the title race is absolutely wide open. If those games in hand are won we could see one team on 32pts, two on 31pts and two on 30pts. This could go down to the wire.I guess that what I'm trying to say is, feast yourself on the remaining games in Serie A this season.
Napoli last won Serie A in 1989/90.
Inter Milan last won in 2009/10.
Lazio last won in 1999/2000.
AS Roma last won the title in 2000/01.
Don't stop watching football all around the globe, but the hierarchy in Italy may be changing and you'd be foolish to miss it.