On Saturday, in front of a packed house at home, Toronto FC dispatched Seattle Sounders 2-0 to avenge last year's loss in the final and to lift their first ever MLS Cup. And with that, we can finally put to bed a Major League Soccer playoff campaign that took an unimaginable and untenable 46 days from start to finish (much of which was long barren gaps for international play when you might forget that MLS was still ongoing), and we can finally put paid to the 2017 MLS season. Only, we can't, not so fast at least.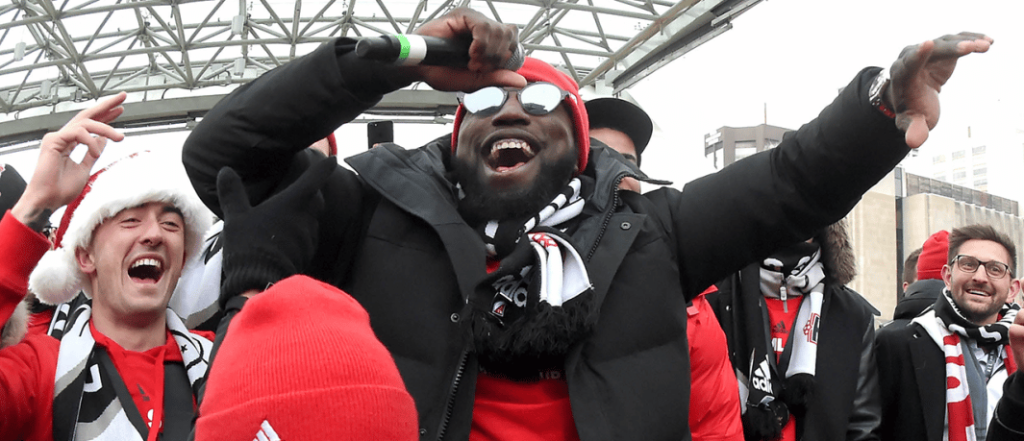 Tim Hall's View From 101
Let's talk about Toronto FC. They were the best team in the league this season, and that could be said even without them walking away with the big title at the end. They also won the Supporters Shield for having the best regular season record in MLS, and they won the Voyageurs Cup, which must pass as the Canadian equivalent of an FA Cup.
However, before you rock back in your chair with a long, low whistle at the magnitude of this domestic treble, remove from your mind everything you have just thought about the Voyageurs Cup. Just because it is technically the equivalent of an FA Cup does not mean that it is.
If you're looking for magic and prestige, you won't find it. If you're looking for a long proud history and lineage, sorry, but the Voyageurs Cup is still so young it might yet make accusations against Roy Moore. If you're looking for a competition that whittles down the best of the best through the crucible of competition, again, you'll be disappointed. Whereas the FA Cup has 124 teams in the competition proper, and even the US Open Cup has right around 100, the Voyageurs Cup has 5.
Voyageurs Wanted
That's not a typo, that's not shorthand for five hundred, that's not playing cute with numbers with qualification rounds. Five. Cinco. The number of toes you're supposed to have on one foot. Three teams from MLS and two from lower divisions. Not exactly a grueling battle of attrition and fixture congestion. And next year it gets easier as one of those five – the North American Soccer League's FC Edmonton – will not be operating. So if you know eleven people on Prince Edward Island that own shorts (which, admittedly, is a big ask for Canada), there is a spot going spare.
But it is a tournament and it is a trophy, and Toronto won it. Fair play to the victors, go and celebrate and have a parade and all. That's how sports works. Just don't try and turn it into something bigger than it actually is.
Kurtis Lawson
Which brings us to Kurtis Lawson of the Toronto Sun (I know, I know, don't buy the Sun). You may remember Toronto FC's Michael Bradley and Jozy Altidore started getting booed by American fans recently for the United States missing the World Cup, because of course they did.
You don't miss the World Cup and then get a hearty pat on the back and a "gosh, you tried so hard" from Americans. But you get that from Canada, the country that answers the question "what if the United States and England had a baby and named it Doug?"
Well, Mr. Lawson dove on that grenade for all of us when he pointed out that this was a revenge tour for Toronto FC's two American stars. From his post-match article in the S*n, "…after both Bradley and Altidore were tarred and feathered for the States' failure to reach next summer's World Cup. Both players wouldn't say it, but this win was something of a middle finger to those naysayers."
Couple things, however. At no point immediately before or after does Mr. Lawson show his work and offer any quote that shows that the failure of Bradley and Altidore to make the World Cup was on their minds, or anyone else's in the Toronto locker room, in the least. Also, that's not how this works. Winning MLS Cup does not absolve or forgive you missing the World Cup. The two are on different levels. Imagine Jose Mourinho standing in front of the press saying "Well, I'm sorry I got Manchester United relegated, but at least we beat Southampton away."
Altidore
Also, the TFC win proved nothing about Altidore or Bradley. We know they are fine players – granted, neither is the best on Toronto, that distinction belongs to Giovinco – but they choked when it counted, both in a one-game-to-make-it against Trinidad but in the entire final round of World Cup qualifying as a whole.
And if your defense is that the blame must fall on the entire US men's national team, fair enough, but then the credit for Toronto's victory gets spread around as well. This isn't some great tale of redemption, nor is it entirely unique. It's in fact the all too common story of players who failed for their national team but found their form at the same time they found their paycheck.
Consider that David Beckham fellow that was in all the papers. After his red card in the 1998 World Cup against Argentina which, it can and has been argued to death, cost England their spot in the next round, all Beckham did was come home and win the treble for Manchester United, which was the Premier League, the Champions League, and the FA Cup, which at the time had a bit more than five teams involved.
While that's a wonderful club campaign, one would have to imagine that even the most ardent English Manchester United supporter would have taken a trade for some international success.
Epiphany Wanted
But at least Beckham actually got to the World Cup. Altidore and Bradley did not. And a cursory search through the records shows that there weren't many if any articles claiming that Beckham's 1998-99 club campaign was in any way to avenge or even atone for kicking Diego Simeone while wearing an England shirt because, as he would have told you then and as most anyone will tell you now, the two are not in any way related. But, again, Toronto are the champions, and fair play to the victors, just don't try and make it more than it is.
That's the 2017 Major League Soccer season done with, as well. Now the long winter of player redistribution begins. In Toronto the last piece of confetti will fall and the champagne will dry and the public appearances will cease.
Once they do, everyone, be they fan, columnist or player, will come to the realization that there is no national team soccer of any relevance to be played next summer for the US men. Hopefully for some an epiphany will follow: that no amount of club glory can ever fill that patriotic void.