As we head into Christmas, one or two Premier League managers must be pondering the possibility that they will be spending rather more of the new year with their families than they imagined. Chief amongst those must be Mark Hughes, his Stoke City side on the crest of a slump having taken just five points from their last eight games, edging them closer and closer to the relegation trapdoor.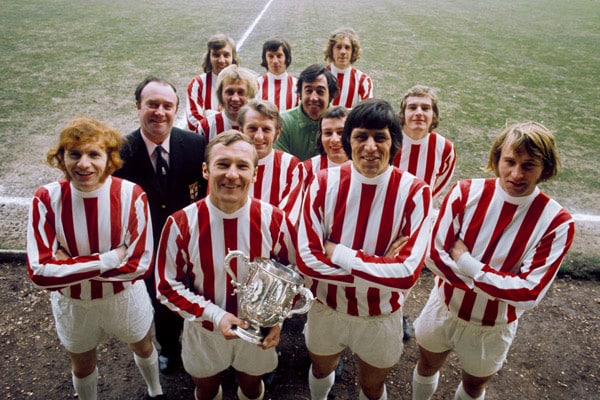 By Dave Bowler
The harsh truth though is that this has ever been the way for Stoke, just as it has for clubs like West Brom, Burnley, Wolves, Forest, Sheffields Wednesday and United, Leeds and others. However proud their histories, that does not mask the fact that they have rarely, if ever, spent much time in the elite grouping that all but inoculates you against the drop.
---
Stoke, for all that they are founder members, that they came into existence in 1863, they have mostly toiled between the bottom half of the top flight and the second tier with the odd fluctuations between for better or worse. Should the Potters succumb this time, it is as it always has been.
What has perhaps changed are the expectations of the younger supporters who are hyped up to a point of frenzy by the media and pundits alike to think that there is no life beyond the confines of the Premier League. That, of course is nonsense. Stoke have thrived beyond the top table before, will do so again just as, if they do take the drop, they will ultimately return. It is in the order of things that they will.
Star Quality
Perhaps Stoke fans will have a better sense of perspective than at some other clubs too, because for such a big club that has featured so many stars down the years, Stoke's honours board is relatively bare. There's just the one FA Cup final, when Tony Pulis' side lost 1-0 to Manchester City in 2011, alongside the high watermark of 1972 when they beat the much fancied Chelsea at Wembley to carry off the League Cup.
That team that looms largest in Stoke's history, beyond even that of the Matthews era, was gradually assembled by Tony Waddington in the '60s and on into the '70s, a team very much of its era, both able to mix it with the best of them and to utilise maverick talents to produce some sparkling, enthralling stuff at others.
You could have no better foundation for a team than Banks of England between the sticks, still for many the greatest goalkeeper of all time. He was there to get the Potters out of trouble if Denis Smith's bludgeon had somehow missed a centre-forward foolish enough to go near him.
Jimmy Greenhoff
In Jimmy Greenhoff they had one of the finest players never to play for England, smart, incisive, explosive in front of goal. Creating, often from out wide, was Terry Conroy, who always looked like some surreal accident involving Jasper Carrott and Noddy Holder.
Experience came by way of George Eastham, and Peter Dobing, goals from big John Ritchie. John Marsh and Mike Pejic were swift, hard full-backs, Alan Bloor picked up any lingering road kill left by Smith, John Mahoney was all over the place in midfield, Mike Bernard too, proud recipient of Stoke's first ever red card.
They were infuriatingly inconsistent but able to rouse themselves when the cups came around. Stoke proved that in the 1970/71 season, reaching the FA Cup semi-final and almost denying Arsenal the double before being bullied out of the replay, 2-0.
League Cup Glory
The following year, it was all the way to Wembley, albeit in the League Cup this time. Few clubs ever had such a long path to the old Twin Towers, though as Southport were eased to one side in round two, things didn't seem that complicated. A replay was required before Oxford United were beaten in round three, then they had a trip to Old Trafford.
They got a draw there, drew at the Victoria Ground – no penalty shootouts then – before winning on neutral ground and setting up a quarter-final with Bristol Rovers. The Gas were duly beaten 4-2 in the west country, West Ham the prize in the semi-final, Bobby Moore, Geoff Hurst and all. Stoke were beaten 2-1 at home in the first leg but won 1-0 at Upton Park in a terrific display in the second leg.
Away goals counted for nothing then, so the Potters survived and then drew 0-0 in the replay. A second replay saw them finally triumphant, winning 3-2, booking a day out with Chelsea at Wembley.
Chelsea were also cup fighters par excellence having won the FA Cup in 1970, the European Cup Winners' Cup in 1971 and ready to complete a hat-trick by turning over Stoke. But Waddington was a canny manager and he had a team that understood the weight of history that was upon them. After 109 years of waiting, this was Stoke's big day as they beat Chelsea 2-1 with goals from Conroy and Eastham either side of Peter Osgood's equalizer for the Blues.
---
---
STOKE CITY HONOURS
Second Division / Championship (2nd tier)
Champions: 1932–33, 1962–63
Runners-up: 1921–22, 2007–08
Third place: (Promoted) 1978–79
Third Division North / Second Division (3rd tier)
Champions: 1926–27, 1992–93
Play-off Winners: 2001–02
FA Cup
Runners-up: 2010–11
Semi-finalists: 1898–99, 1970–71 (3rd place), 1971–72 (4th place)
League Cup: 1
Winners: 1971–72
Runners-up: 1963–64
Football League Trophy: 2
Winners: 1991–92, 1999–2000
Watney Cup: 1
Winners: 1973