Michael Fitzpatrick pays tribute to Robert 'Robbie' Walsh – a Shamrock Rovers legend who passed away suddenly, following a heart attack in 2016.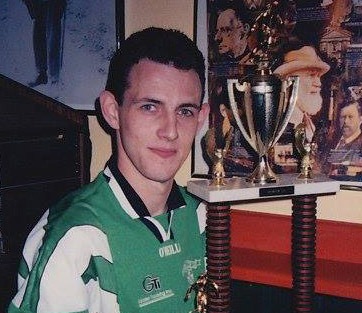 By Michael Fitzpatrick
Last Wednesday evening, I got chatting to a man at an 'event' in Sunnyside, Queens. He told me that if it weren't for a certain young Irishman, his own son may well have ended up a casualty of New York's so-called 'mean streets'. This Irishman, he told me, had instilled in his son a love for football, and encouraged and nurtured that passion so much that the man's son was now a fixture on his college team, as well as lining out for his club on a weekly basis.
Another gentleman I spoke with that evening, also felt indebted to that same Irishman, as he'd arranged for him to get a job, driving the local soccer team to and from matches every weekend. The rewards, not only financially, but socially, had done wonders for this chap, who felt he owed so much to the Irishman.
Irishman In New York
Hundreds of others attended the same event, a solemn affair, on a rainy night in New York City. Young couples who knew the Irishman by sight, when they'd see him out walking his beloved dog, Rooney (named after the Manchester United and England captain, Wayne), around the neighborhood. Shopkeepers, bartenders, waiters, construction workers, drivers, musicians, writers and footballers, dozens and dozens of footballers, also lined out to pay their respects.
An evening, and then a subsequent morning, away from their families, to bid a sad farewell, reminisce with a story and shed more than a few tears, for an Irishman in New York. He was however, not just an Irishman, but a proud Kildare man, born and reared in Straffan, at the time a small village west of County Dublin, a New Yorker of nineteen years standing, a past pupil of Salesian College Celbridge, a Leinster rugby supporter and Manchester United fan, a son, brother, cousin, nephew, neighbor and friend.
He was also a New York Shamrock, a former player and coach with the esteemed Big Apple soccer team, and the man who, as a fearless center-half, captained the club throughout its most successful period in its exceptional history. His name was Robert 'Robbie' Walsh.
Shamrock Rovers
Robbie, as he was affectionately known throughout his time in New York City, passed away suddenly, following a heart attack, on his way to work on the morning of November 10th, 2016. He managed to fight on for several hours, doing his beloved friends and teammates one final favor, allowing them the time to visit him in hospital to say farewell, before finally passing away that night, at Elmhurst Hospital, in Queens.
Having graduated from Salesian College Celbridge in 1990, Robbie spent several years working in Kildare, including a stint at Intel, where he was to meet many friends whom he'd remain in contact  with for the rest of his short life. He then moved to New York, in 1996, getting work in the construction industry, and immersing himself in the city's soccer scene, joining New York Shamrocks, with whom he was to continue playing and then coaching, for most of his nineteen years in the US.
Captain
His tenacity, enthusiasm, passion and charisma were quickly noted by the club's hierarchy, and he was appointed captain early on in his career, becoming a firm favorite with the club's supporters, especially when he led the side to their back to back League Cup-winning seasons in 1999 and 2000, versus New York Albanians and Koha respectively.
It was the first time in the colorful history of the Cosmopolitan Soccer League, that a team had retained the trophy, and Robbie was named man of the match in the Koha game, and then was awarded Player of the Year at the club's 40th Anniversary dinner.
Fast forward several years, and during the height of the 'Celtic Tiger' years, Shamrocks were struggling to field a team. Many players had moved home, and very few were coming over to the US. Walsh suggested at a meeting that the club drop down several divisions, as to continue fighting with a depleted squad, versus some sides which were, to every extent, semi-professional, could well be not only soul-destroying for the players, but disastrous for the club.
Coaching Duties
There were angry voices against the suggestion, but the club  went with their captain's idea, as long as he took on the coaching duties. After a number of games forfeited due to a lack of players showing up to play, Walsh's Shamrocks began to gather steam, and wound up winning the Metro Two West (the Cosmopolitan Soccer League's fourth division), and promotion, then in 2009 clinched the Metro One championship, earning the side a move to the CSL Second Division.
It is due in no small part to Walsh's passion and hard work, that Shamrocks, far from the days just ten years ago being unable to field one whole team, now boasts seven squads. First, second and third strings, two ladies' sides, an over 30s squad, and a 'legends' panel all take their respective fields each weekend in the name of NY Shamrocks.
Indeed, just last weekend, the 'Legends' side, the team that Robbie had most recently lined out for, retired his number 14 shirt, the very same number he wore when representing his school Salesians way back in 1990, when, against the odds, they incredibly won the Leinster Cup, as a mark of respect for their former leader.
Family
Survived by his parents Joseph and Liz, and brothers Kevin and Glenn, Robbie Walsh, the inspirational skipper with the incredible passion, boundless enthusiasm, lion-hearted courage, dogged loyalty and wonderful positive attitude, was laid to rest in his home town of Straffan, on Thursday of last week, having been flown home the previous evening.
A packed church greeted one of the town's favorite sons, on his final journey, as former teammates, schoolpals, neighbors and friends from all over Ireland gathered to say goodbye. He will be greatly missed on both sides of the water.