Should Portugal drop Ronaldo at Euro 2016 is the question we're asking. Yesterday the loud explosions we heard were from the firecrackers lobbed onto the pitch by Croatian fans. Today, the slightly louder noise came as Roy Keane's head exploded with rage after the Republic of Ireland's defence committed communal suicide to gift Belgium three goals.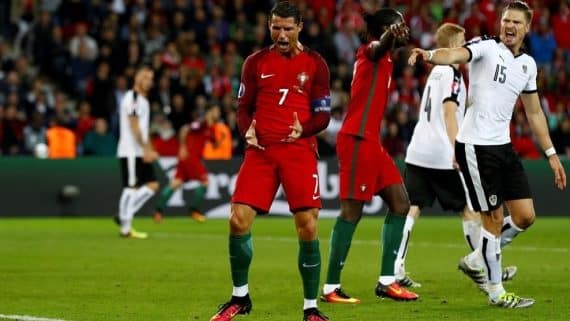 By Dave Bowler
If Clark in particular isn't sporting the blackest eye in all of Christendom tomorrow after his particular horror show for the third goal, then Keano has clearly mellowed in middle age, for there was a time when he would have simply ripped the centre-half's head off and shoved it where the sun don't shine.
Those errors were a real pity for, although the Irish struggled to have a lot of joy going forward, through the first half they had done well enough to keep a much improved Belgium at bay. The Belgians were far more cohesive and together as a unit, but had the Irish got through the first 20 minutes of the second half without conceding, who knows what that might have done to the brittle temperament of Wilmot's team.
As it was, within that period they were two down, although they'll feel a bit hard done by that at 0-0, they could have had a penalty for a high foot on Long. They didn't get it, Belgium instantly sprinted down the other end, McCarthy sold himself and allowed De Bruyne to get away, the ball was fed into Lukaku and a lovely finish later, it was 1-0.
Witsel, completely untracked by any midfielder, strolled into the box to make it 2-0 with a glancing header just past the hour but as we saw yesterday, that is not always conclusive. But 3-0 is and when Clark first ran the wrong way and then conclusively failed to tackle Hazard on the counterattack, it was the simplest of tasks for him to roll the ball to Lukaku to wrap up the game.
Roy Keane's Head Explodes
Ireland might get lucky yet given they will play an Italian side already through and resting players and so a win could send them through. Belgium need to avoid defeat to Sweden to progress, something they should be well capable of doing. The interesting thing will be the performance they put in. Was today a signal that they have shrugged off the failings of the first game and are going to be the side that we all expect them to be, or will their Jekyll and Hyde tendencies continue?
There was no need of the seemingly obligatory late goal in that game, but it arrived in the fixture between Iceland and Hungary, the Magyars rescuing a point three minutes from the finish, a result that turned the Group of Meh on its head, all but sending Hungary through where, moments earlier, the Icelandics were set to be in the knock-outs.
You couldn't really argue with the result, Hungary having the bulk of the play, plenty of territorial advantage, though their opponents perhaps had the better chances. Iceland's goal came from the softest of penalties, Hungary's from an own goal, summing up a group that seems to have just been tacked onto the main competition.
Poor Performance From Ronaldo
It then delivered up a goalless draw between Portugal and Austria, an entertaining one at that. Once again, the game was dominated by Ronaldo, for good and, largely, bad. One of the greatest goalscorers of all time had the kind of evening that he can't have had more than three or four times in his career, missing a string of very good chances, pulling a penalty kick against the post, scoring from an offside position and eventually coming up blank.
You have to give credit to him for keeping going, for trying to get into scoring positions, but the more he misses, the more everything becomes about him, be that because of an armour plated self confidence or a monstrous ego that simply demands feeding, that he be the hero of the day.
Courageous as it might be, it can also be self destructive for him and his team because the more he misses, the more he ignores anything other than his personal crusade to crush everything around him and bend the game to his will. He starts to take fee-kicks from increasingly ludicrous distances, he passes less and less and shoots more and more – 20 times in two games.
He might still go berserk against Hungary and steer his side through to the next round but you do start to think the unthinkable – might Portugal be better off without him?