The flaws of a 24 team tournament have started to become apparent in the last few days at Euro 2016 as the level of quality has dropped as some of the lesser teams scramble for third place and possible advancement while those who have already done enough to qualify take their foot off the gas and have a breather.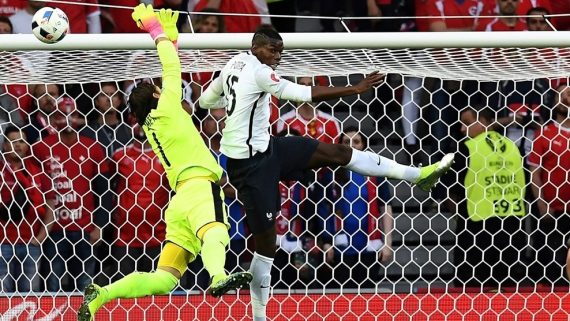 That was very much the case in Group A as France made a number of changes and pretty much coasted through their final game with Switzerland, an arrangement that suited the Swiss down to the ground since they needed just a point to make certain of their own automatic qualification.
As a consequence, we got a pretty tepid 90 minutes of football, the Swiss marginally the better team overall perhaps, Pogba the outstanding individual on show, especially during the first half when he came close to a goal on three separate occasions.
After the break, we watched a game of little more than shadow boxing, enlivened only by the introduction of Payet from the bench, the match destined for a 0-0 draw long before the end, the evening's greatest entertainment coming from the Swiss shirts which ripped apart at the slightest touch, leaving them looking like a troupe of strippers looking desperately for a hen night.
Albania Surprise
In the other game, Albania sprung a surprise by defeating Romania 1-0. After making a promising start on the competition's opening night against France, the Romanians have fallen away badly, never really recovering from Payet's late strike that won that first game.
Against Albania, they started brightly enough before being knocked out of their stride by some pretty boisterous stuff from their opponents midway through the first half.
From there, it was Albania on top to the break and they deservedly got in front when the Romanian 'keeper, Tatarusanu, lost his bearings when tracking a swirling cross from Memushaj, leaving Sadiku to plant a clever header into the far corner.
Romanian pressed against a massed defence after the break without ever looking convincing and, failing to find a goal, they became the first side to be eliminated from the Euros.
Albania meanwhile have to sit around for three days to see if they are going to be one of the four third placed sides that make it through to the next round, another of the tournament's flaws. With three points and a poor goal difference, it's perhaps unlikely, but the Romanians would still swap places with them quickly enough.