Poland against Portugal ended up being the game we all feared it might be after their respective round of 16 games at Euro 2016, a stalemate that started brightly enough but gradually went downhill thereafter, being doomed to penalties long, long before we got there.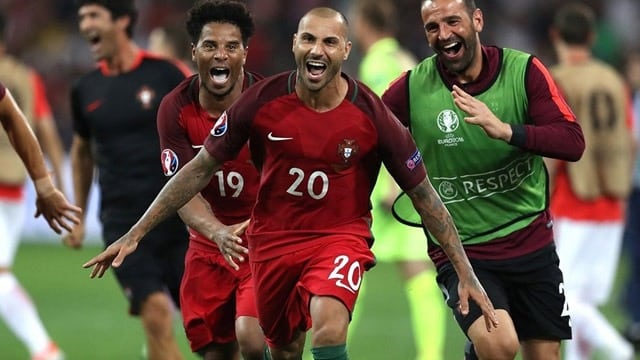 Euro 2016 Diary: Portugal Through To Semi Finals On Penalties
The Poles have been an effective looking outfit throughout the competition without being able to set the pulses racing, solid but very rarely spectacular. In fact, they found their most thrilling moment of the Euros right at the outset, Lewandowski finally cracking in a goal after a couple of minutes when Soares had made a terrible misjudgement to allow Poland away down their left. It was a crisp finish and for the next dozen minutes, Poland looked as though they might take the game away from their opponents.
Then the enormity of where they were, the lead they had and the thought of what was at stake hit them and they reverted to type, dropping deeper and deeper, Portugal only too happy to take advantage of the territory they were being granted and it was no surprise when they got back on terms just past the half hour. The hugely impressive youngster Sanches played a lovely one-two with Nani who cleverly wrong footed the defence, Sanches crashing in a slightly deflected shot from the edge of the box.
From there, it was all set up for Portugal to go on and win the game but in truth, the match died on its feet after the break, Sanches being shifted out to the left having done his damage through the middle. From there, while the Poles hoped, largely in vain, for something on the break, Portugal did little or nothing with the ball at their feet, rarely threatening Fabianski's goal.
Ronaldo Chances
When they did, it was, of course, Ronaldo who had the best of the chances but in keeping with the vast bulk of his tournament, the usually decisive touch was conspicuous by its absence, missing a couple of admittedly tough opportunities but ones that he would normally knock in without thinking about it for Real Madrid.
And so it ended up with penalties where Ronaldo did lead the way with a decisive strike. The quality of the penalties was excellent until we came to number four for the Poles, Rui Patricio going the right way to claw away Blaszczykowski's effort, paving the way for Quaresma to win the second game in a row and send Portugal into the last four.
They have done it without winning one of their five games in regulation time thus far, mounting three draws in the group and Quaresma's last gasp extra time winner in the last round. On that basis, you would ordinarily dismiss their chances of going further, but at some point, surely the real Ronaldo will turn up and the very fact that they've got this far without him turning on the magic has to give them plenty of encouragement. This tournament gets curiouser and curiouser…