England crash out of Euro 2016 after their shock defeat to Iceland. A few more thoughts on England's dreaming, in which there proved to be no future.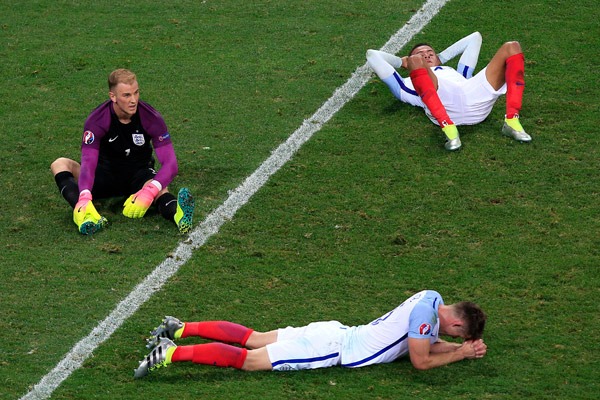 Euro 2016 Diary: No Future In England's Dreaming
Hodgson has gone and another sacrificial lamb will turn up in his place, but who is going to break the cycle when umpteen, eminently well qualified predecessors have already failed? It's time to look beyond the man at the top and look at the people on the pitch who, time and again, fail. And then, perhaps, beyond that too.
Since his first one back in 2004, when has Rooney ever had a good tournament? Hart, once again, was found lacking when it mattered. In the past you could say the same about Gerrard, Beckham et al. Younger bloods this time like Kane, Alli, Sterling were all uniformly dreadful. So what is it that happens to decent footballers the moment they put an England shirt on at a tournament – because that's when it goes wrong. They generally look great in qualifiers.
There seems to be something in the English psyche that cannot handle the pressure when it really counts – big name players aren't big game players when the expectations come upon them and it happens time and again.
Panic
There were two or three moments yesterday that summed up the contrast between perennial failures England and perhaps the consummate tournament team, Italy. Before their game with Spain, the Italians looked relaxed in the tunnel, talking to each other and their opponents. Buffon at the front was all smiles, chatting to the mascots as though he was off out for a Sunday kick about.
Before England's game, it was all contorted faces, snarls and screams, Hart roaring some cliched nonsense about "Our night, our fucking night!" That's the kind of thing Wimbledon's Crazy Gang did 30 years ago as underdogs in every game. Should England really need to resort to that against Iceland?
And then the game starts. Italy were all focused power, determination, togetherness, but in their hunger and desire, there was a belief in themselves and in one another, controlled aggression not caricature frenzy. From Barzagli to Eder, they knew they could trust one another and there was never a hint of panic, even in the final seconds as Spain mounted a late onslaught.
When England's game started, even when they took that early lead, there was never any sense of that same emotional control but rather a blind panic. There was no taking of responsibility, only the passing of it on, the hope somebody else would sort things out. The defending of both Iceland goals was laughable because nobody led, nobody dominated, nobody took charge.
Confusion
Beyond that though, it was the looks on the faces that betrayed what was going on. There was a moment around the half hour mark when Rose overran the ball behind for an Icelandic goal kick and immediately had his head in his hands before running back upfield with the haunted look of a man going to the gallows. There was still an hour to go. An hour. Plenty of time to turn things round but you could see he didn't believe it would happen. And he wasn't alone.
On the BBC earlier in the day, Vincent Kompany, who has provided some supremely incisive analysis, made the key point that Italy play a game reflective of their national culture and play to its strengths. They know who they are and what they are about, and this while all the time knowing that failure will see them ripped to shreds by a media yet more savage than the English. Expectation for them is every bit as great, greater, than for England.
Are the English national team reflective of English culture? Perhaps so, for they look like a team in search of an identity. In a week where the nation was split right down the middle about its future direction in a far more important sphere, then perhaps the football team's confusion is a perfect metaphor for that of the country as a whole.