Iceland shock England as Italy beat Spain in Euro 2016 Round of 16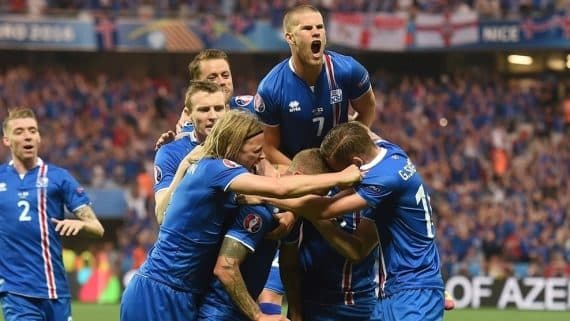 By Dave Bowler
Let's start with England. Dear God, they were beyond awful. Men who lord it around the Premier League week after week and who were given a goal start in the opening minutes through a Rooney penalty then spent the next 86 minutes punting the ball around cluelessly.
After they failed to defend a routine long throw of the kind Allardyce and Pulis sides have tossed in routinely for ten years, they then allowed Iceland to pass through them as if they weren't there before Hart and his swing door wrists allowed a weak shot to dribble past him.
From there, England simply could not put a thing together and went out of the competition with a whimper. Full credit to an Iceland side that defended superbly and totally deserved their win, but from an English perspective this truly was the moment that the noisy kid pointed out that the Premier League is wearing no clothes.
Roy Hodgson has already paid with his job but once, just once, maybe the inquest – and the buck – shouldn't stop solely with the manager. Perhaps it's time the players took their fair share of the blame too.
End of an Era
If there were any doubts remaining, they were conclusively answered today – the Spanish era is over, at least in terms of international football. After a poor World Cup two years ago, their eight year reign as the champions of Europe was ended when they were comprehensively outclassed by an Italian side that had all the answers throughout 90 minutes of almost total control.
Had it not been for a string of superb saves from De Gea, Spain would have been heading for oblivion long before Pelle's injury time goal finished the game off at 2-0. But it wasn't merely the defeat, not the scoreline that mattered in the end, it was the way in which Italy dismantled the last ramparts of the tiki-taka castle and showed it to be a system that has been overtaken by time and by the age and weariness of those required to put it into practice.
Italy were quicker, pressed higher, more determinedly, gave them no room in which to play and to pass and consequently denied them the opportunity to play the mesmerising game that came so naturally and easily when the likes of Iniesta, Fabregas and the much missed Xavi were young men.
Spain Doomed
But Spain stuck to their system and simply refused to vary it in any way and ultimately, it took them to their doom. The world – its better teams anyway – have worked them out and know how to defeat them. Following this tournament, and facing a World Cup group that includes the Italians, Spain need a long, dark night of the soul to decide where they go from here, with what system and with what personnel.
Meanwhile the bandwagon for "the worst Italian team in 50 years" just rolls on. Conte's tactics, in contrast to Del Bosque, are shrewd but fluid, intelligent and evolving. And above all, he has crafted a group that clearly loves being together, believes in one another and in what they are doing, and fancies its chances.
This is the most cohesive team in the tournament – though they are weak beyond the first XI and suspensions could yet play a big part – and they have a belief in the impregnable nature of that Juventus back line that gives them real confidence in each game.
They could have been over the hills and far away by the break, but had just one goal to show for it thanks to De Gea. Even that goal underlined the Italian drive for while Spain barely reacted to their goalkeeper's parry from a fee-kick, four Italians converged on the ball, Chiellini getting the decisive touch.
Bonucci Shines
Spain were better after the break, a little more urgent, but Italy were rarely flustered. You could make a good case for Bonucci as player of the tournament so far and he was magnificent again. Then behind him, the grand old man, Buffon, was security itself, producing one extraordinary reflex save in the dying seconds to keep it at 1-0, Italy breaking up the other end moments later for Pelle to volley in from close range to complete the victory. Germany await in the quarter-finals, and that promises to be epic.