It was the most important game of all time. Beyond question, the most heart-wrenching, soul-rending, crotch-grabbing, vital game in the history of American soccer, and, perhaps, in the history of any sport, anywhere.  Lionel Messi, without a doubt the greatest player of this generation leads some other guys against the United States and Clint Dempsey, the border-town Texas kid that is the very paragon of 21st century America, and the election and music and fashion as well.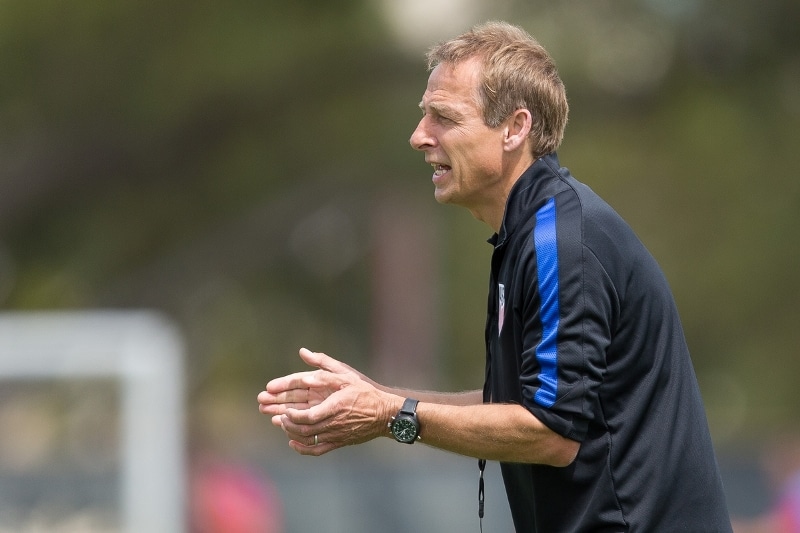 Tim Hall's View From 101
To even watch this match, you need a note from two different doctors proclaiming you have a clean bill of health. No one will be admitted after the start of the performance. Viewer discretion is advised.
Et cetera, et cetera, et cetera. You know how these things go, with the deeply-voiced man building up the volume and, by extension, the tension. Usually there are drums, perhaps an explosion. Edit in one of those really sweeping and awe inspiring classical pieces like 'Fortuna' or 'Ride of the Valkyries', and you've got the audience at home shoveling half their bag of microwave popcorn into their mouths before the teams even walk out of the tunnel.
Hype
It's true for the most part when the more discerning viewer comes across one of these hype videos, they're immune. Partly because we've seen this same script played out over and over again, and partly because we know enough about the games to know what really matters. Iran vs. South Korea is a battle for dominance and the very future of the game, is it? Are you sure?
But then comes a game like this one, in the semifinal of an off-cycle, cash-grab 'tournament', and, you just want to believe. You want this to live up to the hype, you want to walk into it with a clear and open heart and let the moment take you wherever it will, and if that ends up with your heart crushed and trampled on, lying on a dirty mud-covered floor, so be it. Tis better to have loved and lost.
Robbed
We've become so accustomed to being so beaten-down by the evildoers that clog up every level of the penthouses of our game that we've become calloused and cynical when we're faced with the opportunity to actually, maybe, enjoy a big game. We've been robbed, piece by piece, of that joy and that excitement and that fizz of it all. Instead of jumping around in place and biting off our fingernails, we've put our hands on our hips and rolled our eyes.
That, in many ways, is the worst part of all the FIFA scandals and arrests. Yes, we expect you to get rich off of this, nobody is talking the big jobs at FIFA pro bono. Sure, we expect you'll give some of the cushiest gigs and contracts to your friends and allies, that's the entire point of being in power. Obviously, we believe you'll even go so far as to line things up using frozen or heated ping-pong balls to ensure that, if everything goes well, we'll all get a really good final.
But when the operation of the machine becomes so odious, when we're worn down to nothing, it makes it difficult to really get excited. And it's that duality that plagues USMNT fans right now.
USA
Naturally there is a part of you that wants to be excited, wants to believe as we have so often in the past that this is the time that the Yanks overcome the deep odds and make it all the way to the final of a major tournament, and then win the whole thing. And if it takes getting by the number one team in the world, with the number one player in the world, with three of our starters suspended, so be it. Bring it on. We're Americans, and we never give up the fight.
But this isn't it. This wasn't it. This was never going to be it. And This was not the US going down to South America, going into Monumental or Maracana and getting to the semifinals of the Copa America. It's an off-cycle series of friendlies so a whole bunch of dudes in suits can profit off of peoples' desires to see James and Messi play games that 'matter' stateside.
Specifically that duality comes back for US fans here. The outrageous ticket prices to see games in half-filled 70,000 seat stadiums. The latent desire for the Yanks to crash out in the first round if you're among those that think manager Jurgen Klinsmann should be fired and thrown into the sea. And, of course, our voiceover man extolling us to give up any thought of anything else in our lives for fear of missing the Americans' greatest triumph since World War II.
No Threat
The US Men have played in a final before, in the Confederations Cup. Whether you consider that tournament any more or less valid than the cross-country circus going down now, that's a valid opinion either way either way. And there was the game against Belgium in 2014 World Cup where Tim Howard made better than a dozen saves, that was a more important game.
And beating neighbors Mexico in a knockout game in 2002, certainly that has to rank higher. Quarterfinal where the US was one handball away from beating Germany, massive. Beating England 1-0 in 1950? Drawing England 1-1 in 2012? They both have some emotional resonance. Even taking 'third place' in the first ever World Cup is a bigger accomplishment, with more meaning, than beating Argentina would have been.
So it was that a comprehensive 4-0 loss to Argentina, where the US was never a threat, never even an idea, was everything to everyone. For the people that love their country and their national team no matter what, it was the mere accomplishment of getting to the Copa America semifinals and getting to stand on the same pitch with Messi et al. For the pessimists, it was confirmation that Jurgen Klinsmann has no idea how to think on the fly when his first choice players go down. And for Klinsmann himself, his pre-tournament prediction of the semis as the goal comes true, and he gets the added bonus of missing players as the excuse of why they didn't go further.
Lesson
Nothing was learned, but there's something to be taken away from the Americans' performance for everyone, and somewhere down the line our booming friend will be back, reminding us of the performance over the last few weeks and how they'll look to build on their success, the next time the US plays the biggest game ever played.