Manchester United has always been one of the greatest and most victorious football clubs in the world, but they couldn't achieve such resounding success and reputation without the help of some of the best goal scorers of all time. Wayne Rooney might be the name that springs to mind right away, yet the list has many more names that are worth mentioning, as you can see below. 
You can watch football online at Tructiepus.com to follow your team for every match. Don't forget to update your schedule, transfer news, team news, injury news from the club's official website.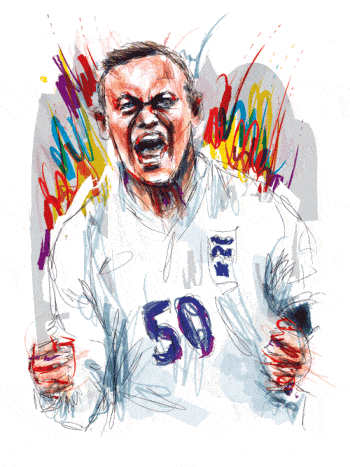 1. Wayne Rooney – 253 goals
Wayne Rooney is the first football player who appears on this list as he has scored a total of 253 goals in the 559 games he played for the Red Devils. 
He achieves a goal-to-appearance ratio of 0.45. Most of the goals (183) were scored at the league level. The rest include 22 goals in the FA Cup, 5 goals in the League Cup, and 39 goals in European competition.  This is also the club that Rooney spent the longest time with during his playing career from 2004 to 2017. 
2. Sir Bobby Charlton – 249 goals
Bobby Charlton is considered one of the legends in Manchester United history. He racked up 249 goals in 758 games playing for Manchester United. And his goal-to-appearance ratio is 0.33, which means he has scored two goals every 6 times he has appeared for the club.
Even though his record was broken by Rooney, his contributions to the club are undeniable.
3. Denis Law – 237 goals
Denis Law netted 237 times in 404 games for the Red Devils.
He was actually the first United player, and the only Scottish player, to win the Ballon d'Or award (in 1964). Law also played for Scotland for about 16 years between 1958 and 1974 scoring 30 goals in his 55 appearances.
4. George Best – 179 goals
The Northern Ireland legend scored 179 goals in 470 games in his 11 years playing for United.. Even though he played for over a dozen other clubs including three spells in the States, he will always be remembered for his time at Old Trafford.
5. Ryan Giggs – 168 goals
Ryan Giggs is one of those rare breed of footballers who played his whole career at one club. Perhaps his most memorable moment is when he took off his shirt and waved it around over his head after he had scored a wonderful goal for United in the FA Cup semi final against Arsenal in 1999. 
Giggs is also the only footballer to win 13 Premier League titles with the club. The Welsh wizard scored 168 goals in the 963 appearances he made for Man Utd from 1990 to 2014. 
6. Paul Scholes – 155 goals
Paul Scholes is another player who dedicated his career to United – albeit over two spells. After retiring in 2011 following 18 years of service for the club, he decided to dust off his boots one more time a year later.
The England midfielder scored 155 goals in the 718 appearances he played within the 2 time periods for the club. His goal-to-appearance ratio is 0.22. 
7. Ruud Van Nistelrooy – 150 goals
Dutch sensation Ruud Van Nistelrooy ended up falling out with Sir Alex Ferguson, which inevitably led to his departure from the club, but while there he found the net 150 times in 219 appearances. He moved on in 2006 to play for Spanish giants Real Madrid. 
8. Ole Gunnar Solskjaer – 126 goals
The current United boss contributed 126 goals in his 366 appearances playing for the Reds, the most famous being the late, late winner in the Champions League final against Bayern Munich in 1999. He was considered the embodiment of the team's spirit in their most glorious years. 
9. Andy Cole – 121 goals
Cole served Manchester United for 6 years in which they scooped up 8 major trophies including the Treble of the Premier League, FA Cup and UEFA Champions League in 1999. His contribution during those years will always be etched into fans' memories. He scored 121 total goals in all 275 games he played for the team. 
10. Cristiano Ronaldo – 118 goals
The list would be incomplete if there were no Cristiano Ronaldo in it. This Portuguese legend joined the Red team from Sporting in 2003. During his 6 years of service, he scored 118 goals in the 292 games he played and went on to become known as one of the top two players in the world along with Lionel Messi.
Final Verdict
As one of the biggest clubs in England, these are just some of their all time goalscoring legends. There are of course many others including David Beckham, Eric Cantona, Mark Hughes etc. In short, Manchester United has truly owned many of the world's most gifted football players over the decades.