Dave Bowler presents his Euro 2020 Final preview as England prepare to meet Italy at Wembley for Sunday's showdown.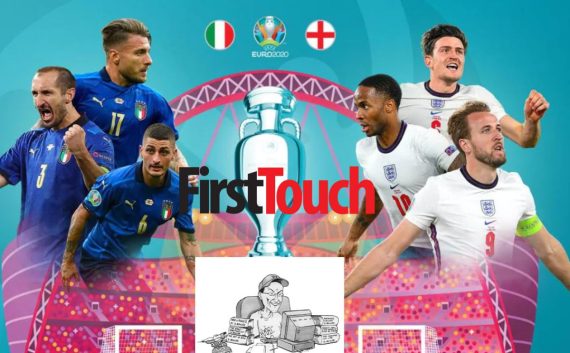 Euro 2020 Final Preview: England vs Italy
Football plays a strange role within the English culture. Generally, it's seen as the villain of the piece – overpaid footballers, thuggish supporters, encouraging boorish behaviour and loose morals. It's a view that is as ludicrous as the current conception of the game which sees the Messianic Gareth Southgate, Harry the Baptist Kane and Saint Kyle Walker (who, lest we forget, half the nation wanted strung up by his most delicate parts after a number of lockdown indiscretions) as standard bearers for a new nation, more at ease with itself and its diversity.
This in a week where the Home Secretary introduced legislation that makes it a criminal offence for the national lifeboat charity to rescue asylum seekers should they have the misfortune to be drowning in the Channel. Still, with England winning at Euro 2020, it's a great time to bury – literally – bad news.
By Dave Bowler 
So it stands that England go into Sunday's Euro final with Italy at the head of a nation that has been wound up to the point of frenzy, a stark contrast to the sound, composed, wholly professional but, in truth, largely drab progress of its team. Sensible, focused on not conceding, on ball retention, it's been a very unEnglish team throughout this tournament – which might explain why it's reached the first final in 55 years.
What's intriguing is that coming into the competition, it was the defense that was the worry, yet over the last month it has become the foundation on which everything has been built. That's as it should be if you're essentially playing six defenders in front of the goalkeeper, a strategy for which Southgate was roundly condemned for at the start of the tournament before it became clear there was a bandwagon here worth jumping on.
Southgate has been proven right, albeit helped by a particularly benign draw. When your attacking strength includes the quality of Kane, Sterling, Sancho, Foden, there's no need to go gung ho. Keep it tight at the back, don't lose the ball cheaply and allow the forwards to do the work at the top end of the pitch when the moment comes.
FORMULA FOR SUCCESS
It's been a formula for success thus far, so why change? Surely Southgate will resist the call to unleash the hounds and go for broke on Sunday, but will instead produce another measured display in a game in which the first goal will be absolutely crucial.
Where Southgate will really earn his money on Sunday will be in keeping a lid on his players' emotions. Wembley Stadium will be pretty much a basket case of England fans on the verge of hysteria over this opportunity to finally win another major trophy. The media build up to it has seen every outlet frothing at the mouth over the possibilities.
And, of course, the politicians have waded in to get a bit of the reflected glory – they even changed the nation's Covid quarantine laws to ensure FIFA's VIPs and sponsors could get to Wembley, ensuring they didn't take the game elsewhere in Europe. (And we know full well that when, in a couple of weeks, Covid spikes again as a result of 65,000 people trying to navigate London's antiquated tube system, they'll be shovelling the blame onto football fans, but that's politics folks…)
HIGH STAKES
For England, the stakes could not be higher on Sunday. The World Cup semi-finalists of 2018, in what is essentially a home tournament-plus, playing at Wembley Stadium in front of an expectant nation, much of which has already concluded that they've won the tournament and are just waiting for the confirmation of a bank holiday on Monday to sleep off the celebrations.
There are only two outcomes for the England team. They can be heroes or they can see the accumulate good work of a month wiped out by a bitter and vengeful nation in the horror of defeat. There doesn't look to be much middle ground.
For Italy, things are rather more nuanced and a little more relaxed than that. Yes, Italy is a nation that has regularly enjoyed great footballing success and with a footballing public that demands it. But roll back the clock to the last World Cup. Italy weren't even there, knocked out in a play-off by Sweden after coming second in the group to Spain. To reach this final from there has already been an act of redemption.
BREATHTAKING ITALY
From the ashes of that failure, and the largely unpopular appointment of Roberto Mancini as coach, has risen a new kind of Italian team, one that still has its defensive disciplines of course, but which has thrilled throughout the competition with the quality of its football, its enterprise and its breathtaking ability to turn defence into attack within the blink of an eye.
It will be harder for them to do that against England simply because it's unlikely Southgate will allow his team to commit men forward. The holes won't be there as they were against Spain in the semi-final which again is why that first goal is going to play a huge part in this game. Both sides are well suited to sitting on a lead and protecting it, which could make for a frustrating final should an early goal go in at either end.
CHIELLINI & BONUCCI
Much has been made of the Italian attacking play but I would rather watch Chiellini and Bonucci play than any other individual or combination in this tournament. They are proper defenders, proper footballers, warriors who will celebrate a good tackle the way lesser mortals celebrate a 20 yarder into the top corner.
Given the next World Cup is only 18 months away, they might yet be cajoled into going to the inferno of Qatar, but the likelihood is that as a pair, this will be the last hurrah of a combination that has contributed hugely to the game of football over the last dozen years and more. It would be sad indeed if they went out humbled, but with the pace England have up top, that is a risk. Nobody's legs last forever, as even Roger Federer discovered at Wimbledon earlier this week.
PERFORMANCE
In the end, having said this is a tournament that England should win before a ball was kicked, that's how these previews will end. They've had the advantage of barely travelling, been lucky with injuries – and a few decisions – enjoyed the easier half of the draw, had the more relaxed route to the final and the opportunity to find themselves and their method as game have gone on. These are all elements which will be crucial when the sides are having to dig deep in their seventh game of the month.
I suspect it's England that will be celebrating on Sunday night, but unless they give a signature performance in doing so, it will be a win barely remembered by the neutrals, in the way of Greece and Portugal in years gone by – not that England will care about that. Instead, it will be the performances of the Italians across the competition that will linger longer. Funny old game.