The final four at Euro 2020 have made it through to the Wembley showdown over the coming week and at least none of them will be shuffling the pack because of suspensions. Injury, on the other hand, is another matter entirely.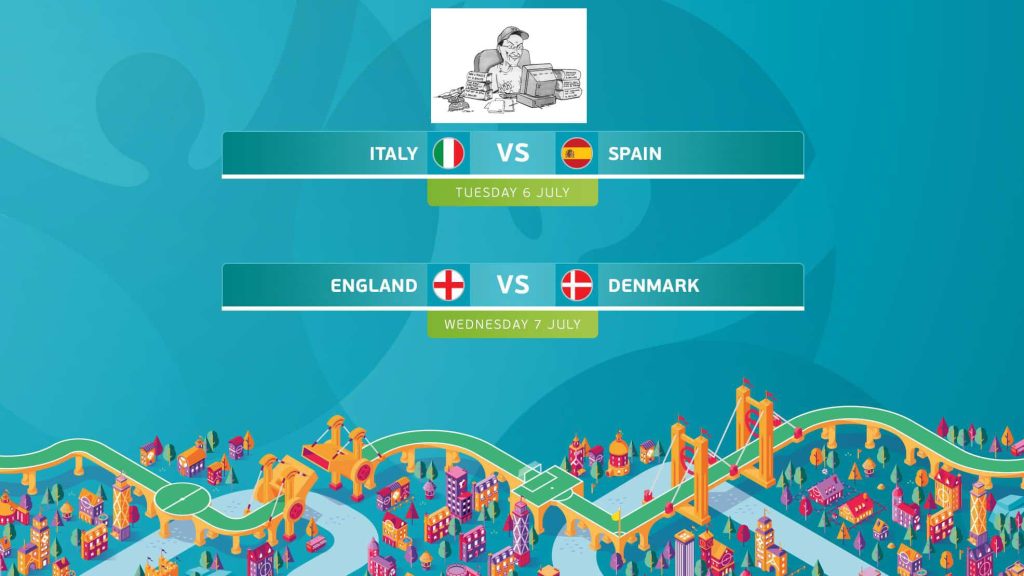 By Dave Bowler 
Italy
Italy might be the worst hit of the four, for as they were seeing their way to victory over Belgium, the late loss of left-back Spinazzola as he snapped his Achilles was a heavy blow. He had shown himself to be one of the stars of the tournament and Italy will do well to mask his loss, albeit that Florenzi might well be ready to return on the other flank. Di Lorenzo might take some shifting though.
Their win over Belgium was impressive. It was the first big test of the competition for Italy and they came through it with a lovely melding of the old and the new. Much of the talk has been about how expressive Mancini's side has been in going forward, and there was much of that to admire, in the first half in particular. They are a potent threat with the ball at their feet and they always look to have goals in them.
For all that, the Azzurri traditions of being miserly at the back are still there. Chiellini was possibly in Emperor Claudius' army when Rome invaded England a couple of thousand years back, but if you want a warrior defender, there's still none better. Bonucci complements him perfectly and those two were instrumental in seeing Italy home against Belgium, along with Donnarumma behind them, a young goalkeeper beginning to live up to those expectations that he will become the best in the world.
Perhaps the key though is Jorginho, playing not so far in front of the central defenders but defining the tempo of the game for Italy, constantly organising, prompting, conducting. When he is at his best, so are Italy.
Spain
It's been a ramshackle kind of tournament for a Spanish side that has prided itself in the way it controls games. That said, this is their best display at a major competition since they won Euro 2012 in a magnificent, last hurrah for the all-conquering tiki-taka team that crushed Italy 4-0 in the final – a night Bonucci and Chiellini will remember all too well. Ordinary against Sweden and Poland, they then blitzed Slovakia to qualify and looked to be finding their best football against Croatia, albeit a late lapse forced that game into extra-time.
They were anything but convincing against the Swiss though, squeaking through on penalties and there look to be too many issues for them to resolve to defeat Italy.
Goalscoring is the main one, for in too many games they've lacked the ruthless edge up front. Morata continues to be under intense scrutiny but paradoxically, if anyone is going to know the way past Bonucci and Chiellini, shouldn't it be their Juventus team mate?
Semi-finals so often come down to a matter of belief and Spain's looks a little flaky. Italy meanwhile, unbeaten in 32 games, look to be armour plated in that regard. They have a number of ways to win a game and in a tight one, you would have to back them. Spain's only chance looks to be in just blowing them away, like in 2012, and I can't see that happening. Italy to progress.
England
England's team seems to be made up of better human beings than their admittedly talented predecessors in the "golden generation", who were all too often all too wayward, unable to focus on anything but the froth and the trivia. In a nation that has spent several years gradually losing its mind, that in itself is a very welcome change.
Real proof of their ability, especially under pressure, still needs to be shown, for everything has gone their way so far, including an extremely benign draw that will see them playing a team that lost twice in the group stage for the second game in a row, and that after defeating a deeply mediocre Germany.
But you can only beat what is put in front of you and England have done that solidly enough and, which could be crucial, without expending too much unnecessary energy and emotion. That changes now, not least because England as a country has already concluded that the trophy that originated in France is coming home – work that one out. Expectations could not be higher and it's on those rocks that England's dreams have foundered in the past.
Their refusal to give up a goal as yet has been impressive and could be decisive. On past performance, it's also a little bit surprising and in part, that speaks of the quality of the opposition. But no matter. Clean sheets breed more clean sheets and just as Italy simply don't believe they can lose at present, England probably don't believe they will concede. That's a very handy confidence booster to have in the locker.
Denmark
The Danes though will offer the biggest test yet, though one England would ordinarily expect to overcome on home soil. Denmark are a more than handy side, but as noted in previous previews, their strength is the collective, the feeling of playing for a cause. After the horrors of the opening game against Finland, watching Eriksen collapse and be carried away, then going on to resume the match afterwards, the Danes have come together on and off the pitch to create a unit that looks unbreakable.
But football isn't quite as straightforward as that. Team spirit will take you a long way, but not all the way. You need quality too, and Denmark have a useful splash of that. Maehle has impressed from midfield and they have a potent attack with Dolberg and Damsgaard catching the eye and Poulsen seemingly fit to return. The Danes can cause trouble, but I can't diverge from the pre-tournament prediction we made can I? I said then it was a tournament England not only could win, but should win. Nothing has changed.