For the past few weeks, I have traveled around New York City and northern New Jersey to see how we New Yorkers experienced World Cup 2014.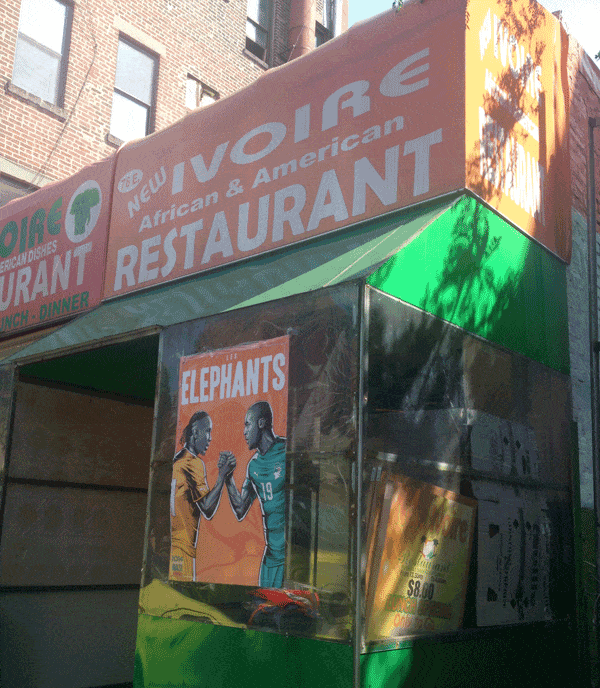 By David Brand
I'll never forget Asamoah Gyan at the 2010 World Cup. One day he was a national hero and six days later he was a prone, helpless wretch.
On a Saturday, Gyan scored a goal that knocked the USA out of the World Cup in the Round of 16. He controlled a long ball with his chest, slipped between two USA defenders, stayed upright when Carlos Bocanegra slammed into him and struck the bouncing ball into the net. He was strong, surgical and ice cold.
The following Friday, Ghana and Uruguay were tied with seconds left in extra time. There was a scramble in the Uruguayan box and the keeper got lost. Ghana finally headed the ball toward the net, but Luis Suarez stole it off the line with his hands. Gyan stepped to the penalty spot and I thought the game was over. He wouldn't miss. A goal would have delivered Ghana to the semifinals, but Gyan hit the crossbar.
Later, when Uruguay sent Ghana home on penalty kicks, Gyan lay shattered on the floor with his hands covering his face. His teammates and trainers hoisted him up and shook him back to life. Gyan is still the first face I see when I think about that tournament. I was fascinated by his high, sculpted cheekbones and his chilly eyes behind hooded lids. He could score without warning and from the most unlikely opportunities. Gyan was the black star of the Black Stars, the Taye Diggs of international soccer. Yet, even he could fail.
Who will be this tournament's Gyan, the person or place that defines the 2014 World Cup for me?
For the past few weeks, I have traveled around New York City and northern New Jersey to see how we New Yorkers experience the 2014 World Cup. I have visited a different bar, restaurant, neighborhood or cultural center each day of the tournament in order to collect memorable experiences among passionate fans. I record them in my blog DearGyan.com .
I've met several distinctive people in the midst of striking World Cup crowds here in New York. My Asamoah Gyan might be Sanam, an Iranian woman I sat with at Brazilian restaurant during the opening match of the World Cup. Sanam invited me to watch Iran battle Argentina in a West Village bar called Warren 77 the following weekend.
I imagined I would be attending a relatively small get-together with a few young Iranians sitting around a table. When I got to the bar, the overflow crowd was watching the match from the street. I squeezed inside and discovered that I was at a gigantic viewing party with well over 100 electrified Iranians.
Warren 77
Warren 77 was an unlikely place for them to assemble. The walls were covered with 1960s baseball cards and a few large photos of Knicks and Rangers legends. Turns out Warren 77 is the USA's only Knicks/Rangers/Iran bar.
Maybe my Gyan will be Han, a South Korean network engineer I met at a glitzy, gaudy karaoke bar/underage drinking haven in Koreatown near Herald Square. During the match, I asked Han if he wanted a beer and he agreed. When I failed to get the bartender's attention, Han called to him in Korean. Han ordered the beers then started to pay. I objected and took out my credit card, but Han refused.
Later on, Han's friend Jang showed up and Han ordered a pitcher of beer, which he then poured into my glass. I again offered money, but he refused. I started to suspect I was missing some custom about how one pays or insists on paying or pretends to argue about paying or something, but I dropped the issue and let him buy the pitcher.
Han and Jang
At halftime, I left Han and Jang to use the bathroom. When I returned, my beer glass was full. Han had ordered and paid for another pitcher. Jang offered me plates of shrimp tempura and french fries. I took small bites of each and sipped my beer slowly. I didn't want them to keep buying me stuff. Later, Han and Jang asked me if Park Chu-young was in the game. I confirmed that he was indeed playing and they thanked me. I least gave them something.
The Croatian hooligans at Scorpio in Astoria were pretty memorable. Astoria experienced an epidemic of World Cup Fever and I bet Scorpio had the highest temperature in the neighborhood (maybe the most vomiting too). I heard the Croatians singing before I even got inside and the energy intensified throughout the match. Croatia's second-half goalfest felt like a house party from Neighbors.
After Croatia scored their first goal, the DJ jumped on the mic and belted Croatian folk songs. The crowd responded in those booming, bassy bellows that all Eastern European men seem capable of producing from their diaphragms and tobacco-stained lungs. At 2-0, a goal that ignited the Croatian onslaught, the fans flung Karlovacka beer in circles around the room.
At 3-0, a guy climbed on top of the bar and started slamming the wooden rafters, which were decorated with eleven full Croatian kits. The guy happened to be beating the space between Rakitic and Modric. More fans tossed beer and Croatian pop music poured from the speakers. Other men were stomping and hammering the bar so hard that the floor literally shook.
Croatian Hymns
At 4-0, there was a thunder storm of Karlovacka and Croatian hymns. Four young checkerboarded men surged past me to frolic in the mosh pit. By this point, half the people in the bar were smoking cigarettes.
An Ivorian cabdriver named Diabi is in the running for my 2014 Gyan. Diabi made a strong first impression when I stood behind him at New Ivoire, a small orange box with giant trays of food in East Harlem. He wore a gray pinstripe suit and, like most of the crowd watching Cote d'Ivoire's match with Greece, he seemed tense.
Diabi reacted to each mistake like it was a personal insult and at halftime he got into a vicious argument with another fan in slacks and a pink oxford. They pointed into each other's chests and their staccato French sounded like throaty morse code. I happened to be standing between them during the clash and I was relieved when they finally hugged.
La Sayane
The next day, I watched Nigeria play Argentina at La Savane, a West African eatery on 116th Street. Diabi walked in and sat next to me. He seemed much calmer. I introduced myself and told him I was standing behind him for most of that Cote d'Ivoire heartbreaker against Greece. Diabi had no idea who I was. I guess I didn't make the same impression on him.
New York City's soccer culture is powerful because it unites people of all cultures, ethnicities, tax brackets and education levels. Where else could I share positive experiences with Sanam, Diabi, Han and a horde of hooligans?
Every time I see a string of small international flags stretched outside a bar or restaurant, I experience a rush of serotonin. Those flags signify that the eatery is broadcasting the World Cup and they reveal spots where you can experience excitement and find community among diverse individuals. My 2014 Asamoah Gyan could be anywhere in NYC.