You'll have noticed the fanfare that we are less than 100 days away from the World Cup, the first one to be held in Brazil since 1950, the first one on the South American continent in 36 years. So with the countdown under way, we thought we would go all South American and have a word with Uruguayan skipper Diego Lugano.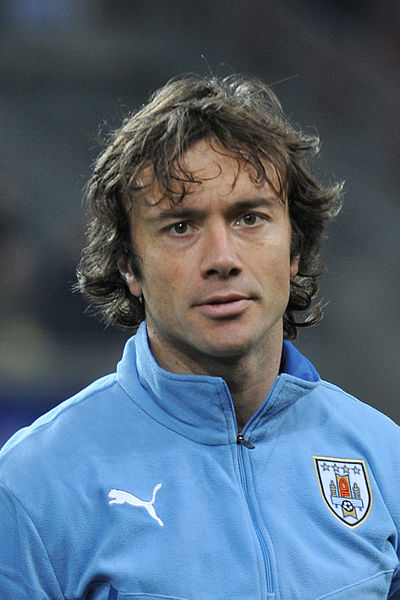 Lugano is something of an institution in his homeland. Prior to last week's run of international fixtures, there were 93 caps against his name, all but ten of them coming in the role of national skipper. He was named the best captain at the World Cup in South Africa four years ago as he led his country to fourth place in the competition and a century of caps is his for the taking should his country progress beyond the group stages.
But more of that later. I don't know about you, but I don't know much about the intricacies of Uruguayan football and how it works for young talents coming through, so what say we let Diego give us a bit of instruction on that score?
"For young players, of course the structure that we have in Uruguay is nowhere near as detailed as the way that football clubs run their academies in England. If we were like that, then Uruguay would always win everything!
Local Teams
"All the children start to play for their local neighbourhood team, even from the age of five and six, but of course the clubs do not have the money that you have in the Premier League here so they do not go to the big clubs at this age. Instead they are training and playing in very local teams at a very early age.
They are competing for trophies and in leagues when they are very young, so it is very different. Now that I have been able to see the two different realities in the two countries, I really think that the English system is really the more ideal way to do things".
So far so good for the English, but where Uruguay do score is the fervour with which they treat their national team. Lugano is particularly articulate when it comes to explaining why his countrymen and women see their football team in a rather less jaundiced eye than we do in England.
Young Country
"Uruguay is a relatively young country and football came to us in the last century from England, just as it did to Argentina and Brazil. For us, football became a way of giving us a national identity and letting the world know about us as a country.
"We are very small compared with Argentina and Brazil, but we have achieved a lot since the separation from them, especially in football! This has become part of our heritage and the way that we look at ourselves in the world. Football is very important to us, it is a big part of our national identity – this is a subject for sociologists and historians I think!
"We are a country with a very much smaller population than the countries around us, but we have achieved very many things in football in spite of this – in England this is called the underdog I think. We have won the Copa America more times than any other nation, almost twice as many times as Brazil. Brazil and Argentina have never won a tournament in Uruguay, but we won three Copa America in Argentina and we have won a Copa America and of course the World Cup in 1950 in Brazil! Maybe again too!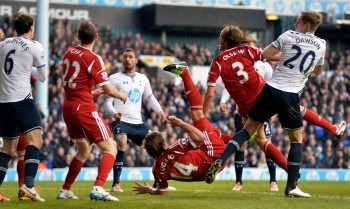 Personality
"I think in Uruguay, we like to express who we are when we play football, we do not want to be the same as everyone, we want to play the way that our personality dictates. I think this is because of who we are. We are a very small country locked between two massive nations and so if people are going to see you, you have to have some personality!
"We have to fight in order to stand out. This can be a bad thing sometimes because you think about it too much and it can become too important to your behaviour, but it can be very positive also because I think you need to find your own voice, your own opinion, your own way".
After playing with Nacional in his homeland, Diego first came to wider attention when he moved across the border to join one of South America's great institutions, Sao Paulo. It was a big move to make, but one which made his career.
Sao Paulo
"I moved to Brazil when I was 21, to play for Sao Paulo. It was a very different kind of life and a different kind of football after being at home in Uruguay. The town where I lived in Uruguay had a population of 20,000, Sao Paulo is a city with 20 million!
"Sao Paulo is the biggest club in Brazil with the most important way of working and operations, so it was very hard for me to get used to this massive change. But I think it was the most important change in my life and in my footballing career.
"Brazil of course is a very big country and it has the biggest history of any country in football. To be a part of that and to feel the way that the people look at football in that country, this was a great experience for me. It is not like other countries, the feeling there is very special.
Copa Libertadores
"I had a very good time there, we won many trophies, many titles in Brazil, in the continent where we won the Copa Libertadores and even in the world, we were the FIFA World Club Champions too. These are very special moments in my career and my life.
But actually, when I went to Sao Paulo, the club had gone through a period of ten years without winning anything at all so historically, this was one of the worst moments for the club. The club had lost many of the big fixtures, the Classico fixtures against Corinthians and Palmeiras, for a long time and so it was a very bad time.
"But during the time I was there, we built up a very good team, very many good players in this club, and we won absolutely everything that we possibly could. Over this time we played 13 games against Corinthians and 10 against Palmeiras and we won all of those games. This is very big change for the supporters and we made them very happy in this time. It was the complete opposite of the ten years before that.
"I am lucky, at Sao Paulo people identify my style of play with that period of success. They say that I am a warrior and this is maybe unusual in Brazil where they like to play the beautiful football! So because I am from Uruguay and because I am this way, I stand out and supporters in Sao Paulo remember me very well because of this!"
Laid Back
Talking to Lugano, although he is a laid back and likeable interviewee, there is also a sense of restlessness about him. He clearly has ambitions, not simply in material terms, money earned or trophies accumulated. Ferociously competitive.
He freely admits that after a bad game or result, he struggles to recover for several days, admitting that the more balanced attitude of the players in England to defeat or victory is something that he admires. But Diego seems to be a man who wants to test himself, stretch his abilities and put himself in challenging circumstances, believing this will draw the best from him. And so it was that his time in Brazil cane to an end.
"I was very happy with Sao Paulo, it was a nice club, things were going very well there and it was easy to stay. So to move to Europe, to Turkey, and to play for Fenerbahce, this was very difficult and I had to do a lot of thinking.
But I believe that human beings must change, they must go on to learn new things and have new experiences and football really does give you these chances. It has given me and my family the opportunity to meet new people, lives in new places, see new cultures.
Fenerbahce
"I enjoy having different challenges and of course, it was not easy going to Fenerbahce. But it gave me a chance to change and develop as a player and what happened in Turkey in the time that I was there really did prove that my decision to go there was a correct one.
"Again, I had success there. We had the 100th anniversary of the club while I was there and we won the league in this season, we play in the Champions League, we reached the quarter-finals of this competition and the semi-finals of the Europa League, I was captain there, I scored more than 30 goals in my time with Fenerbahce, so it really was a nice period for me.
When I think of it, my time in Turkey really was my best period in life, both on the sporting side and in my personal life because two of my children were born during this time.
"It is hard to imagine it but the time in Turkey was even better than what I had envisaged before I went there. From the outside, you cannot really understand what the great rivalry is like between the clubs there and also the quality of life away from the football was very good too, and when you have a family, this is especially important.
"Because of this and all that had happened there, it was extremely difficult for me to leave, my life there was very simple, my family were comfortable and just as when I had to decide to leave Sao Paulo, it was hard to make that choice.
Paris St. Germain
But again, you are a footballer only for a short period in life and I think that if new opportunities and challenges come to you, you must look to take them. So I went to Paris St Germain first of all, and then comes the chance to play with West Bromwich Albion in England.
"I have always said in my career that my dreams were to play in the World Cup and to win it with Uruguay and to play in England in the Premier League. This is the best league in the world to watch and so you can imagine what it must be like to actually play in it! Now at 33 years of age I have been able to achieve that ambition and in the summer, I hope that maybe we can achieve the other one!
"In the few months that I have been in this country, it is even better than I expected. It is a highly organised league, it's extremely professional, very competitive as well. I enjoy very much playing and training, it is a great thing to be a part of, even later on in my career. There are many things I have seen here, the way things are done, that I would like to take home with me when the time comes".
World Cup 2014
Looming on the horizon at the end of this season is the World Cup, the first in South America since Argentina '78. Uruguay were the surprise package of the last World Cup and with Luis Suarez and Edison Cavani up front, plenty is expected of them this time, much to the dismay of their fellow group rivals England and Italy. Clearly Diego is looking forward to returning to Brazil this summer.
"Being in the World Cup in South Africa in 2010 was a great thing for Uruguay, it was a big success. Now I have fulfilled my ambition of playing in the Premier League, now I must be greedy and try to achieve the other ambition of winning the World Cup. The last time the World Cup was in Brazil, in 1950, Uruguay are the winners so we try to do the same again!
"It is very important to be always ambitious and to always have dreams. Also, we must be realistic too. There are lots of very good nations who are going to compete in Brazil and the home team must always be favourites too. All teams have very good preparations now, so I think we see 12 or 15 teams who are on a similar level and so it will be very difficult.
England Challenge
"For us, it is especially hard because the group is difficult with England and Italy particularly. I think this is the first time that three previous World Cup winners are all in the same group. But you must have dreams. If you do not aspire to reach the stars, how do you achieve anything?
"For Uruguay, Argentina, Ecuador, Chile, Ecuador and especially Brazil of course, having this World Cup in South America is even more special because it has not happened during my life. For us, it was extremely difficult to qualify for the competition and in the end, we have to qualify with a play-off after we finish fifth in our group.
"What we must do is try and enjoy the competition because it is a great thing to be a part of.
Football now is always more and more competitive and more difficult, especially for a small country. Four years ago we have a great competition, we got to the semi-finals. Nobody expected this because we are not a country that promotes ourselves, so it was a nice surprise! But because football is so competitive, you must not forget to enjoy it and enjoy the fact that the whole world will be watching".
Captain Of Uruguay
Diego gives the impression that having the eyes of the world upon him is something he relishes – he's not one to shy away from a challenge as we've seen. It comes with the genes given his father was a footballer too, captain of his city team for 20 years. His son seems to have done almost as long as the captain of his country.
"I have played many games and I hope to celebrate my 100th cap in the World Cup – this would be in the round of 16 if I play all the games from now until then, so we have to be sure that we qualify from our group! Now, I have played 93 games, 83 as captain, and I am very proud to be the captain of my country for so long.
There is a very big tradition behind it in my country and in Uruguay, being a captain goes far beyond the normal responsibilities here in Europe. The culture is very different and a captain in Uruguay does many more things and the responsibility goes much deeper. I could write a book about this on its own!"
It'll be worth reading when he does…