For the first time since June 2017, Gotham FC defeated the Portland Thorns, who are the reigning NWSL champions. Following tonight's result, the teams are now tied for second place in the standings at 25 points, with Gotham FC back among the top three teams in the league and ranked third based on the goals tiebreaker.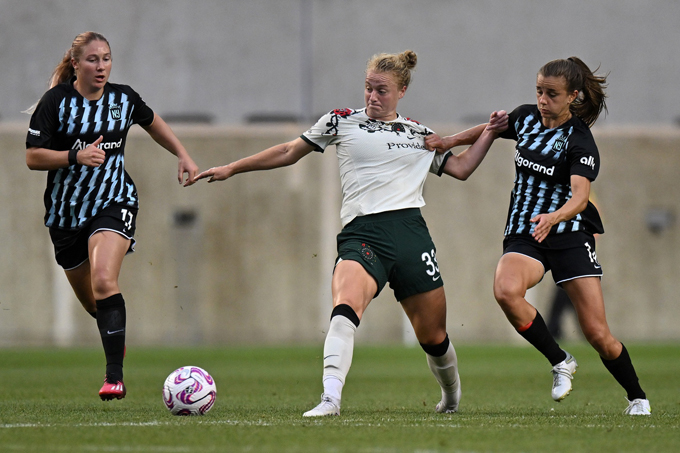 Gotham FC 2 Portland Thorns 1
At the start of the match, the momentum was immediately in Gotham FC's favor, as the home side outshot the Thorns 8-3 in the first half. Just six minutes into the match, Gotham FC midfielder Yazmeen Ryan found herself in a 1v1 with Thorns goalkeeper Bella Bixby, who took down Ryan outside the penalty area. The referee issued a yellow card on the play and following a video review, the call was confirmed.
 
The Thorns nearly scored their first goal in the 13th minute when an attempted clearance landed at the foot of Thorns forward Morgan Weaver, whose attempt went high over the goal. Portland went on the attack again two minutes later at the 15 minute mark, when forward Izzy D'Aquila got in behind the Gotham FC backline for a shot that went straight to Gotham FC goalkeeper Abby Smith.
 
Gotham FC opened the scoring in the 21st minute, when Ryan sent a cross-field ball to midfielder Jenna Nighswonger, who served it from the right flank to put it in front of the goal. Despite a Thorns attempt to deflect it, midfielder Allie Long made the run on the far side to tap it in.
Second Half 
Newcomer Katie Stengel, on loan from Liverpool FC, started the match and added a second goal for Gotham FC in the 56th minute after capitalizing on a huge save by Bixby that left the ball sitting on a platter in front of the goal to give Gotham FC the 2-0 advantage.

In the 62nd minute, Thorns substitute Hannah Betfort made an immediate impact by seizing a missed clearance by Gotham FC. Betfort passed the ball to Thorns forward Weaver for a give-and-go and then Betfort finished the play by sliding the ball into the corner, narrowing Gotham FC's lead by 2-1.

Gotham FC held steady down the final stretch to earn its third regular season win at home in 2023.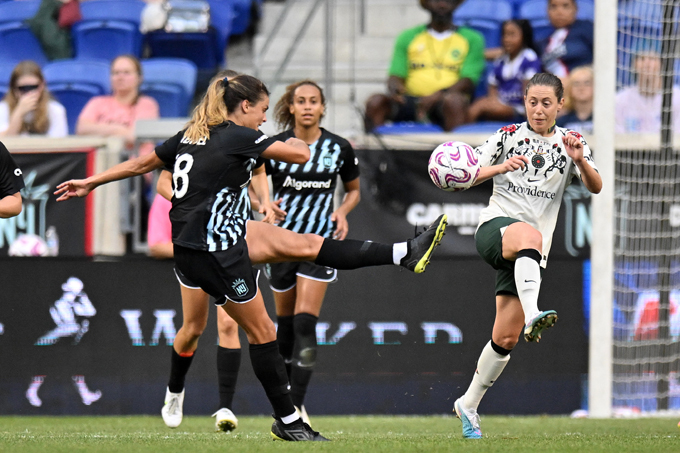 Abby Smith, Ali Krieger, Allie Long, Ellie Jean, Mandy Freeman, Nealy Martin, Yazmeen Ryan (Mana Shim '81), Jenna Nighswonger, Delanie Sheehan (McCall Zerboni '89), Midge Purce (Maitane López '72), Katie Stengel (Nahomi "Naho" Kawasumi '89)