Soccer and travel are two of my favorite things in the world. I think it's extraordinary how a game can bring people together. As a travel advisor, I try to attend a game in as many destinations as possible. In February 2023, I saw my first UAE Pro League game in Abu Dhabi.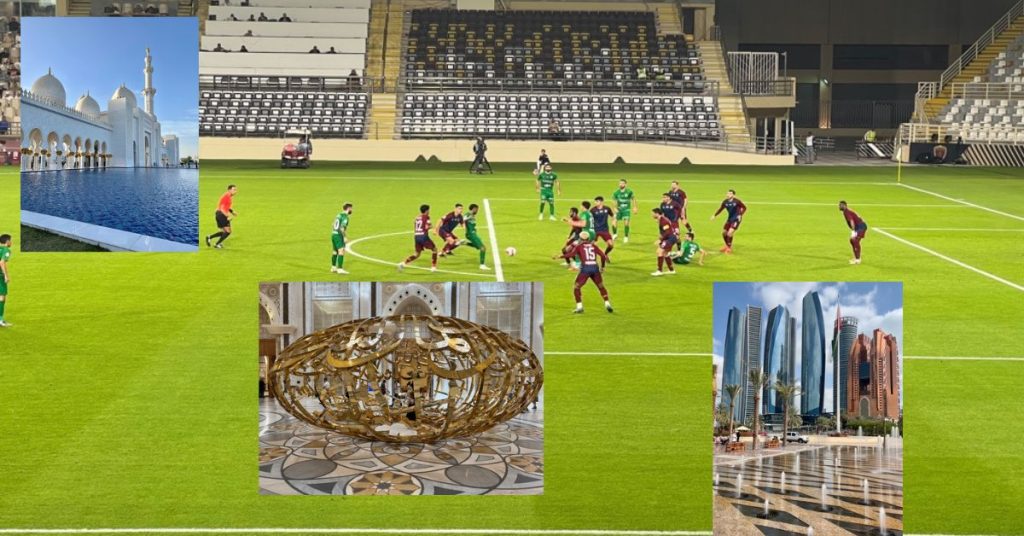 By Matt Stein
Initially, I planned on going to a game in Dubai but the timing did not work out. A week later, I watched third-place Al Wahda host table-toppers Shabab Al Ahli at Al Nahyan Stadium.
The game ended in a 1-1 draw. Shabab Al Ahli struck first when Federico Cartabia converted on a penalty kick in the 64th minute. Aleddine Ben Ajmi Zouhir leveled the game off a corner kick in the 78th minute. The moment of the match was an incredible save by Al Wahda keeper Mohamed Al Shamsi in stoppage time.
This game was a unique experience, unlike any game I'd seen in person before. Traveling to the region may require a visa. You can learn more about visa requirements for world travel here. The UAE is a Muslim country, creating a different environment for fans.
Fans Still Have Fun in the Stands
As I walked into the stadium, the familiar sound of soccer fans was easy to hear. The fans bellowed songs serenading their team and favorite players. Supporters wore team colors or jerseys. But that's where the similarities ended.
There was no concourse for food, drink, or souvenirs. You funnel through the entrance and directly into the stadium. Your ticket's section, row, and seat numbers do not matter. If there's a seat you like, you take it. And, of course, there's no beer.
The passion the fans have is obvious. It's displayed differently than in the US, Europe, or South America. They don't shout at the players or officials. There's hardly any cheering or jeering. It's just a constant sound of excitement. I don't speak Arabic but I'm positive there was no cursing.
Soccer Played with Respect
It's also very different on the field. I won't try to compare the level of play because it doesn't match the standards of any league I've witnessed before. But what I saw was very different from most soccer experiences.
Players did not dive, hoping to draw penalties. They didn't huddle around the referee trying to influence a decision or call. There was no arguing with the ref except for one borderline foul. The players respected the referee and his position of power at all times. There wasn't even any on-field complaining when he pointed to the spot for a penalty kick.
When Cartabia put Shabab Al Ahli ahead with that penalty, the differences really jumped out to me. There was no running around the field or big celebration about the goal. The away fans continued to sing and the home fans quieted down for a couple of minutes but it was like watching highlights of a baseball game from the 1950s. Everyone acted like this had happened before and would happen again.
They were proven right when Al Wahda drew even less than 15 minutes later. I was sure there'd be a party-like reaction considering they would jump into first place with a win. The players congratulated the goal-scorer and walked back to midfield. About half the fans stood to cheer but the sound level didn't change much.
The closest thing to an American-like reaction came when Al Shamsi kept the game even in stoppage time. And while there was a sudden reaction of noise, it was almost the sound of relief as much as cheering.
Exploring the World
I enjoy experiencing as many different environments as possible. I believe traveling the world is one way to do it, while sports, food, wine, beer, and arts are other possibilities. Unique Luxury Travels provides expert and personalized service so you travel in the style right for you. You'll enjoy special access and activities specific to your destination.
Traveling through Dubai and Abu Dhabi can be a luxurious vacation. As a luxury travel advisor, I saw the glitz and glamour of Dubai compared to the more subdued show of class in wealthier Abu Dhabi. The people there are proud of becoming a hot spot for tourism and want you to enjoy every aspect of their culture.
Contact me when you're ready to start planning your next journey by calling 917-225-1360.