Mention the 1970s to most British people, and images of flared trousers, platform shoes, and glam-rock immediately spring to mind. But ask former Scotland, Man United, and Leeds legend Gordon McQueen about the seventies, and you get an insight into one of British football's most colourful and controversial decades.
By James Rogers
Now working as a scout for Middlesbrough, McQueen recently sat down with 'First Touch' to discuss a career that began in a world unrecognizable to modern teenagers reared on a diet of reality T.V., text messaging, and video games.
As it did for other kids growing up in 1950s and 60s Ayrshire, Scotland, football filled every waking moment for the young Gordon McQueen.
"It was the environment that I lived in; everywhere you turned there was a game going on," he says. "My academy was the streets, and the back garden, and the park. It's a shame that that doesn't happen now."
Furthermore, the youngster's family background also pointed to a career in the game.
"My dad was a professional keeper with Accrington Stanley and a few others, including Hibernian," he explains. "When your dad is a professional, he's hoping, like a lot of fathers, that you follow the same route."
Goalkeeper
Unsurprisingly, given his father's credentials, McQueen wore the number one jersey for most of his childhood, eventually moving to outside-left at the age of 16. This, however, did not last for long: "For whatever reason, [perhaps] because of my height , I ended up playing centre-half."
The teenage central defender's talents soon led to a contract with Scottish side St. Mirren, and it wasn't long before English scouts were making the trek north to Paisley.
From St. Mirren To Leeds
In 1972, after just a couple of years at Love Street, McQueen was lured to Leeds by the legendary Don Revie. Signed to replace the ageing Jack Charlton at the heart of the Leeds defence, McQueen acknowledges that this was a turning point in his career.
"Leeds United was my most formative years, there's no doubt about that," he says. "You're a young lad and you open the dressing room door and there's Jack Charlton, and the captain of Ireland, Johnny Giles, and the captain of Scotland, Billy Bremner."
McQueen is also full of praise for his manager, whom he credits with forging his early career.
"It was a fantastic period in my life – Revie was a terrific, fantastic manager," he says, describing the time when he was plucked out of the reserves to play in a UEFA cup tie against Rapid Bucharest.
"Revie asked me whether I was happy and I said 'I would be a lot happier if my parents were here to see the game'. He said 'I brought them down last night and put them in a city centre hotel – they are going to be at the game."
Champion
After winning the League Championship in 1974, Revie left to manage England, and was replaced by the controversial and ego-centric Brian Clough, heralding one of the most talked-about periods in British sport.
Clough's turbulent 44-day reign at Elland Road remains indelibly etched into the British sporting consciousness, with endless column inches and books such as the award-winning 'The Damned United' devoted to the episode.
Leeds, at that time had a reputation as an uncompromising side, a tactic which although successful, earned them plenty of enemies outside of Elland Road. Shortly after taking over, for example, the famously opinionated Clough told the Leeds players that they should throw their medals in the bin, because they had won them unfairly.
McQueen witnessed Clough's Leeds implosion first hand, but admits that he enjoyed his brief stint under one of British football's most divisive yet entertaining figures.
"I was young and I didn't mind Brian Clough at all; I enjoyed working for him at the time," he says, but admits that Clough's forceful style was a bad fit for a Leeds team packed with trophy-laden veterans and strong personalities."He was a bull in a china shop when he first came in, and he should have handled it better."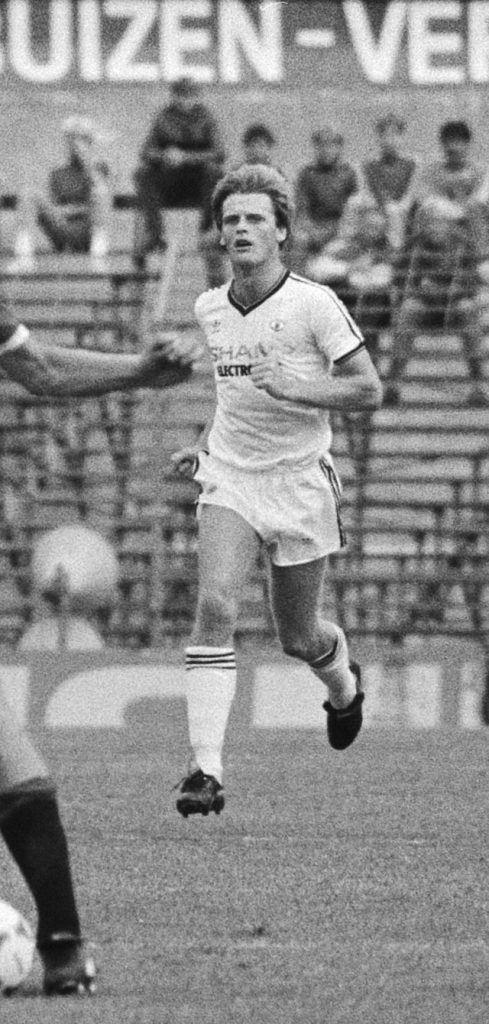 Joining Manchester United
Just four years later, McQueen and his team-mate Joe Jordan were thrown into the spotlight themselves as the great Leeds team of the 1970s finally unraveled. The two Scotland internationals enraged the Elland Road faithful in the summer of 1978 when they jumped ship to sworn-rivals Manchester United.
A number of high-profile players have made the same short, yet controversial, trip across the Pennines, but McQueen feels that none experienced what he and his close friend Jordan suffered.
"It was a lot worse than any of the Ferdinands, Cantonas, and Alan Smiths," he said, explaining that he and Jordan became public enemies number one and two for many Leeds fans. "I guarantee that [the other players] never had to go through what we had to go through – Joe and I lived in Leeds for six months after we left, and we couldn't walk around the streets or go in any pubs without getting abuse."
Despite these experiences, McQueen admits that he never thought twice about moving to Old Trafford: "There's nobody bigger [than] Man Utd.," he says.
During his time at United, McQueen became something of a darling of the Stretford End, not least for his cavalier runs out of defense. Thirty years later, he laughs when 'First Touch' suggests that he was something of a frustrated winger.
"Probably. I really fancied myself as an attacker, but my manager never did – I just kept running until I ran out of grass. Dave Sexton used to love players bombing forward [but] Ron Atkinson didn't like me doing it."
Toughest Opponent
In an era of hard defenders and equally tough forwards, McQueen singles out a diminutive Liverpool striker as probably his toughest opponent:
"I always remember Kevin Keegan being difficult to pin down; he was so quick and alert."The towering centre-half eventually added to his trophy haul at Old Trafford, picking up an F.A. Cup Winner's medal in 1983 when United beat Brighton 4-0.
In addition to these honours, McQueen rates two moments with Scotland as the highlights of his career. The first was in 1975, when the 22-year old captained his country in Romania, and the second was an afternoon that many England fans would rather forget.
Scotland At Wembley
"It was at Wembley in 1977 and we beat them 2-1; I got the first and Kenny Dalglish got the second. Scoring for Scotland against England at Wembley, for any Scottish player, has to be a highlight."
That Wembley game, of course, saw hordes of Scottish fans storm onto the pitch like crazed tartan-clad glam rockers, tearing up the stadium's hallowed turf and even breaking one of the crossbars. "It was the one where they took Wembley home with them," quipped McQueen.
Analyst For Sky
More than three decades later, football, both internationally and domestically, is a very different game, although McQueen is in a great position to assess the cream of the Premier League.
On top of his scouting duties for Boro, the 56-year also works as a Sky analyst for Man.Utd.'s Champions League games, which gives him ample opportunity to judge the current crop of Old Trafford stars.
"Being a defender [myself], I think that Rio Ferdinand has matured into a high level of consistency week in and week out," he says. "[As for] Cristiano Ronaldo, I thought that it would be difficult to improve on two seasons ago, but he has been phenomenal."
Ultimately, McQueen feels that this Manchester United side has reached unprecedented levels, even by the high standards of England's biggest club. "I tend to agree with Alex Ferguson," he says. "I don't think that there has been any better."