Make no mistake, former Rangers manager, and current Aston Villa bench boss, Steve Gerrard wanted to leave Glasgow at the first opportunity.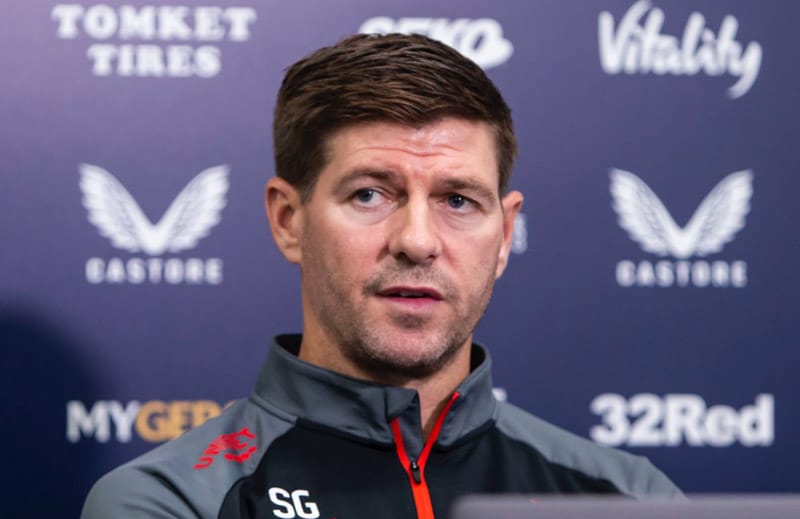 Rangers Dutch Treat After Steven Gerrard Departure
The Full Scottish with Brian P. Dunleavy
He's made no secret of that since taking over the reins at Villa Park, where he has led the heretofore struggling home side to two consecutive victories.
"Secretly behind the scenes this is where I have always wanted to be and I have worked hard to get to this position so I will give it my best shot," the Liverpool legend said on Sunday after the second of them. "This is a level where you need to remain focused from my point of view and to keep demanding standards from players, so we won't get carried away because we know it can change very quickly."
It perhaps goes without saying that the implication is that his former stomping grounds were not up to this high standard. When Gerrard left Ibrox, during the most recent international break, his side were sitting in first in the Premiership and on the cusp of advancing in the Europa League. With new manager Giovanni van Bronckhorst in charge 'Gers remain four points clear at the top of the table and have indeed advanced to the knockout stages of the continent's second-fiddle competition.
League Cup
However, they also fell in the League Cup semi-final to Hibs, with van Bronckhorst, who actually petitioned for the job, watching in the stands at Hampden. In the aftermath of that loss, the Dutchman likely saw the "demanding standards" of supporters.
Then again, unlike Gerrard, he also knows just what he is getting into in Scotland. The former midfielder made more than 100 appearances for Rangers between 1998 and 2001—former U.S. national team stalwart and Ibrox teammate Claudio Reyna named his son after the Dutchman—and, as noted, wanted the job.
And he had a lot more success during his three seasons as a player in Govan—two league titles, two Scottish Cups and one League Cup—than Gerrard did in his three-plus as manager.
For Gerrard, Ibrox was always going to be stepping-stone. As is Villa, with Anfield the final destination. But before Celtic supporters get self-satisfied here, don't think Ange Postecoglou views Scotland any differently. Assuming the Aussie continues to trend well at Parkhead (a big assumption, what with Conference League football on the horizon after Christmas and positive, but uninspiring results in the Prem so far) he'll move on to a bigger stage as well.
By now, that should be no secret to anyone who follows the Scottish game.