NJ/NY Gotham FC of the National Women's Soccer League has acquired two-time FIFA World Cup winners Ali Krieger and Ashlyn Harris from the Orlando Pride. As part of the trade, Orlando has acquired a 2022 NWSL Draft First Round selection, a 2023 NWSL Draft natural Third Round pick, and $50,000 in allocation money.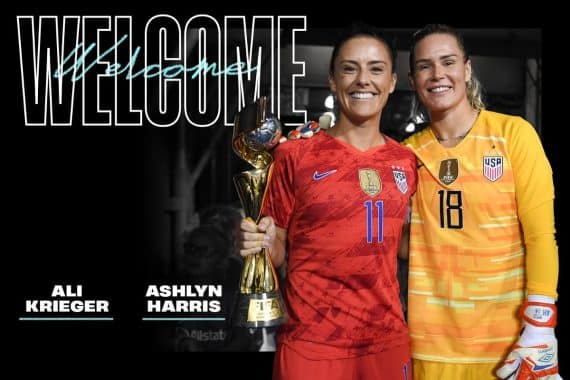 The 2022 pick is one that Gotham FC received from the Chicago Red Stars' in a previous trade, with the pick number officially locked in at 8 p.m. ET on Dec. 17.
"We're thrilled to welcome Ali and Ashlyn to our Gotham FC family," said Head Coach Scott Parkinson. "They've played and won at the highest level and shown tremendous passion, courage, and leadership on and off the field. They're special players and, more importantly, special people who will help make this club better."
Starting today, fans can secure their spot in line for 2022 Season Tickets by placing a $100 deposit via GothamFC.com. Membership benefits include tickets to all Gotham FC regular season home games, priority access for playoff tickets, merchandise discounts, exclusive Members only events, and much more.
A graduate of Penn State University, Krieger has more than 100 appearances for the U.S. Women's National Team. She was a member of three U.S. World Cup teams (2011, 2015, and 2019) and won two FIFA World Cups during her tenure (2015 and 2019).  During the 2015 tournament, Krieger helped anchor one of the best defensive performances in World Cup history when the U.S. defense recorded five shutouts and held opponents scoreless for 540 consecutive minutes.
Ali Krieger
"I'm honored and grateful for this new opportunity and cannot wait to get started with Gotham FC," said Krieger. "I've heard great things about the club, its officials, and the knowledgeable coaching staff. I'm eager to gain a new perspective both on and off the field and having a lot of fun as we work to win an NWSL championship. I'm ready to give this city everything I have and to start this new journey with my family!"
Prior to joining Gotham FC, Krieger played club soccer for the Washington Freedom of Women's Professional Soccer ("WPS"), FFC Frankfurt of Germany's Fraun-Bundesliga, Tyresö FF of Sweden's Damallsvenskan, the Washington Spirit, and the Orlando Pride. In 2008, she won the UEFA Women's Championship League with FFC Frankfurt and, at the time, was the only player on the USWNT playing overseas.
Ashlyn Harris
A two-time goalkeeper of the year in the WPS and NWSL, Harris was a member of the USWNT FIFA World Cup team in 2015 and 2019. She has recorded seven shutouts over her international career and has been the starting goalkeeper for the Orlando Pride since joining the team in its nascent 2016 season in the NWSL.
That same year she was named NWSL Goalkeeper of the Year, clocking 62 saves in 15 games. Harris set a new NWSL all-time career save record with her 469th save during a 1-0 win against Gotham FC at Red Bull Arena in Harrison, New Jersey.
"My family and I are so excited to start this new chapter at Gotham FC," said Harris. "Their communication and transparency have been top class and I look forward to playing for an organization that takes pride in these values. Gotham FC has already made our family feel at home and I could not ask for a better situation. I am grateful and humbled by their trust in us and we look forward to meeting the team and preparing for the 2022 season. Let's get this party started, fam!"
Earlier in her career, Harris played for the Saint Louis Athletica, Washington Freedom and Western New York Flash before joining the Orlando Pride. She played in the Tournament of Nations in 2018. She was also a four-year starter during her time at the University of North Carolina.
"Ali and Ashlyn are incredibly important additions to our club," said Interim General Manager Yael Averbuch West. "I've seen their knowledge of the game, dedication to their teammates, and desire to win first-hand. I know they'll have a tremendous impact on the field and in the locker room while also helping us cement our presence in this market."