Who are Football's Greatest Cult Figures? We love them and hate them with equal fervor and frustration. These are the players who endear themselves to their club and country's fans: sometimes through dedication to the cause; sometimes through sheer brilliance with a football; and once in a little while, because they thump an opponent.  
In the final part of the trilogy, we look further back in time, to some of the games early pioneers. 
By Jon Langford 
Football's Greatest Cult Figures: Part Three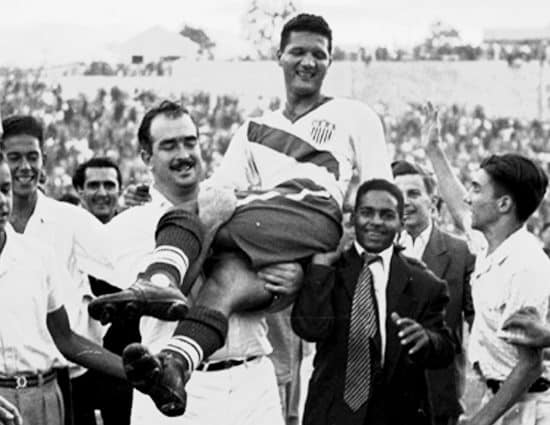 Joe Gaetjens
In 1825 Joe Gaetjens great-grandfather, Thomas, migrated to Haiti from Bremen, Germany (birthplace of a certain Bert Trautmann) under order of King Friedrich Wilhelm III to take up a position as a business emissary.
The arrangement proved prosperous and by the time Joe was born in 1924 the Gaetjenses had built a thriving dynasty. At 14 years-old Gaetjens signed for local club Etoile Haïtienne where he won two league championships in 1942 and 1944.  However, football paid little in Haiti, and in the late 1940s Joe was sent to New York City to read accounting at Columbia University.
By the time Gaetjens was selected for the U.S. national team in 1950 he was scrubbing dishes at Rudy's café in Harlem to pay his way through college. In addition to his wages at Rudy's he was earning $25 per game turning out for American Soccer League (ASL) outfit Brookhatten.  He finished the 1950 season as the league's top scorer and the national team came calling.
It was at the 1950 World Cup in Brazil that Gaetjens ensured his name would forever be associated with football legend.  In one of the greatest upsets of all time, the U.S. national side defeated the much-fancied England team with Gaetjens scoring the only goal of the game. Most media outlets around the world presumed the result was an error on the part of the telex-operator and printed the result as a 10-0 England victory. One U.S. publication that did print the correct score line, The New York Times, made no mention of Gaetjens and credited the goal to Ed Souza.
Move To France
After the World Cup Gaetjens dropped out of Columbia and moved to France to pursue his footballing ambitions. He signed for Racing Club De Paris, but a recurring knee problem plagued him throughout his time in the French capital and in 1954 he returned to Haiti where he became a spokesman for Palmolive and Colgate.
Although Gaetjens himself wasn't active in politics, his family was and in the 1957 presidential election they publically supported Louis Dejoie, to whom they were related (Joe's aforementioned great-grandfather, Thomas, married Leonie Dejoie, Louis's grandmother).
After Francois 'Papa Doc' Duvalier won the election, he sought to persecute those who had opposed him and the Gaetjens family went into hiding. Except for Joe, who (wrongly) believed he would be of no interest to Papa Doc, as he had nothing to do with any of it because he was just a footballer.
On the morning of 8 July 1964, Joe was arrested by Haiti's notorious secret police, Tonton Macoute, and taken to the infamous police prison at Fort Dimanche. Although his body has never been found, it is widely assumed that Joe Gaetjens was assassinated at Fort Dimanche on 10 July 1964.
---
Shaun Goater
"Feed The Goat And He Will Score!" Perhaps the sweetest thing for Manchester City fans about Shaun Goater is that his first club was Manchester United.
After failing to break into Alex Ferguson's team, however "The Goat" was allowed to leave Old Trafford and after plying his trade in the lower leagues of Britain for the best part of a decade, he eventually ended up at City where his goals led the club from third tier obscurity to Premier League big boys.
Goater was held in such high regard by City fans that when he made his final league appearance before retirement (for Southend United in a game against Bristol City), an estimated 400 City fans traveled to the game to show their respect.
Goater's legacy in his native Bermuda is even more impressive: He has been awarded the freedom of the country and June 21 has been declared "Shaun Goater Day."
---
Arthur Wharton
Arthur Wharton was born in Jamestown, Gold Coast, a former British colony (now Accra, Ghana) in 1865.  He was brought to England as a young boy and educated in London. After school, he moved to Grenada, West Indies where he lived with his family before returning to Britain in 1882 to train as a missionary.
This plan was soon abandoned in favor of pursuing athletics after Wharton excelled at every sport he tried his hand (and feet) at. A keen cricketer and cyclist, Wharton was a frighteningly fast runner and set a new world record in 1886 when he ran 100 yards in 10 seconds.
In a beautiful footballing twist, Wharton made no use of his gift for speed, excelling as a goalkeeper while playing for amateur side Darlington in the mid 1880s. He was soon spotted, wooed and lured by top club Preston North End.
Wharton went on to play for a handful of other English clubs, sometimes employing his pace by playing as a winger, and in the process became the first mixed-race professional footballer. At the height of his footballing prowess there were calls for Wharton to win an England cap.  He was denied this honor due to the color of his skin.  It would be almost one hundred years before a black player eventually did play for England (Viv Anderson in 1978).
After football Wharton became a miner and took part in the 1926 general strike. Sadly, he died a penniless alcoholic in a Doncaster sanatorium in 1930.
---
Bert Trautmann
Merely by virtue of playing on in an FA Cup Final after breaking his neck, Bert Trautmann has the right to be on any list of cult football heroes.  But what makes Trautmann's story even more extraordinary is how he got there in the first place.
Born in Bremen, Germany in 1923, Trautmann served as a paratrooper in the Nazi's Luftwaffe division during the Second World War and saw plenty of action on both European fronts. During his service, Trautmann was captured by both Russian and American forces and the French Resistance, but managed to escape them all, earning the much-coveted Iron Cross for his troubles.
When the war ended in 1945, Trautmann was being held as a British PoW and was eventually transferred to a prison in Ashton-in-Makerfield, Cheshire. Football matches were often played in the camp and Trautmann played regularly as a center-half.  It was only after he got injured during a game that he went in goal for the first time, aged 25. Upon release, Trautmann opted to stay in England – a brave thing to do considering the circumstances. He found work on a farm in Milnthorpe and played for non-league outfit St Helens Town.
Broken Neck
Word of his outstanding performances soon spread to bigger clubs and in 1949 Manchester City offered Trautmann a professional contract. The German goalkeeper accepted and seamlessly made the jump from non-league to top-flight football. With the painful memories of World War II still mordant, many City fans were less than impressed with the club's decision to sign a former German paratrooper.  Season ticket-holders threatened boycott and more than 20 000 fans turned out to protest against the new signing.
Unfazed by the drama, Trautmann let his performances do the talking and he eventually won over the naysayers, making over 500 appearances for City from 1949-1964. But it was his heroic performance during the 1956 FA Cup Final against Birmingham City for which Trautmann is best remembered.
Following a heavy collision with Birmingham inside left Peter Murphy, Trautmann was briefly knocked unconscious and badly hurt. There was no such thing as substitutions in 1956 (they wouldn't come into the game for another decade), so Trautmann played on and Manchester City won the game 3-1 (thanks to a string of crucial saves from the city 'keeper). Four days later an X-ray revealed Trautmann had dislocated five vertebrae, the second of which was cracked in two.
See more of football's greatest cult figures here