Who are football's greatest cult figures? We love them and hate them with equal fervor and frustration. Here are some more of the players who endear themselves to their club and country's fans: sometimes through dedication to the cause; sometimes through sheer brilliance with a football; and once in a little while, because they thump an opponent. This batch includes Billy Bremner, Eric Cantona and Big Duncan Ferguson. 
Who Are Football's Greatest Cult Figures? Part Two
By Jon Langford
---
Duncan Ferguson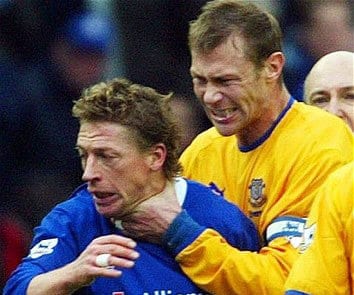 When a burglar attempted to rob Duncan Ferguson's home in 2001 he felt the full wrath of the giant Scotsman. The former Everton hero detained the criminal until police arrived; however, Big Dunc made sure the con subsequently spent three days in hospital (all in the name of detainment, obviously).  Unfortunately, "Duncan Disorderly" had a penchant for scuffles outside of defending his home.
Two such incidents were taxi rank bust-ups, one of which resulted in him beating the crap out of a fan on crutches, and another saw him assault a fisherman in the small Scottish town of Anstruther.
But it was an on-field headbutt against Raith Rovers' John McStay that would alter the course of Ferguson's career.  McStay pressed criminal charges and Ferguson was sentenced to three months in prison. This led to a falling out with the Scottish FA and a refusal to ever wear the national shirt again.  It was Ferguson's gritty performances for Everton that earned him cult status at Goodison Park, though. There were goals and sending offs aplenty in two spells with the Toffees.  He loved pigeons too.
---
Billy Bremner
The wee Scotsman was a giant on the field, skippering Leeds United through their glory years of the late 1960s and early 1970s, winning every domestic honor possible along the way.
After being rejected by Arsenal and Chelsea for being too small, Bremner evolved into an uncompromising midfield general who bossed games with his tireless running, precise passing, knack for scoring big goals, and, of course, his tough tackling.
One of football's most famous photographs is of Bremner's compatriot Dave Mackay grabbing Bremner by his collar following one such tackle.
Little Billy is such a legend at Elland Road that he has been voted the club's greatest player of all time and has a statue erected in his honor outside the ground.
---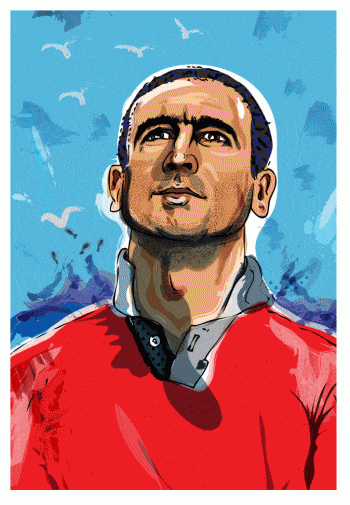 Eric Cantona
Actor, artist, philosopher, and err… footballer.  Not the fourth word you would normally associate with the preceding three, but then nothing about Eric Cantona could ever be described as normal.
Cantona grew up in southern France in a family home that was essentially no more than a modified cave.  Yes, I said cave.  His undisputed footballing genius was often overshadowed by his fiery temperament.
In France, he constantly fought physically with his teammates and was banned from the national team for a year after calling the manager "a shitbag" on live television.
His playing time in England was as fruitful as it was eventful and he won five league titles in as many years with Leeds and Manchester United. He is perhaps best remembered for his infamous kung fu kick on a Crystal Palace fan during an away match in 1995.  More bizarre, was his statement at a press conference following the incident:
"When the seagulls follow the trawler, it's because they think sardines will be thrown into the sea.  Thank you very much."
Now a film and stage actor, Cantona's next movie is an erotic comedy. He plays a character called 'The Stallion.'
---
See Part 3 of football's greatest cult figures here