The end of the season is hurtling towards us but worry not. This summer is not gong to be a barren stretch of nonsense sports, for Euro 2016 will be there to save us. That means it's time to get the previews in and this week, we turn to James Chester of Wales and James McClean of the Republic of Ireland to give us their thoughts on what hopefully awaits them in France.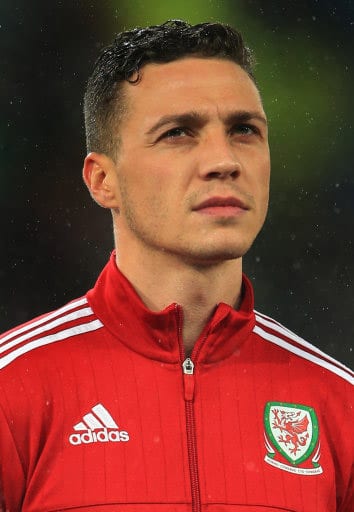 By Dave Bowler
McClean is, of course, an old hand at this European Championship malarkey, having gone to the last one under manager Giovanni Trapattoni some four years ago. But as he explains, he's looking to have a better time of this time around.
"I went to the last European Championships with Ireland but it was a mixed time for me and for the team. It was great to be there but the football didn't go as I wanted it, and we were knocked out in the group stages.
"I had just had my breakthrough season at Sunderland and the media were putting a lot of pressure on the manager to take me to the Euros. In the end, he selected me for the squad and of course, I was ecstatic about that and couldn't wait to go but as I say, it didn't really work out how I would have wanted.
"It was a huge honour and a great privilege, not just to represent your country but to do it a big tournament. But at the time, I was absolutely flying with Sunderland and I felt I had a great chance of starting games with Ireland too because I was so full of confidence.
Dropped
"Then they interviewed the manager before the competition started and he said that he was only taking me along for the experience and that I wasn't going to play. That knocked me back a bit and so it was a frustrating time instead of a really exciting one.
"I eventually got 15 minutes in the last game against Spain when we were 3-0 down and it was great to get on and play but you're not going to turn that game round from there! All the same, I played in the Euros and that was an honour and it does give you the taste for doing more of that.
"This time, I feel much more like a part of the squad, I feel like an established international now. I've played the majority of the games in qualifying where last time, I didn't play any, so I feel much more part of things having made that contribution. Now that we are there, I'm hoping I can go and have a good tournament and get rid of some of the demons from the last one!"
For James Chester, an international tournament is uncharted territory but then again, it would be. Wales haven't qualified for a major tournament since the World Cup of 1958. Like the rest of the nation, Chester can hardly wait to get started.
Welsh Pride
"It is a fantastic thing to be part of this Welsh squad and have the opportunity of going to the European Championships because it's such a long time since Wales were involved at this level of the game. It's been nearly 60 years now, which is incredible when you think of some of the players Wales have had and some of the other teams that have qualified for major finals in that period.
I think we are all proud to be part of that achievement, but hopefully here's going to be more to come when the tournament actually kicks off.
"Growing up, playing international football wasn't really on my horizons. I didn't play at any youth levels so it never really figured in my thinking, it was all about making a good career in club football. But when Chris Coleman rang me a couple of years ago and offered me the chance of playing for Wales, I was delighted and since then, I've loved every second of it. I've only known successful times so far, and that definitely helps, and it's something I want to continue this summer".
Complacency
For many, the simple fact that Wales have finally banished a six decade hoodoo is enough, but that's a kind of complacency that Chester and his colleagues are very keen to guard against.
"Teams that achieve something like this, there is a danger sometimes that people around you start to talk as if just getting there is the big achievement, that just being a part of it is enough, but we don't see it like that. We are determined to go there and make a statement. We want to give the nation something to cheer about when we play.
"There'd been a long time since we actually qualified and us meeting up again as a squad for the friendlies in March, so to be honest, it slips to the back of your mind a little bit because there's so much going on at club level. But when we got together again, it brought it all back home and it seems very close now and very real and something we can start looking forward to".
Talent Pool
Much of the interest in Wales will centre around Aaron Ramsey and, in particular, Real Madrid's Gareth Bale, but as James is at pains to point out, plenty of others have played their part in this Welsh success.
"Those two could play in any team at that tournament and they can turn and win a game for you in a moment. It's great to have those two on our side, I wouldn't want to be with one of the other countries playing against them! But both of them are great team players and they are the first ones to say that this has been a squad effort over a couple of years to get there.
"For the rest of us though, it gives us a platform to show what we can do as players too and we are all determined to do that and to try and progress as far as we can in the tournament. We have strength as a squad, we work hard for each other, everybody has a contribution to make, and as well as those two going forward, our defensive record is something we've been proud of in recent times, and that underlines the way we put the effort in for each other.
Threats
If we can continue that kind of form at the back, with the threats we have up front, it gives us an opportunity to make some progress in the tournament.
"It's a very nice environment to be in, the squad is full of good players and good people and it's enjoyable to be a part of all that. We enjoy playing for the manager and the coaching staff, the group gets on very well together, its tight knit and I think that plays a part in the success we've had.
"We had a very good qualifying group and we can take a lot of confidence from that I think. Plus, we didn't creep into the finals, we were always on course for qualification right from the start, so we feel we can go and take on whoever is going to face us".
It's a similar story for James McClean and Ireland, full of self belief of their own after a gruelling qualification campaign that went all the way to the play-off stage. Come through that and you must feel ready to take on anyone.
Confidence
"Reaching the finals gives us real confidence because we held our own in a very tough group with Germany, Poland, Scotland and Georgia, no easy games there, especially away. Then we came through the pressure of the play-offs against Bosnia too, which again was a real tough couple of games.
"I think if people had told us we'd finish four points behind Germany in the group before we started, we'd have snapped their hands off. We took four points out of Germany, the world champions, which shows the ability we have in the squad and if that doesn't give you confidence, what will?
"Our attitude has to be that, however tough the games are going to be for us, we're going to make sure that all the opposition teams have just as tough a 90 minutes against us. Belgium, Italy and Sweden are all big names but I don't think they'll be looking forward to playing us either.
Playing Belgium
"Belgium have been one of the big teams in Europe for the last few years now, Italy always seem to be able to put it together when a tournament comes around and Sweden are very consistent too, they've got some great players and you never know what Ibrahimovic might do.
"But it's three games, all one-offs in their way, and a lot of things can happen. Hopefully we'll be smiling come the end of the group and we can make it into the knock-out stages. And the longer we stay out there, the later you have to come back for pre-season!"
Fatigue
Joking aside, James doesn't see end of season fatigue as being an issue for him or his colleagues and you won't find the Irish trotting that one out in the same way the English pundits surely will ahead of the competition.
"Sure, the Premier League season is hard on you physically and maybe you do sometimes see England struggle in tournaments because of that. All of our boys are playing in the Premier League or the Championship so it's the same for us too, but speaking personally, physically I feel grand, I don't find tiredness a problem and I don't think any of the other lads will either.
"Ever since I started at Sunderland, I've been used to playing international games in the summer anyway, so it's nothing new. I've never really had a break in the summer.
"I know the other lads won't thank me for saying this, but personally, I don't really enjoy too much time off. If you have too long a break, you've always got that danger of saying, "I'll enjoy myself for a week or two and then I'll do some work" and you can end up putting it off, enjoying yourself too much and then it's a grind to get back into the swing of things and especially into the right mentality again. You're better not to get out of it really. I'd rather keep playing".
Playing England
And if James McClean is happy to keep on playing, James Chester is another who won't want the season to end given what's at stake in France. Wales are in one of the higher profile groups, for Wales versus England will certainly capture the imagination, but according to James, it's important not to let it dominate the thinking.
"Having England in the same group makes things interesting and for the media, that's going to be the one that gets all the focus. It's been a long while since the two countries came up against each other, probably ten or 12 years or something, so it's nice to have that game come up again. That adds a little bit more to the occasion.
"But it's not the only game we are playing, the other two in the group are just as important. I think it's a good thing that England is the middle one of the three games, so we get chance to play and get into the tournament before that one comes along.
Distraction
"For us, it's important that we don't get distracted by the prospect of playing England, that we just take it one game at a time. Saying all that, of all the teams that we could have drawn from that pot, we do know the most about England, we come up against those players regularly in the Premier League week after week, so there won't be surprises in that way. It's a hard game of course, but it's one to look forward to playing in.
"Russian and Slovakia aren't any pushover either, it's a very hard group to be in and we know it will be very difficult to come through and reach the knockout stages. But we believe we can do that. We know plenty about England and we'll be well briefed on the other two when the time comes.
"But when you think that we came through a group that included Belgium and Bosnia and we did well against them, why shouldn't we be able to carry that form on in France?"