Leicester City have won the EPL 2016 title, and with the season hardly declared over, the story has already been written, published, and is on its way to your local bookseller in a missive entitled King Power – By none other than Richard III himself.
Yes, before we can even get our heads around the fact that Leicester City are the 2016 English Premier League Champions, the first hardback has already been filed in the history section of your local library, penned by the hand of the contraversial monarch.
You may recall that the bones of the legendary King were recently discovered in a car park in Leicester. That was just before something truly remarkable occurred in this once humble city when the local football team overcame 5000-1 odds to scoop the biggest prize in sport.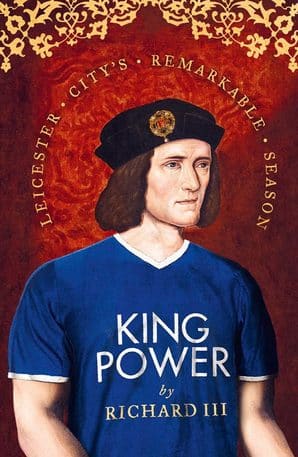 King Richard III may only have survived for three short years as English ruler, but that's probably two more than Vardy, Marhrez and co. will. In fact he was the same age as captain Wes Morgan when he died, but let's not dwell on that.
His ghost has bounced back to tell the story of how a humble Sunday league clogger working in a prosthetic limb factory became a household name, while his once ridiculed manager got to laugh in the face of his dismissive, previous employers.
King Power by Richard III is a book to relish, not just as a Leicester City fan, but as any football supporter who still believes in the notion that the beautiful game can occasionally deliver romance and magic. On the day that King Richard was re-buried to much fanfare in Leicester cathedral, 26th March 2015, Leicester were adrift at the bottom of the Premier League. Remarkably, following the burial they went on to win seven of their last nine matches and escape relegation.
For his troubles, manager Nigel Pearson was relieved of his duties (a move that outraged favorite son Gary Lineker among others), and Italian Claudio Ranieri was brought in at the start of the 2015-16 season. Ranieri came fresh from a disastrous spell with the Greek national team after losing not once but twice to the Faroe Islands and finishing bottom of the Euro 2016 qualification group.
A tragedy indeed. Known as the Tinkerman during his time at Chelsea, Ranieri consigned that nickname to the past by preserving the team and backroom staff that Pearson had built. His charges started the season with a 4-2 home win vs Sunderland, and the rest, as they say, is history – in 176 tongue-in-cheek pages.