NJ/NY Gotham FC returned to action after a 10-day break to take on the Washington Spirit in a special hometown farewell game at Subaru Park, celebrating Carli Lloyd and her legendary Gotham FC and U.S. Women's National Team career.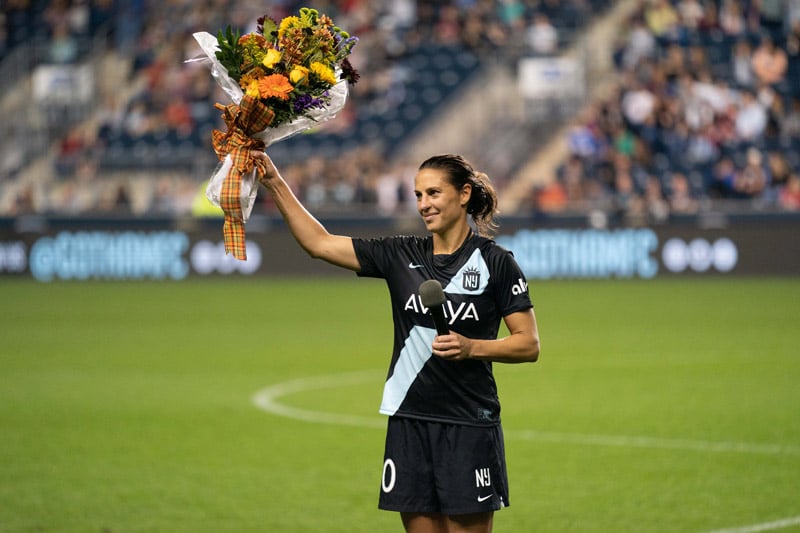 NJ/NY Gotham Ties With Washington As Carli Lloyd Bids Farewell
The match was presented by Avaya,the official cloud, collaboration, and customer experience partner of Gotham FC. The first-ever NWSL game in the Philadelphia area ended in a 0-0 draw. The stalemate leaves Gotham FC with 26 points, occupying seventh place in the overall NWSL standings.
First Half
The match opened with a strong back and forth battle in the midfield between the two teams. At the six-minute mark, players from both sides paused to come together and lock arms at midfield in a show of solidarity. Shortly after the break, Gotham FC's first corner ended in a McCall Zerboni shot being narrowly blocked.
Minutes later, Lloyd picked off a pass out of the back from Spirit goalkeeper Aubrey Bledsoe and found Margaret Purce, who was unable to convert the right footed shot. Gotham FC ended the first half with heavy possession and pressure on the Washington backline, but was unable to create a solid chance in front of the net.
Second Half
After the half, Gotham FC continued to test the Washington defense. Lloyd, Purce, and Ifeoma Onumonu all saw chances go just wide of the goal. Momentum kept building, but the home side was unable to convert any of its 14 shots on the night.
Both squads fought hard for a game-winner as the minutes wound down, but Bledsoe and Gotham FC keeper Kailen Sheridan came up big with late-game saves to keep the match tied at zero.
Gotham FC will continue its playoff push later this week, traveling to face the Orlando Pride on Saturday, before continuing the road campaign at North Carolina, Kansas City, and Louisville later this month. Gotham FC will cap off its 2021 regular season at Red Bull Arena on Oct. 31, this time hosting Racing Louisville FC. Tickets can be purchased here.
---
Line ups
NJY: 1-Kailen Sheridan, 28-Imani Dorsey, 24-Estelle Johnson, 12-Gina Lewandowski, 3-Caprice Dydasco, 4-Paige Monaghan (9-Nahomi Kawasumi, 45'), 16-Allie Long, 7-McCall Zerboni, 25-Ifeoma Onumonu (20-Evelyne Viens, 73'), 10-Carli Lloyd, 23-Margaret Purce (2-Brianna Pinto, 88')
Substitutes not used: 8-Erica Skroski, 11-So-Dam Lee, 13-DiDi Haracic, 17-Domi Richardson, 19-Elizabeth Eddy, 27-Gaëtane Thiney
WAS: 1-Aubrey Bledsoe, 2-Trinity Rodman (27-Tara McKeown, 82'), 3-Sam Staab, 5-Kelley O'Hara, 6-Emily Sonnett, 10-Ashley Sanchez (17-Kumi Yokoyama, 88'), 12-Andi Sullivan, 14-Paige Nielson (16-Julia Roddar, 65'), 19-Dorian Bailey, 23-Tori Huster (9-Tegan McGrady, 65'), 33-Ashley Hatch (21-Anna Heilferty, 82')
Substitutes not used: 7-Saori Takarada, 18-Devon Kerr, 25-Karina Rodriguez, 26-Taylor Aylmer