Carli Lloyd, U.S. Women's National Team legend and NJ/NY Gotham FC forward, has announced her retirement, closing out an historic career of performing at the highest levels. She will leave the game as the second-most capped player in world soccer history and currently has 128 international goals and 64 assists to her name.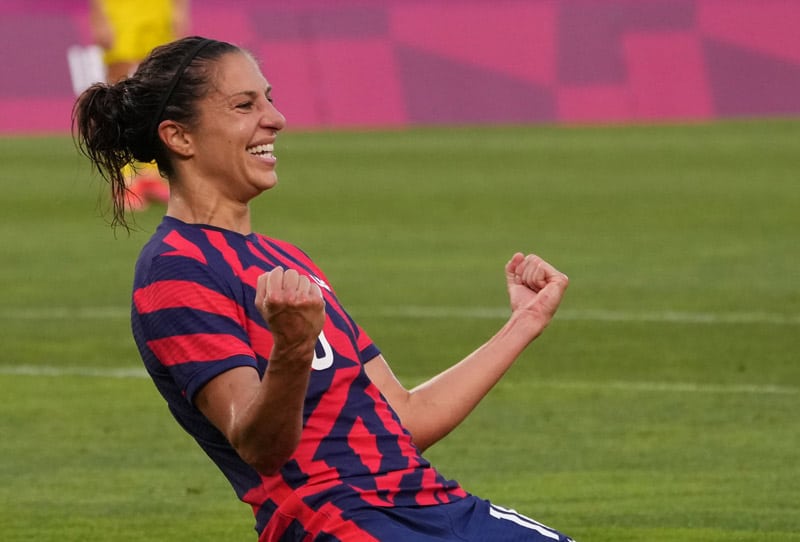 Final Matches
Lloyd will play her final matches with the USWNT in a soon-to-be announced set of fall friendlies taking place in September and October. She rejoins Gotham FC this week and will play the remainder of the National Women's Soccer League (NWSL) in the final chapter of her professional club career that has spanned 12 years and six teams.
"As I near the end of my career, being able to close it out in New Jersey is truly special," said Lloyd. "I want to thank Gotham FC for continuing to push the barriers to make this club one of the best."
After an illustrious college career with the Rutgers Scarlet Knights where Lloyd was a four-time All Big East Selection and three-time All-American, the 39-year-old New Jersey native started her professional career in the Women's Professional Soccer League with the Chicago Red Stars. In her first season, she scored the first two of what would turn out to be nearly 50 goals scored throughout her professional career.
Lloyd would go on to play with Sky Blue FC the following season and expansion side Atlanta Beat in 2011 before joining the Western New York Flash in the newly formed NWSL.
Gotham FC
Lloyd joined Gotham FC (then known at Sky Blue FC) in 2018 in a three-way blockbuster trade from the Houston Dash that would bring her back home to New Jersey to close out her professional career. Now in her third season, she is just three games shy of making 100 NWSL regular season appearances, adding one more milestone achievement to her historic career.
"Carli Lloyd's amazing career is unmatched. She has been the face of women's soccer nationally and in New Jersey for nearly two decades and inspired multiple generations of players to "play like Carli," said Tammy Murphy, Club Chair and Majority Owner of Gotham FC.
"She exemplified the right way to train, compete, and win. On behalf of the entire Gotham FC community, I want to thank her for dedication and commitment to the sport. She played an incredibly important role in helping transform our club, and she'll always be part of the Gotham FC family."
USWNT
Whether on the bright lights of the international stage or the win-or-go home scenarios, Lloyd possesses a championship pedigree and is renowned for showing up in the biggest moments. In her first NWSL season with the Western New York Flash in 2013, she scored both goals in a 2-0 victory over then Sky Blue FC to advance her team to the NWSL Championship against the Portland Thorns.
Most recently, Lloyd scored the equalizer in the 2021 NWSL Challenge Cup Final against the Portland Thorns that would send Gotham FC to a shootout to decide the match where she converted her penalty kick.
"Carli has an unmatched mentality and determination to succeed that has made her one of the world's elite players," said Gotham FC Head Coach Freya Coombe. "Since my time at Gotham FC, she has been incredible to work with.
She works tirelessly in training, scores absolute belters, and will always show up on the biggest occasions with goals. As she closes this chapter on her career and takes her next steps, I want to wish her continued success and feel very proud to have worked with one of the best."
As Lloyd gets set to return to Gotham FC this week to pen the final chapter in her professional career, she turns her attention to the final task at hand: winning a NWSL Championship with Gotham FC.
"To my coaching staff, support staff, and owners, thank you for everything you have done for all of us," said Lloyd. "To my teammates, I love you all and it has been an incredible journey being able to play with you and share the field together. Let's continue to make this push to win an NWSL Championship!"
Legend
Gotham FC's newly appointed Interim General Manager Yael Averbuch West plans to send Lloyd into retirement in a manner befitting of a soccer legend.
"I had the pleasure of playing with Carli over the years and watching her commitment to the game firsthand," said Averbuch West. "She is truly one of the hardest working athletes out there and is a legend of the game. It's an honor for me to help send her out on a high note with Gotham FC."
There are five home matches remaining on Gotham FC's 2021 schedule, with Lloyd's final regular season match on October 31 against Racing Louisville FC. Single and group tickets are now on sale and pricing details can be found here.